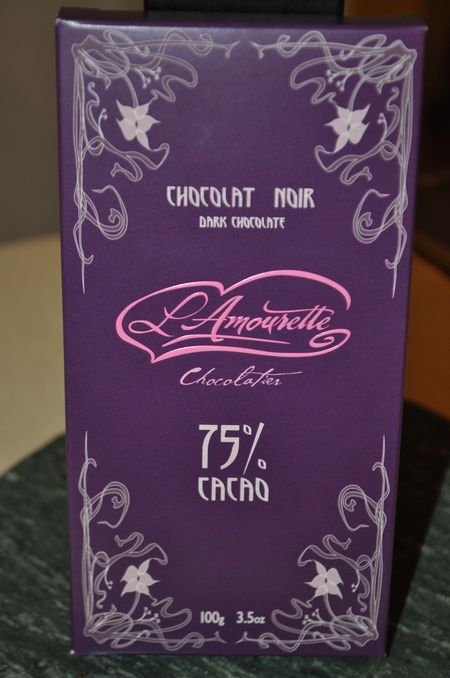 Round two with L'Amourette. This time a Rio Caribe bar. Coastal Venezuelan region that has become very popular for all the bean-to-bar or small artisan chocolate makers right now. If looking at a map of the northern Venezuela coastline, Rio Caribe is on that eastern arm that branches out a bit from the mainland.
Via their website:
The luxuriant, fruit filled aroma with a hint of citrus is released when the silk-like texture melts before your tongue.
The taste is balanced—an intricate agreement between cacao butter and beans, made from hand selected
Rio Caribe Superior beans imported from Venezuela— hand crafted, giving individualism
to each bar.
Delicately roasted beans, 36-hour conching process.
Fair trade, Kosher, and vegan product.

No fooling around, let's get right into this.
Click images to enlarge.
Type: Bittersweet, 75%
Bean Varietal: Unknown, probably Trinitario.
Ingredients: Cocoa beans, cocoa butter, cane sugar, bourbon vanilla beans, soy lecithin.
Appearance: A rich mahogany color, nice and shiny and glossy, custom signature monogrammed molding, large square tabs, and it has chocolate particle dusting on it but much finer than the other bar I reviewed from them. Again, I think that was due to shipping.
Score: 92
Snap: Same issue with the other bar so I am literally cutting and pasting the exact same description and score.
"Very weak snap due to thin molding lines and overly large tabs. It's a light crisp snap from the molding lines, but a deep hard snap when breaking the fat tabs in half with moderately clean break lines."
Score: 86
Aroma: Big tar aromas, smoky, burnt, wood, nutty, acidic, mildly medicinal, and soft floral overtones.
Score: 92
Taste: Fruity, sweet, tangy, but still mild on astringency, herbal, tar, inky, complex bitters, buttery, slight hints of coconut, roasted cacao, earthy, peanuts, lingering bitter palate.
Score: 94
Texture: Smooth texture, medium melt time, this bar is much more creamy than silky and smooth like the other bar, but still very nice.
Score: 94
Rio Caribe hasn't been one of my favorite regions. It gets high marks for it's deep complexities, and technical scores. But having said that, this was better than what I am used to. More depth of flavor than the typically over charred characters from the roasting on these beans. As mentioned in the previous review from L'Amourette, I heard that a lot of the beans that are sourced from Rio Caribe are roasted in the same facilities. This is why that overly charred taste on a wide range of brands using these beans. I haven't confirmed that, but it does make sense. However, there are certain hallmarks that I tend to find on a lot of coastal region beans from Venezuela, especially Rio Caribe. The deep earthy and medicinal flavors, tar and pen ink, and a deep bitterness.
I gave this bar high marks on it's taste because it was layered with lot's of complexities. One didn't interfere with one and other they just stripped away like peeling paint to revel the flavor underneath it. This bar had many different things going on, coconuts, peanuts, earthy, musty, dirty, tar, charred toast, butter, and fruit characters. The only thing I didn't really like was how bitter it was and how long it holds on after the chocolate has long melted away. It was fairly tangy on the first taste, but not sharp with acidity. Just deep bitters that over take the palate in the end.
I liked this much more for being less charred and more layed with flavors even if it's not my favorite region or favorite flavors. The coconut was faint and interesting as was the peanut character. But the medicinal flavors are not something I look forward to. Some people really dig funky flavors. Like sour heads who love Guezue and Lambics from Belgium. Which is why I always called Rio Caribe, a beer lovers chocolate. This is nerd chocolate, geek chocolate, thinking chocolate. This bar just happens to be more layered than usual and not dominated by the charred characters.
Texture was great, snap was weak with overly large tabs, but a full aroma and big full taste. Another winner I'd say.
Price point highlight: $4.80 a bar from their website.
Final Score: 91.6