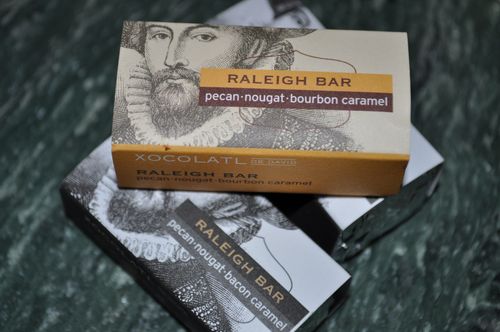 Handmade candy bars by Xocolatl de David in Portland, Oregon. Created for the affable Pine State Biscuits in Portland.
A few years back, my friends at the world renown Pine State Biscuits here in Portland asked me to create something for them to sell at their restaurant. More specifically, a candy bar. They bugged me for a good 3 months before I came up with the first and only prototype. It was so well received that I knew I was not going to be able to sell it just at Pine State Biscuits. To thank them I named it after the founder of the "Pine State" (North Carolina, for those not in the know), Sir Walter Raleigh.
To me the classic candy bar is, nougat, caramel, and nuts coated in chocolate. I created mine with a southern vein since Pine State Biscuits is a southern style restaurant.
[Original Raleigh Bar]
Chocolate Pecan Nougat & Salted Caramel, coated in 72% Chocolate from Ecuador.
Buffalo Trace Bourbon Caramel, pecan chocolate nougat, 72% dark chocolate from Ecuador.
Visually this one was a little disappointing with the ashy appearance. But that's superficial for the huge flavors on this bar. Huge flavors except for the bourbon that is. Cutting into the bar I cut right through a pecan bit. Sadly it was the only real bit of pecan in the bar. I found this to be an issue as well with Liddabit's The Snacker bar. Handmade candy bars from Brooklyn, NY. Skimpy on the nuts and I am not sure why. In this case, the size of the bars maybe be a reason why. They are only about 2 inches long. But if they make them in bulk batches and strips only to be cut smaller, it doesn't completely make sense. Still, a small detail compared to the over all flavor but an issue with texture. You need those crunchy nuts to break up the chewy nougat and caramel mou consistency.
The aroma was dominated by the rich and full Ecuador chocolate. 72% and fairly bitter. It interacted nicely with the flavors of the burnt caramel and the chewy nougat. Salty caramel and sweet nougat. Lot's of contrasting flavors giving it an up and down quality for the palate. No one taste or flavor is the focus. I wished the aroma had more bourbon on it. Buffalo Trace is a big woody bourbon perfect for things like this and chocolate. I use it for my own Bourbon Pecan Truffles. But the subtle use of it in the caramel left everything else to dominate. The good news is though, the bourbon is present in the flavor but not really until the finish. It's lighter, but definitely distinguishable. The salt and then the sweet sugars dominate with the bitter chocolate leave the bourbon hanging on in the finish.
Texturally the caramel was awesome. It's burnt and salty at the same time with a gorgeous burnt rust color. It has a texture midway between runny caramel and caramel mou. The nougat was also soft and chewy. Right where you want it to be. Not too hard and not too chewy. Soft and easy. It just needed that extra crunch with more pecans.
It's an excellent bar full of big flavors, but it needs more pecans and more bourbon. I could be a raging alcoholic who just wants more booze at any cost, but realistically it's a subtle approach with the bourbon. It's the right size for all the flavors it packs and for how sweet and rich it is. The salt balances it out and makes it addicting like a fat crack rock. Not that I know anything about that. I wonder if David Briggs could make this even more ridiculously good by adding caramelized or cinnamon sugar pecans in the nougat.
Bacon Caramel, pecan nougat, and 72% Ecuador chocolate.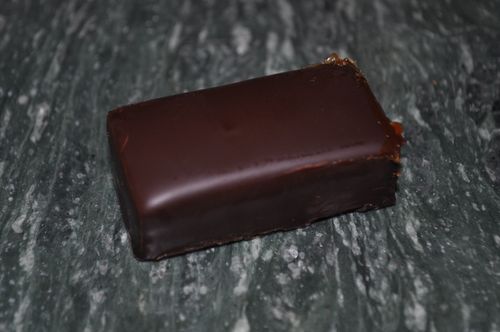 Much better appearance with a shiny surface. The aroma dominates with big smoky bacon and rich chocolate. Did I mention crack in the previous review? Yeah, times that by 10 for this bar.
Same issues with the skimpy pecans. Again, it needs that break up with the chewy caramel and chewy nougat. I also think this could have benefited from crispy bacon in the caramel for added texture. It certainly had all the bacon flavor, but the crunch factor was missing again. It should be like their Country Ham bar. As with the bourbon bar, I could be a raging bacon-holic in my need for more bacon in this bar, but realistically it's a textural issue. It needs crunch some where, why not add bacon bits?
The chocolate has a less dominating flavor on this bar, but it's bitterness is very present. Bitters not acidity. The salty burnt caramel wins again, and the nougat rounds out the sweetness. The dominate flavor though is of course the smoky bacon. It's all in there. Sweet, salty, burnt sugars, chewy nougat and smoky bacon. How could you not love this thing? It's very sweet and rich. When you do get a bit of pecan in the bar, it adds a really nice layer of depth to the flavor. Needs moar!