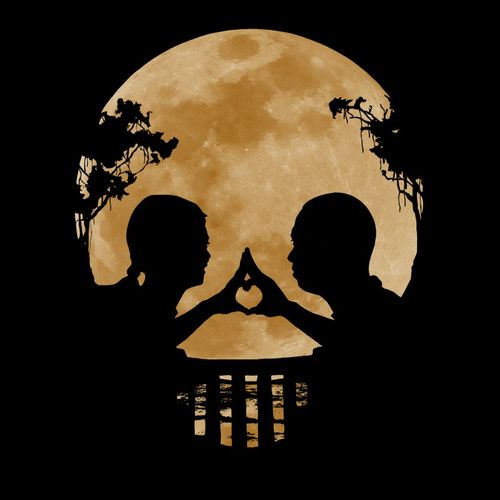 Image Source
As of now, you have plenty of time to think about a well thought out chocolate gift for your loved one. Chocolate is loved by everyone. EVERYONE! Valentine's Day is obviously the day for chocolate gifts of love. So why not be creative about your choices? Don't just do a generic box of chocolates and flowers. These are my picks for cool Valentine's day chocolate gifts.
1. The first and most obvious choice for an awesome Valentine's day gift is Alma Chocolate's (Portland, Oregon), Chocolate Icons. These are the coolest edible chocolate art out there. They have chocolate Jesus, Guadalupe, Sacred Hearts, Swallows, Buddha, Ganesh..... It's awesome. My personal favorite is the anatomically correct heart. But the rock-a-billy designs are fantastic too. Nothing says I love you like handing someone your heart. And then they can eat it! It's ill, trust me.
2. For a little less conventional chocolate treat, try EH Chocolatier (Somerville, Massachusetts) Caramel Box. It's a set of 9 pieces with 3 different flavors. Bourbon Caramel, Honey Caramel, and Salted Caramel. These are delicious caramels beautifully decorated and well balanced with flavor. These would be fun to pair with cocktails instead of traditional wine pairings. Get a classic cocktail book and whip up something bourbon and fun and then share this caramel collection for something a little unconventional but sexy and fun.
3. For the hipster in your life, go with a 4 pack collection from
Dick Taylor Craft Chocolate
(Arcata, California) 4 Bar gift set. Two origin bars and two flavored bars. It comes artfully wrapped and is very hip. Their chocolate is bean-to-bar and fantastic and it will introduce your loved one into a new American craft chocolate brand. This is a very unisex gift. If you are from Brooklyn, then you already know about Mast Brothers. Surprise your hipster partner with Dick Taylor instead. They probably hate that I often describe them as hipster chocolate, but they make craft furniture and boats and oh yeah they happen to be chocolate makers too. Their website has old time-y wime-y photos of them too. Como se Dice "hipster" en Espanol? Their packaging is great which is why I suggest the 4 pack. You will get a variety and nice gift wrapping with it.
4. Something a little more classic in the same line of bars of chocolates as gifts, try Valrhona's (France) Vintage Origin Box. It's a little pricy, but you can't go wrong with Valrhona. Their vintage box set contains Single origin bars from rare and old plantations from around the world. Beyond single origin, this single estate sourced cacao. Some of the finest cacao from Venezuela, Madagascar, and Trinidad. This is for real chocolate lovers who like to sit and take their time with chocolate. Valrhona offers wine and beer pairings for these chocolate's on their website. You can send a personalized message with your order, and it comes a black wooden box. Very elegant and sophisticated.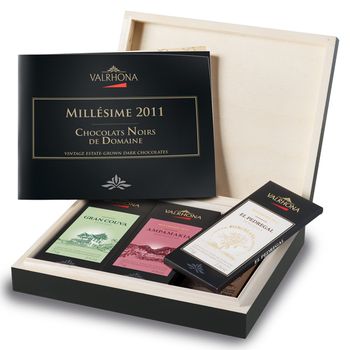 5. In my house, no Valentine's Day is complete without L.A. Burdick's (NH, MA, and NY) hot chocolate. In this city, their hot chocolate is the best thing in the world on cold days. Believe me, Boston knows cold days. Pick up a hot chocolate kit from them and some famous Burdick's mice or penguin truffles in a wooden box for a lovely gift. The hot chocolate can be bought solely or with a mug and saucer for a complete gift. They offer single origin hot chocolate's but it's only sold in store. If you are in store to pick up hot chocolate, their pastries and cakes are fantastic. If cute animal truffles aren't your bag, go with the pastries instead.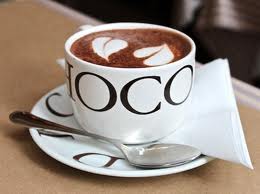 Images for Burdick's via Spilling The Beans, Waterside Plaza, and Serious Eats.
6. This can be as gluttonous or as sexy as you wish to make it. The Meadow (NY) sells a Chocolate Fondue Starter Set with a pink Himalayan sea salt bowl. It includes a pink salt bowl, orange bitters, and Felchlin Cru Savage 68% chips. This is a fantastically cool and a different way to go on Valentine's day. A way for both parties to be interactive with chocolate and have a little fun.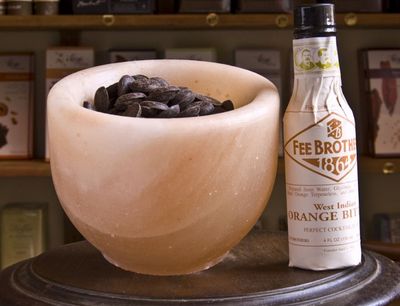 7. You could always bake something nice. I would recommend trying Vosges' Caramel Toffee Chocolate Chunk Brownie kit. Or if you are more adventurous and know your way around a kitchen, try Joanne Chang of Flour Bakery's Milky Way Tart recipe.
Both of these are out of this world good. I had the Milky Way tart from Flour Bakery for Thanksgiving and it's just awesome. Light mousse filling, yet super rich caramel filling anchoring the tart. Everything you need after a super filling turkey dinner. I ordered and made the brownies and they were some of the best brownies I have had from a box. You melt caramel toffee pieces on top of the brownies and you mix in chocolate chunks through out the batter. It's fabulously and disgustingly rich and oh so good.
Get the Milky Way Tart recipe here: Leite's Culinaria
Milky Way Tart Image via Leite's Culinaria.
8. Soma Chocolate (Toronto) Single Origin Truffles. This one I am going blind on. I have not tried Soma yet, but according to all my chocolate pals, cronies, and nerds they swear this is some of the best chocolate makers in the world. I promise to order them and get a review up soon. But if my friends are telling me this is some of the world's finest, I trust them. The origin truffles are Madagascar, Papua New Guinea, Tanzania, Santo Domingo, and Venezuela.
Image via Doreen Pendegracs for Travel + Escape.
9. Chocolate books. Along with fine chocolate, perhaps a book about chocolate history might be a good accompaniment to the chocolate. Why not learn about origin chocolate and the history of the beans while eating it? 
  1. The True History of Chocolate by Sophie D. Coe and Michael D. Coe.
  2. The New Taste of Chocolate: A Cultural & Natural History of Cacao with Recipes (2009) By Maricel E. Presilla.
  3. Couture Chocolate by William Curley.
Enjoy your Valentine's Day. Please feel free to post comments about what you are planning on buying for your special someone.