[Image via South London Guide]


As part of the British Chocolate Invasion, my good friend Angelo snuck in these fine straps of flavored chocolates in my collection from The Melange Chocolate Shop in Peckham Rye, London. They are located on Bellenden Rd. off to the left of the map.






It would be a perfect way to spend an afternoon in London, walking through the Peckham Rye Common and then off to Melange for a bite to eat of chocolate.
**UPDATE**
As promised, I said I would update this post if I heard back from the people at Melange.

Isabelle believes the cocoa beans being used are a blend of West African beans but she get the beans from Belcolade, a Belgian chocolate company. I tend to agree about the beans as the chocolates do have a strong character and most of the chocolate being consumed today comes from Africa and not South America as commonly thought.

She also added this:
It's a couverture chocolate, which means high content of cocoa butter and no substitute such a vegetable oil or dairy.

All the flavours I am adding are natural and infused into the chocolate which will be layered into thin slabs to enjoy better the texture as it melts easier in the mouth and develop it's flavours.

Isabelle Alaya has 15 years in the food industry in New York, as General Manager or Partner in restaurants and bars, working with amazing chefs who introduced her to lots of amazing and unsuspected flavours.

After a short class taken when she arrived in the UK, Isabelle started to experiment with Chocolate and created some flavoured bars. she started to trade in market and it became obvious that people were coming back to her for more chocolate.

The opportunity was to open a shop in Peckham, South London, a very villagy area of London, where she's now developping her business and creates always more flavours. she aims for 20 at least Melange Signature bars.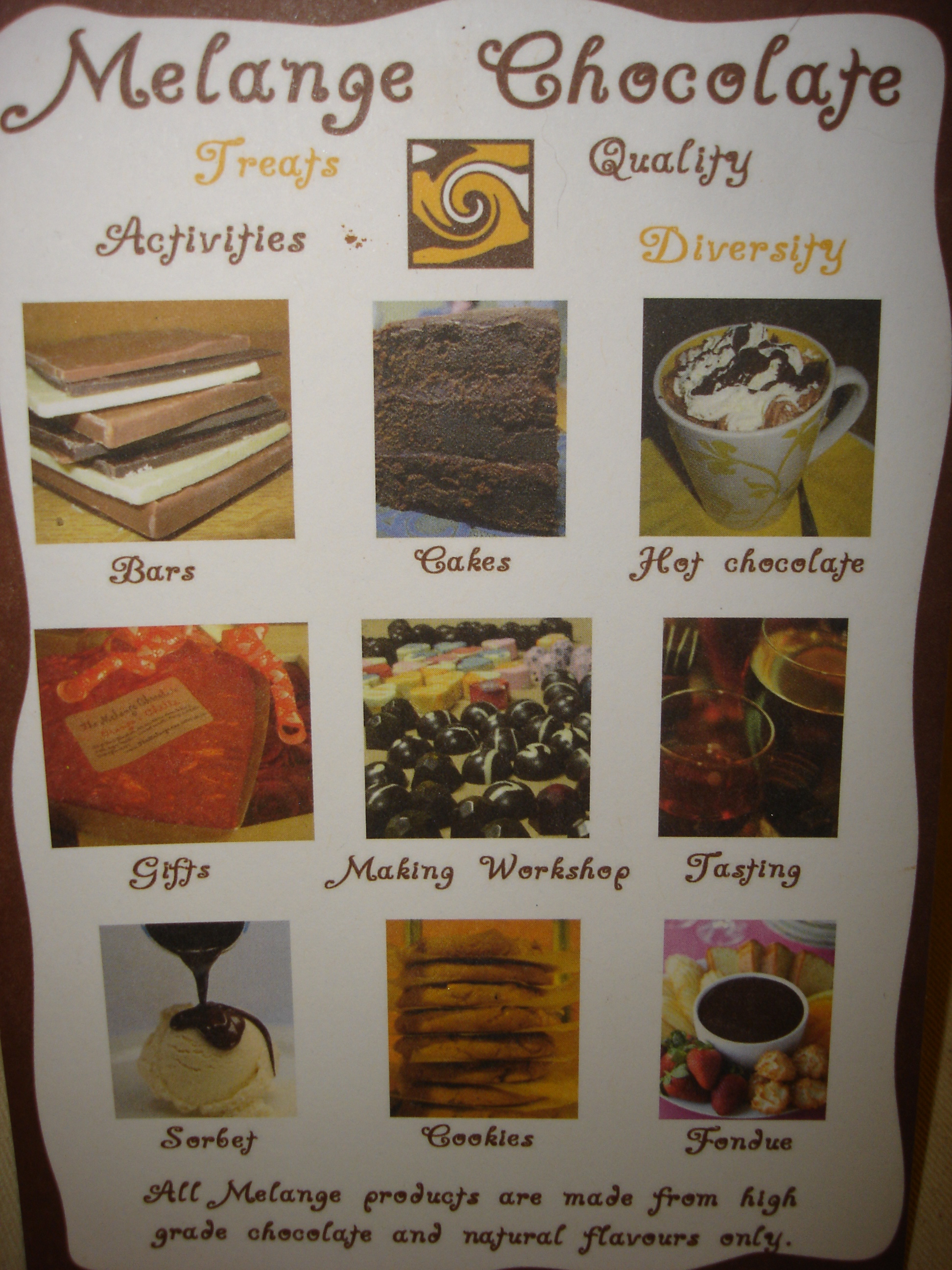 As far as the grading goes for these chocolates, I don't really have a solid format for grading flavored chocolate. These were also in thin straps and wouldn't be able to have the snap quality judged. I graded these based on the best flavor interactions with the chocolate. The cocoa for the chocolate bars is good, but it's not easy to tell how great the quality is with big spices like cinnamon. So again these are highly opinionated grades based on how I thought the flavors worked with the chocolate. Completely subjective without a real format for grading.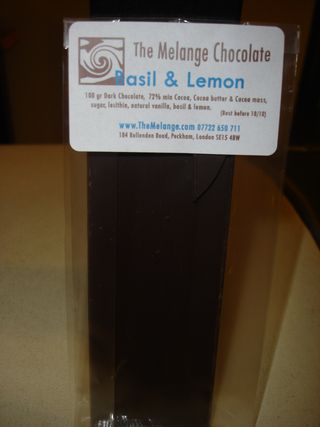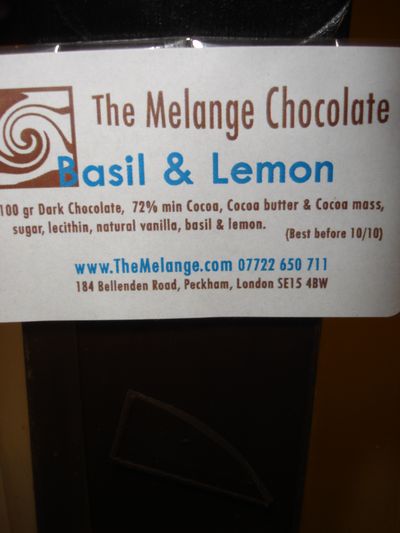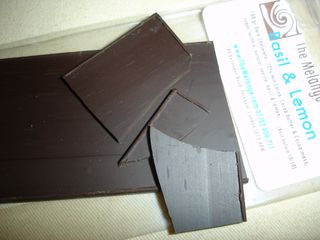 Basil & Lemon

Ingredients: Dark chocolate 72% cocoa, cocoa mass, cocoa butter, sugar, lecithin, natural vanilla, basil, and lemon.

Type: Flavored Bitterweet 72%

Heavy basil nose. It was almost medicinal the way it interacted with the cocoa and lemon. Hints of licorice.

Spicy, heavy basil taste, almost minty and cooling. Barely any lemon taste, but more bitterness from the lemon. A little bit like licorice.

If you like Basil, you will like this bar. It's a little too heavy on the basil for me allowing flavors like licorice to come through which I don't like too much. I wanted to taste more of the lemon. More lemon peel came through than actual tart lemon flavors. The basil was simply too dominating.

Good cocoa taste and not too sweet. Medium melt time, not soft but not too hard or waxy either. Lingering basil, again too much leaving kind of a medicinal aftertaste.


Orange & Chili

Ingredients: Dark chocolate 70% cocoa, cocoa mass, cocoa butter, sugar, lecithin, natural vanilla, orange, and chili.

Type: Flavored Bittersweet 70%

Soft nose of almonds and soft roasted cocoa. Almost no orange aroma.Tiny hints of chili, but so barely noticeable.

Nice roasted cocoa, orange flavors are subdued and hidden by the cocoa. Takes a minute for the orange to open up and come out, but still soft. Virtually no chili taste, but a barely there spicy heat that barely hangs on after the chocolate has melted.

Despite light chili notes which could have been kicked up a notch, this was pretty delightful. The orange flavor was not overpowering and hints at it's presence. The cocoa is good tasting and once again not too sweet and not too acidic but definitely bittersweet.


5 Spice & Lemongrass

Ingredients: Dark chocolate 70% cocoa, cocoa mass, cocoa butter, sugar, lecithin, natural vanilla, clove, fennel, cinnamon, black pepper, and ginger.

Type: Flavored Bittersweet 70%

Roasted cocoa and lemongrass nose. Spices are apparent, but lemongrass is dominating.

Lemongrass taste, ginger, and cinnamon. Lemongrass is very apparent, but it's lovely. Spices show up for a second, but then give way to the lemongrass. Ginger is the only spice really hanging on. A little bit of a spicy lingering taste on the palate once chocolate has melted. Gorgeous flavors married with the cocoa. I am very impressed with this one.

The only slightly negative thing about this bar is the spices leave for a bit of a tar taste on the finish. Bitter chocolate and spices leave for an odd aftertaste, but it's still gorgeous flavored chocolate.


Bergamot & Cinnamon

Ingredients: Dark chocolate 70% cocoa, cocoa mass, cocoa butter, sugar, lecithin, natural vanilla, Bergamot (Earl Grey), and cinnamon.

Type: Flavored Bittersweet 70%

Soft Bergamot and cocoa nose not overpowered by cinnamon.

Takes a minute for the cinnamon to present itself, light cinnamon, balanced well with the Bergamot flavor. Spices are soft, but the bittersweet cocoa is a little dominating at first. But then Bergamot makes more of an appearance at the end and is a nice flavor to finish on. Good balance all the way around.

I am a believer in Bergamot and chocolate flavors together.


Mulled Wine Spices

Ingredients: Dark chocolate 70% cocoa, cocoa mass, cocoa butter, sugar, lecithin, natural vanilla, orange peel, lemon peel, cassia bark, nutmeg, ginger, clove.

Type: Flavored Bittersweet 70%

Big spicy nose. Cinnamon, cloves, and a little bit of the orange peel dominate.

Good cocoa taste in the beginning, cinnamon and clove spices dominate once it begins to open up. Lemon and orange peels makes an appearance, but ginger and cinnamon spices come back and finish the palate.

Good winter chocolate. Spicy and representative of the holidays. A little cloying at the end with the cinnamon, but overall very tasty. Now if I only had a nice glass of red wine to go with this chocolate.....


These were fun to taste. I was really impressed with the 5 spice & Lemongrass and the Mulled Wine Spices. Excellent flavors with chocolate. I like it when someone takes a risk and gets adventurous with chocolate. It's not always about the single origins.