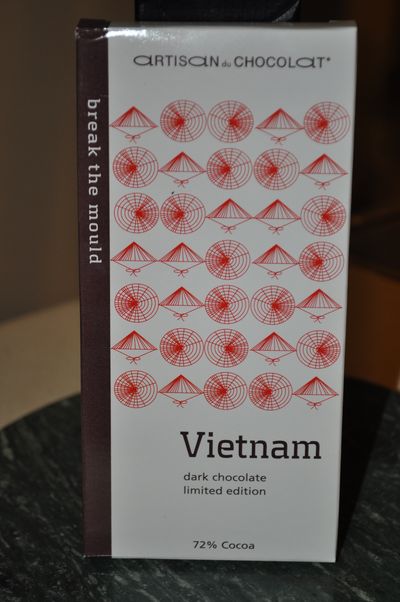 **Archived Notes
Finally an origin that I am not that familiar with. Sometimes there is a game to find new regions or unexploited regions for cocoa growing and be different or a step ahead of the curve. I am not against this race. It's a win win for chocolate lovers. "Why no, I haven't had a bar of chocolate with beans grown in Vietnam. Do tell."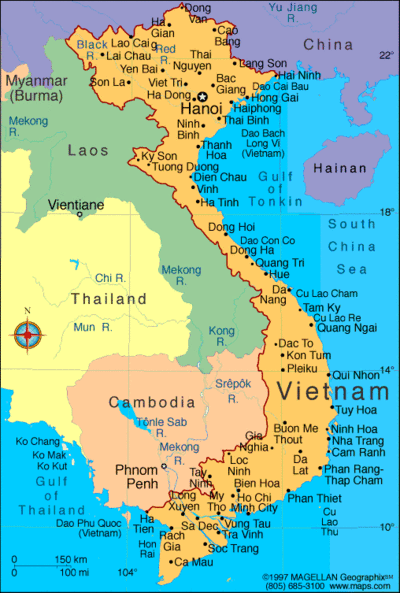 [Image Via Infoplease]
Via their website:
In Vietnam, small entrepreneurial farmers are remaking cocoa history by successfully farming fine cocoa commercially for the first time since the French period (late 19th century), making this batch of ground cocoa beans a precious and rare find. We chose well fermented and dried beans that morph into a silky chocolate with notes of raisin and oats. Surprisingly mellow at the start, this chocolate melts with a long and slightly peppery bitter finish. We meticulously select our raw ingredients for their flavour and wholesomeness: carefully fermented ground criollo and trinitario beans from chosen regions, pure cocoa butter and cane sugar. We mix, conche and refine each batch in our production in Kent. We make our own chocolate with love, devotion and the sole intent to bring you great chocolate
• Weight (e) 45g
• Shelf life 3 months
• Cocoa beans, cane sugar, cocoa butter, soya lecithin
• Contains soya. May contain traces of nuts, sesame, milk and gluten.
I have to preface this review with the unusual circumstances this bar found itself in. I reviewed this last year, or took pictures and notes on it and put the notes away until now. This bar has a dusty, dry sugar bloom appearance because I found this bar hiding in a drawer. While it was far from expired or past it's prime, the storage conditions were not exactly optimal. Having said that, this bar has held up remarkably well. Just some light dusting but a really great surface despite that. And being stored in plastic, it retained and held on to an insanely good aroma. But for the sake of fairness to anyone reading this, I must note at all times when the mistake was mine. The mistake here was not knowing a few bars got left in a drawer and I won't be deducting points on the appearance for that.
Type: Bittersweet, 72%
Bean Varietal: Criollo and Trinitario blend.
Ingredients: Cocoa beans, cane sugar, cocoa butter, and soy lecithin.
Sample size: 45g or 1.59oz
Appearance: Deep dark brown color, simple and light non-monogrammed molding, slight surface particles, relatively smooth surface, sugar bloom.
Score: 91
Snap: Light but very firm snap, crisp snapping sound, moderately clean break lines.
Score: 91
Aroma: Big full aroma of coconuts, roasted cacao, coffee, very creamy and nutty, and very slight hints of cinnamon.
Score: 95
Taste: Sweet, lightly tangy and acidic, small hints of cinnamon, cereal grains, raisins, slight hints of strawberries, pepper on the finish.
Score: 94
Texture: Smooth, creamy, medium melt-time, slightly drying finish.
Score: 92
Really nice bar of chocolate. Very fun and interesting. Aside from the bloom, the bar of chocolate was in really great shape. The aroma was amazing. Not overly complicated just straight forward and full. Good snap quality too for a relatively light or thin bar of chocolate on the molding.
The taste was layered and deep. it was sweet with some slight hints of cinnamon and depp raisins with a light strawberry taste. I loved the cereal grains in the middle of the taste, and the finish was just as the package describes with a long finish of pepper. There was also a slight soapy perfume taste in the finish but very faint. Nice and complicated.
So, even though I inadvertently ruined it's appearance, this bar held up so well. I enjoyed it's complexities in its flavors but bluntness in it's aroma. This would be a fun bar of chocolate to take to some friends and sit around and talk about it. Chocolate geek chocolate. The kind that sit there with a pad and pen and write notes while they preform retro-olfaction and nod their heads at one and other and furrow their eyebrows in silent agreement as if they figured out some long lost secret.
Final Score: 92.6