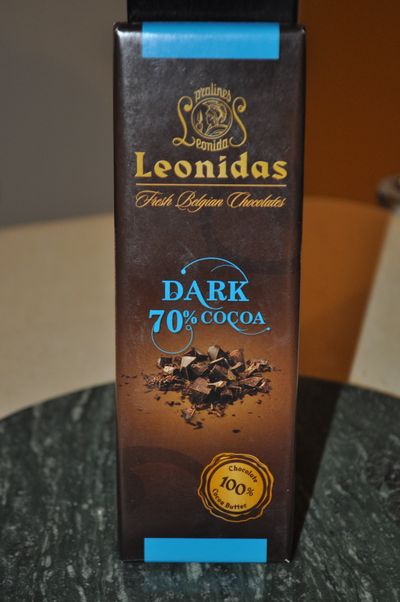 Belgian chocolate makers since 1913, with nearly 100 years under their belt. I found them on just about every corner while I was in Brussels, and a location in Bruges. It's hard to tell what exactly might be good quality Belgian chocolate in these cities as they are completely inundated with bad tourist chocolate every where. But most of the recommendations I sought online, mentioned Leonidas more than once. Leonidas is a truffle/bon bon/praline shop who happened to carry bars of chocolate. And the shop I stopped in was very clean and pristine. You would be surprised at how many shops are overly kitchy and the truffles in the display cases are poorly attended to. That was not the case with Leonidas.
A preemptive fingers crossed moment:
I am hoping that this is fairly good for bar chocolate. Their specialties are pralines. Also it's a long standing Belgian chocolate maker that commercialized. This happens quite a bit with a lot of old Euro chocolate makers. It doesn't have to be head-over-heels amazing, I am just hopping for really good. As a personal admission for the sake of reviewing, I haven't been all that thrilled with Belgian chocolate. There are some shining aces in a sea of tourist chocolate like Laurent Gerbaud and Pierre Marcolini. But a lot of what you find is mass produced garbage. I would like to find some gems in the middle of the commercialized chocolate of Belgium. Neuhaus has some single origin bars that are actually quite fantastic. I am hoping for something along those lines.
Let's find out if the recommedations were right.
Type: Bittersweet, 70%
Bean Varietal: Unknown
Ingredients: cocoa paste, sugar, low-fat cocoa powder, soya lecithin.
Sample Size: 50g or 1.76oz
Lot #: 051311101
Appearance: Thin bar, 6 squared, Greek monogrammed tablet, very slightly muted surface but an over all shiny surface, very slight surface scratches, deep dark brown color, and some swirling patterns on the back of the bar.
Score: 90
Snap: Nice firm snap, medium snap sound, very clean break lines.
Score: 92
Aroma: Soft and subtle aroma. Very smoky and rich with almonds and tobacco.
Score: 84
Taste: Cocoa-y, sweet, almonds, coconuts, buttery, no astringency and very slight lingering bitterness on the finish.
Score: 85
Texture: Very smooth, creamy, medium-soft, quick melt time.
Score: 94
This is really not bad at all. I got exactly what I was hoping for. A nice rich and cocoa-y bar of chocolate. Really great texture. Silky smooth and fast melt time. Nice coconut and smoky tobacco flavors and lovely almonds. This is melting chocolate I think. I am thinking this is what you'll want to break up into a mug and pour scalded milk over. This could also be great middle of the work day chocolate. When you are not having a hard day, but you really could use a chocolate break. Save the more exotic chocolate's when your facing a deadline.
The only gripes I have about this bar is that they could have used less sugars. It's pretty sweet and really tones down some of the natural flavors. Without having an origin to work from, I am guessing this is Ivory Coast or Ghana chocolate. It has a lot of the hallmarks I have come to recognize on African origins. Not to mention they're common origins for commercial Belgian chocolate makers.
Final Score: 89