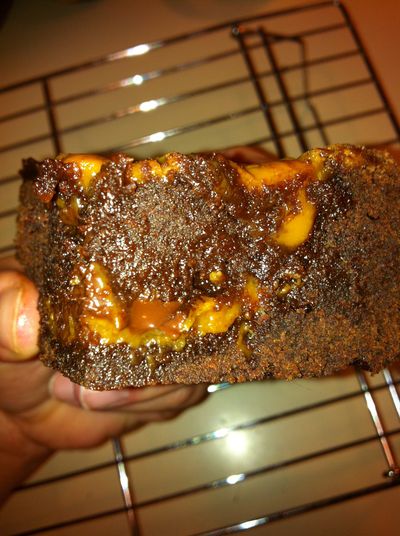 Chewy caramel mou salt caramel brownies using French fleur de sel butter "Paris Caramels" and TCHO Baking Drops. Yes, these were every bit as delicious as they sound.
I have had these caramels sitting in my pantry ready to be eaten, but I didn't want to eat them selfishly all by myself. I wanted to bake with them. I thought about melting them down for a salt caramel glaze on cinnamon rolls, or cup cake filling. I had a lot of options until I started thinking about Paul A. Young's salt caramel brownie. I have never had it before, but it just sounded AH-Mazing.
I followed the Brown Eyed Baker's recipe for Salted Caramel Brownies, but I tweaked my own caramel sauce. I also didn't mess around with the chocolate. I just used TCHO baking chips which had a big nutty flavor despite their description of intense chocolate flavors and fruity flavors.
Salted Caramel Brownies
Yield: 16 brownies
Prep Time: 15 minutes | Bake Time: 35 to 40 minutes
5 ounces semisweet or bittersweet chocolate, chopped
2 ounces unsweetened chocolate, chopped
8 tablespoons (1 stick) unsalted butter, cut into quarters
3 tablespoons cocoa powder
3 eggs
1¼ cups granulated sugar
2 teaspoons vanilla extract
½ teaspoon salt
1 cup all-purpose flour
Salted Caramel Sauce (click Brown Eyed Baker link above for their Caramel recipe)
Fine sea salt
1. Adjust an oven rack to the lower-middle position and heat the oven to 350 degrees F. Spray an 8-inch square baking pan with nonstick cooking spray. Line the pan with overlapping pieces of foil and spray the foil.
2. In a medium heatproof bowl set over a pan of almost-simmering water, melt the chocolates and butter, stirring occasionally until smooth. (Or, melt in the microwave on 50% power for 30-second increments, stirring after each, until melted and smooth.) Whisk in the cocoa until smooth. Set aside to cool.
3. Whisk together the eggs, sugar, vanilla, and salt in a medium bowl until combined, about 15 seconds. Whisk the warm chocolate mixture into the egg mixture; then stir in the flour until just combined. Pour about half of the brownie mixture into the prepared pan and spread into the corners. Spoon 9 dollops of Salted Caramel Sauce on top of the brownie batter. Top with the remaining brownie mixture, spread into the corners and level the surface with a spatula. Again, spoon 9 dollops of the Salted Caramel Sauce on top of the brownie batter. With a dull butter knife, gently run it through the batter to swirl the batter just a bit (don't do it too much or it will all mix together). Sprinkle a bit of sea salt on top.
4. Bake until slightly puffed and a toothpick inserted in the center comes out with a small amount of sticky crumbs, 35 to 40 minutes. Cool on a wire rack to room temperature, about 2 hours. Remove the brownies from the pan using the foil handles and transfer to a cutting board. Cut into squares. Brownies can be stored in an airtight container at room temperature.
(Brownie recipe adapted from Baking Illustrated
)
For my caramel, I melted down 36 caramels or 2 packs of 18 piece Paris Caramels with some heavy cream, about 3 tbls worth. Melted over a double boiler until blended and smooth. Then I followed the directions above for puting the caramel in between the batter and on top.
I also had some extra baking drops that dropped on top of the caramel in the center of the brownie mix. I put the chocolate drops on top of the brownie mix on the top layer and covered with caramel.
The caramel is perfectly fine to bake and won't become overly hard once cooled. It leaves a chewy caramel mou and not a soft and super runny caramel. It leaves much more stable brownies. Monitor your baking time. I found I needed longer than the recipe called for by about 15 minutes or so.
Blurry but fun up close of the caramel. Why oh why do I always use my iphone and not my $700 Nikon? The pictures may not have done these brownies much justice, but trust me when I say, they were incredible.