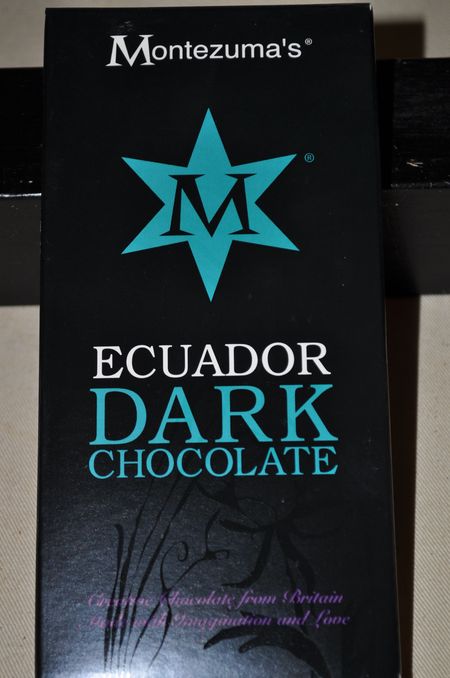 Via their website:
Ecuador is a small but perfectly formed part of South America's Andean highland. This chocolate comes from the now rare Rios Arriba bean recognised as one of the finest varieties of cocoa in the world due to the intense concentration of flavour.

The highest cocoa content has a soft and subtle flavour with just a touch of earthiness you may expect from such an aromatic and flowery variety. This chocolate just melts away and leaves you craving for the very last crumb in the carton!
Type: Bittersweet
Bean Varietal: Arriba Nacional
Ingrdients: Cocoa solids (71%), Sugar (29%), Vanilla (Less than 1%)
Sample Size: 100g or 3.5oz
Appearance: Smooth, simple non-monogrammed molding, a bit nicked and matted from plastic wrapping, still shiny on most of the bar, deep dark brown color.
Score: 89
Snap: Deep, robust snap, firm and loud snap with clean break lines.
Score: 93
Aroma: Roasted cocoa nose, nutty, soft, lightly sweet, slightly tangy aroma, coffee notes, cinnamon, and lavender.
Score: 94
Taste: Roasted cocoa, earthy, spicy, cereal grains, slight hints of leather, very low-acidity, but a lightly tangy after taste. Mild bitterness but it's subdued by the dryness of the texture, soft and subtly wood flavors, a small hint of berries and lavender on the finish.
Score: 94
Texture: Hard then opens up smooth and creamy, medium-fast melt time, dry and leaves the palate dry.
Score: 91
Another fairly complicated chocolate. But I am happy this time with the Arriba Nacional Beans. I haven't really been too keen on them as their flavors are interesting yet way too delicate at times. And the drying effect these beans seem to have on the palate isn't my favorite. But Montezuma's seems to have really dragged out some raw flavors on these cocoa beans. Their packaging suggests subtle hints of earthiness. That's true in a way when trying to sort out all the different elements in this bar that make it earthy. But to me, I found it to be fairly robust for an Arriba Nacional bar.
They pulled out earthy, rustic flavors with the roasted cocoa, and the lavender is not too perfume-y or flowery it doesn't over take the palate. I am really impressed with the spiciness, and the cereal grains on the flavor. There is an interesting bitterness that surrounds the entire palate but the dryness of the chocolate sort of eliminates the impact of how bitter the chocolate is.
Still the dryness of Nacional beans leaves little to be desired in my opinion. There is dry, and then there is palate killing dryness. I am not a fan of that quality. But overall I am happy with the flavors that were able to come through on this bar.
Final Score: 92.2