Vosges


Easter sales are always a good idea. What people don't get is that chocolate has a very long shelf life. So whenever Easter or any good holiday for chocolate comes around, remember the day-after sales. Believe me, with all the hard work these chocolate makers go through for certain holidays, reward them with buying their efforts and then helping them to get rid of it after the fact. Let nothing go to waste.

I totally took advantage. I bought a complete bacon collection from Vosges. Bacon Caramel Toffee, Mo's Chocolate Chip Bacon Pancake mix, two Mo's Bacon Chocolate Bars in milk and dark chocolate, and the Bacon & eggs.

I had been taunted for months by the people behind the Vosges Twitter page. Taunts of posts about their Bacon Pancake mix. Finally, I gave in. I had previously reviewed the Mo's Bacon Bar with Milk Chocolate before. The bar was so delicious, I had to get more products from them.

So, I took advantage of the post-Easter sale and bought their Bacon & Eggs.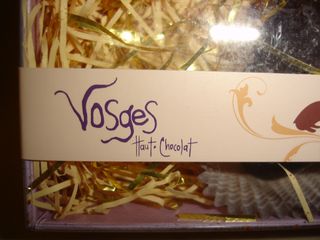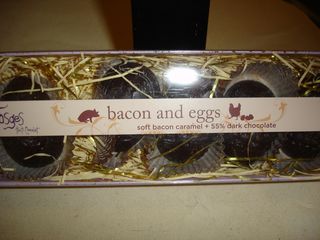 Five flat bottomed eggs with intricate moldings. The inspiration for these eggs:
"I was drawn to the different textures on these egg molds and love their antique-feel. I have been thinking about soft caramel fillings for years and these presented the perfect opportunity to introduce some of the first. The Wink of the Rabbit and the Bacon Caramels are the first of more soft caramel fillings to come." -Katrina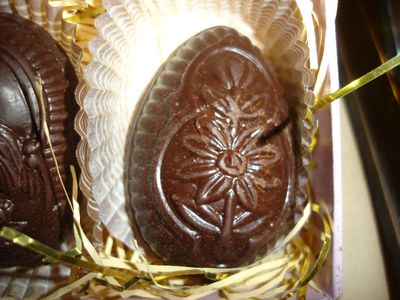 This one was a bit damaged on top with a slight cracked and sunken in top. I ate that one first.
Ingredients: Dark Chocolate (cocoa mass, sugar, cocoa butter, soy lecithin, vanilla), organic cream, wheat glucose syrup, sugar, butter, uncured bacon (pork, sea salt, raw sugar, white pepper, dry juniper berries, celery juice, lactic acid starter culture), water, salt, and natural hickory smoke flavoring.

Dark chocolate (55%) contains 30% cocoa solids minimum.

These were one ounce eggs, and were a little bit smaller than I had anticipated. They are expensive for a pack of 5 originally priced at $22. The sale price was $18.
I didn't find them to be as good as the Mo's Bacon bar with milk chocolate. The bar had more bacon and salty contrast to the sweet milk chocolate. There wasn't as much of a balance or a contrast as I had hoped for with these eggs.

The caramel was dark and sweet, but not as buttery as I had hoped. I think it needed to be sea salt caramel with nice, course salt mixed in. The bacon bits were too small. This was on opportunity to have had bigger chunks of bacon it to give it more of a hickory taste and add more of a salty contrast since the caramel was regular caramel.
The first egg had very little bacon in it. The second one was more loaded with bacon and had a better smokey flavor. The chocolate is sweet and rich. It's more like a dark milk chocolate than actual dark or semisweet chocolate.

Now having said all that, these were good. I ate two of them back to back and if I weren't in great control of my gluttonous ways, I could have easily plowed through this package. The price however, stops me from devouring these completely. I need to take my time with these to ensure the value.
Still, this is a fun a holiday gift and with the bacon in it, it's perfect for an Easter gift.
The Bacon Revolution continues.