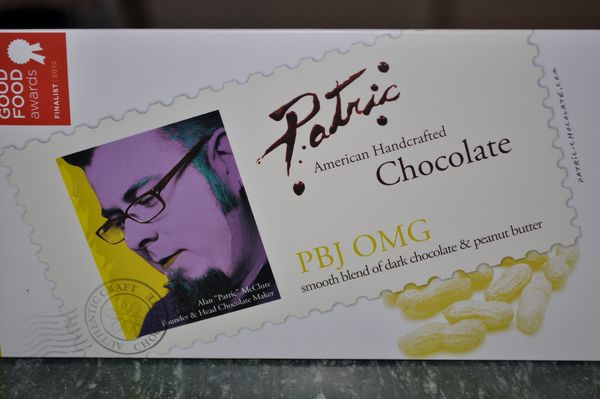 **Archived notes
Back to what works. This bar was reviews a month or two ago, but I have the taste in my mind right now remembering how good this bar is. I was supposed to have reviewed this last year, but I let it slip and then it just got too late to post it. So, I ordered a fresh round of Patric and decided to start over again.
The notes are not that much different from last year to this year. This year's batch was a little less jammy than the year before. Patric Chocolate is one of my all time favorite American bean-to-bar producers. He is finally having a lot of fun and coming up with insanely good new creations. Most recently reviewed was the amazing Salty Signature Seventy. And now my second time around with the PBJ OMJ.
While I think the name of this bar is corny, it is anything but in it's taste. Alan McClure blended peanut butter in just the right amount with jammy Madagascar dark chocolate to give a roasted peanut butter and defaulted jam flavor from the natural berry/fruity flavors on the chocolate. It's a brilliant idea and it's executed so well. Patric's Madagascar was some of my first introductions to Madagascar cacao and I have rarely run into anyone with the same level of quality and flavors.
PBJ OMG (Seasonal)
Type: Flavored dark chocolate
Bean Varietal: Unknown
Ingredients: Cacao, cane sugar, natural peanut butter (roasted peanuts, salt), cocoa butter, sea salt.
Sample Size: 2.3 oz or 65g
Appearance: Rich beautiful orange-ish brown color, monogrammed molding with no tab squares, matted textured surface from molding, but shiny and smooth surface. (Minor scratch on the surface came from me.)
Score: 95
Snap: Very soft snap, a little rubbery but still had a slight snapping sound and clean break lines.
Score: 83
Aroma: Nice full but simple aroma of roasted peanuts and jammy fruits. Sweet and rich cacao too.
Score: 94
Taste: Rich roasted peanuts right up front, a little bitter from the dark chocolate, good balance of sugars, fruity notes but more buttery and savory, a little tangy, faint hints of coffee, and Madagascar woody finish.
Score: 92
Texture: Super soft and creamy. Medium-fast melt-time, smooth texture.
Score: 93
I have to say, I am not a fan of the new molding from Patric. Well, not so new anymore, but I don't like the splatter paint design at all. His molding before was so much more sophisticated. Putting that aside, look at how gorgeous the color of this bar is. It's a great color, no surface blemishes, and a great shine despite a textured surface. It's a beauty of a bar.
The peanut butter has the same taste as the year before. Adds a nice richness and even some slight coffee notes with the roasted peanuts and bitterness of the cacao. It's a little less fruity than the previous year. But not by much. It's less tangy but more savory and buttery this year. Still has nice fruits that give off the intended effect of peanut butter and jelly. Leaves a classic Madagascar wood flavor on the finish from retro-olfaction.
The texture was fantastic and smooth, the aroma was to die for, and it tasted fantastic. Just a little weak snap was the only thing really wrong with the bar. It bent quite a bit before it snapped. But it still gave way to a slightly decent snap sound despite how soft it is.
Excellent flavored chocolate. A great blend of peanut butter without making it PEANUT BUTTER. It's such a dominating flavor. While, this bar is definite on it's roasted peanut taste, it doesn't take away from the gorgeous Madagascar cacao. I love that about this bar. It's a great blend that really shines on both elements.
Final Score: 91.4