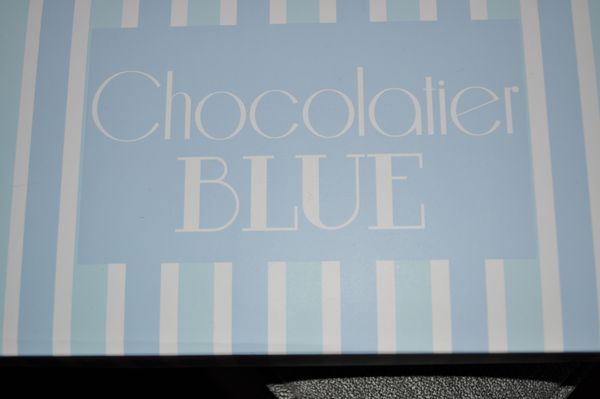 Chocolatier Blue out of San Francisco with shops in downtown Denver. This was my birthday box of goodies from my husband.
Handmade truffles with seasonality as a factor in certain flavors of truffles. The bases used for the chocolate are from Domori. World class Italian chocolate.
And a little blurb about Chris Blue the chocolatier from their website:
Chris Blue spent his childhood summers on a self-sustaining family farm in Nebraska. It was on the farm that Chris learned about organic agriculture, the importance of supporting local farms, and the meaning of hard work.
In time, Chris decided that he wanted to be a chef and he asked his Mom for advice concerning what type of culinary school he should attend. His mother's advice was to learn about what he liked eating the most: chocolate.
It was decided that the French Pastry School in Chicago, where Chris would learn the intricacies of French chocolate making, would fit the bill. Always the perfectionist, Chris threw himself into chocolate candies and spent every spare minute mastering the techniques. While learning his trade, Chris began working at Charlie Trotter's world-renowned restaurant and was able to combine his childhood experiences with organic agriculture to craft new, innovative confections.
In pursuit of a more perfect confection, Chris traveled the country, learning as much as possible at a variety of acclaimed establishments.
This experience led to the opening of Chocolatier Blue, a creation Chris shares with his fiancé Jessica Steeve. Jessica, an art major from the University of Iowa, has honed the aesthetic appeal of each chocolate to reflect the exquisite taste of each filling. While the flavors and designs of the chocolates change frequently, Chris works diligently to maintain the highest standards of his craft.
I can't say what the shop looks like, I haven't been in yet, but I can say the truffles are not made in house. They flown in fresh from San Fransisco. A little disappointing that they are not made locally, but fresh is still important and the store person assured my husband that they are flown in either daily or every couple of days.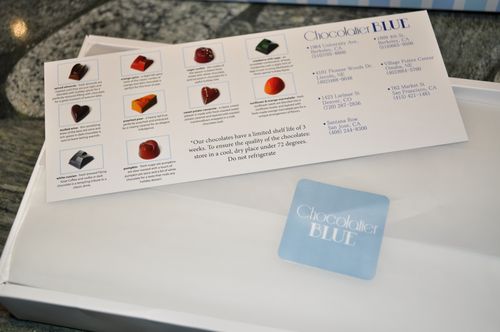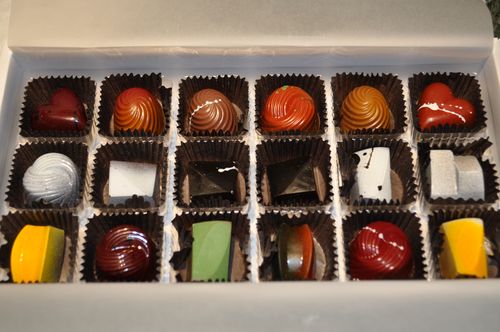 **Truffle descriptions via Chocolatier Blue.
Sugar Cookie - The Cookie of the season is baked fresh, mixed with white chocolate and encased in chocolate for a holiday bite.
I am not sure if cookie of the season means it changes for each season. But I am assuming that's what the description means. With that, I am not sure which cookie has been used for this particular truffle. It smells buttery and a little creamy. It tastes creamy and buttery but is a little dominated by the white chocolate. It's sweet and little sugary but the chocolate shell on the outside lends to a lingering milk chocolate taste. It tastes like a butter cookie.
I liked this one. I was kind of hoping for more of a cookie dough center rather than a white chocolate blend. But two bites in and the dominate white chocolate taste goes away for more of a buttery taste. First impression was ehh, but it ended up finishing strong in my opinion.
Mulled Wine - This tantalizing brew of the best red wine and rich spices in dark chocolate is sure to leave a lasting warmth.
Smells spicy but a mellow spicy kick not too strong. Big spicy flavor though. Lots of cinnamon and cardamon, a rich and very soft buttery center and sweet dark chocolate case.
Really good balance. The spice is strong right up front but all are showcased here with the rich creamy center and the sweet and sharp dark chocolate finish. The spices do dominate any real wine flavors but the combination is still perfectly balanced and superbly rich. Great truffle.
Sweet Potato Casserole - A classic crowd pleaser is made with fresh-roasted sweet potato caramel and layered with marshmallow wrapped in a milk chocolate shell.
The real reason we're here. I was looking up chocolate cake on my birthday and found this shop. When I saw they had creative truffles like my holiday favorite sweet potato casserole, Todd was sent on a mission 10 minutes later for chocolates.
It has a very mellow aroma. Mostly the milk chocolate. It tastes like a savory truffle of butter and sweet potatoes. not spiced, a little bit of the marshmallows. First bite is a little obscure, second bite is exactly like a sweet potato casserole only covered in chocolate. Very fun truffle and very holiday appropriate.
Cookies & Cream - No need to dunk oreos in milk when there are blended into white chocolate filling with a rich dark chocolate shell.
The aroma smells like the shell of the truffle. The taste is interesting. The cookie covers up the white chocolate milk taste, but the white chocolate filing tones down some of the chocolate-y cookie taste of an oreo. This truffle was okay but could have been a lot better. I am not sold on the white chocolate blended centers kind of like the sugar cookie truffle.
Vanilla Rum - Fresh Madagascar vanilla bean are the idea enhancement to dark spiced rum in a white chocolate filling with a dark rich shell.
Lovely vanilla aroma. Soft and pretty. Soft buttery taste without a big boozy kick. You can taste the rum and the vanilla blended up with a butter white chocolate filling. The dark chocolate did not interfere and was a very nice after finish taste. Great balance on this truffle. The alcoholic in me wished it had a bigger hit of booze to it but then the rum would be too over powering.
Sage Honey - Wild California sage honey is blended into white chocolate and encased in dark chocolate for a perfect harmony of flavors.
Soft nose. But sadly the rich honey flavors are lost by the white chocolate filling it's blended with. The dark chocolate at the end seems a little out of place as a last minute flavor on top of the white chocolate. Sage is a robust flavor and should have been more pronounced even from sage honey. While it's there there, it's too subtle to pay attention to and the honey flavor is also lost. White chocolate is the dominate flavor.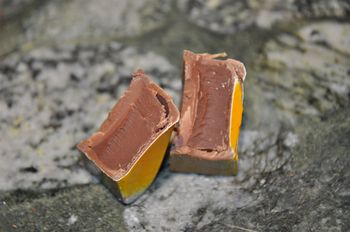 Lemon - Fresh local lemon zest and juice is intermingled with rich milk chocolate for a perfect balance of tart and sweet.
Apparently I didn't want to wait before cutting into this one and take it's picture so there is only one to see. But at the top of the post is a picture of the box and in the bottom right hand corner that's the surface image. Really enjoyable truffle and again good balance.
Soft lemon aroma mixed with milk chocolate on the aroma. Big bright lemon flavor. Great balance with the milk chocolate. Soft creams and bold tart lemons. Great little pop and lived up to it's description.
Pistachio - Highly esteemed Sicilian pistachios are slowly roasted and delicately blended into a smooth creamy filling with milk chocolate.
Another soft aroma, rich buttery filling nicely balanced with the milk chocolate shell. Nice truffle but to be honest, the nutty flavor wasn't as rich as I hoped it would be. It's more creamy and buttery than it is nutty with pistachios. Still the milk chocolate was a nice accompaniment to filling.
Grapefruit with Rosemary - Fresh rosemary is used to craft a creamy caramel with-farm cream and fresh rudy red grapefruit for a combination that is second to none.
A soft herbal aroma with citrus. The center was not a soft caramel but more of a creamy ganache filling. The grapefruit comes off more as an orange flavor with a slight hint of the rosemary. To be honest it tastes like something else entirely. As with the Sage Honey, the rosemary is offset and dominated when it was a flavor I was really hoping would come through more. Orange and chocolate is not my favorite combination and because the grapefruit tastes like oranges, it's not a winner for me.
White Russian - Fresh brewed Flying Goat coffee and vodka in tempting dark chocolate is a tribute to this classic drink.
Smells nutty and roasted. The chocolate makes the coffee smell a bit like coffee grinds. Tastes like creamy coffee and slightly like Kahlua. The coffee should be more pronounced than it is and I wish it had more vodka esters or heat on the finish. There are some esters that come later in the finish, but very slight. It's okay.
Pumpkin - Fresh sugar pie pumpkins are slow roasted with a touch of pumpkin and a bit of white chocolate for a taste that rivals any holiday dessert.
Nice spicy aroma. Spicy creamy taste. Like pumpkin pie but finishes with a white chocolate taste. There is an odd plastic taste to it. It might be from the spices and the white chocolate flavors. It completely interferes with a perfectly good truffle. I don't know what causes that kind of flavor. The spices on the first taste were a good blend and even the creaminess of the white chocolate lended a good buttery taste. But something else is interfering making this not very good and a complete plastic taste. Spices can be hard to maintain. I learned about this with pumpkin ales. If they are over spiced, they can sour a beer once it begins to warm to room temp. I suspect something similar happened here.
Passion Fruit Caramel - Fresh tangy New Zealand passion fruit juice is finished into a creamy decadent caramel with a touch of dark chocolate.
Nice passion fruit aroma. Very zippy little truffle here. Very bright and tart passion fruit flavors finished with nutty and almost coffee-like flavors on the dark chocolate. Nice butter caramel center on the second taste. Good flavors all around. Tart, fresh, passion fruit taste, creamy, buttery, and a nutty coffee chocolate-y finish. Nice roller coaster of flavor here.
75% Dark Chocolate - Single origin dark chocolate from Domori blended with cream and organic butter for a flawless chocolaty indulgence.
Of course you know what I am going to say here. Which origin? Nerd Alert: to chocolate geeks, it makes a huge difference knowing which origins were talking about. Madagascar is hugely different than Vietnam cacao, or Venezuelan. Let's see if I can take a gander here at which origin.
Tastes like a classic fudgy brownie truffle with a butter cream taste. I am afraid I can't tell where this comes from.  Sometimes I am that good. This time I can't tell. Fudgy brownie qualities are hallmarks of Ghana cacao. But the butter and cream could muddle it and make it something South American as well. I know I should call the shop and ask. But I don't want to out of defiance. It should be listed already. If it's from south America, it's possibly Peruvian. If it's from Africa, it tastes like Ghana cacao. I will update if I ever find out.
Espresso - California Flying Goat coffee is steeped in fresh-farm cream then blended with organic butter and a rich dark chocolate creating a perfect luxury.
Nutty coffee grinds aroma. More buttery than coffee. Not as rich and luxurious as mentioned. It's slightly nutty and coffee-ish but nothing really stands out here as an espresso truffle. They seem to hold back a lot on flavors or the flavors dissipate quicker than expected. It's a fine truffle just not as rich as I hoped.
Root Beer Float - A perfect after dinner treat of fresh vanilla root beer filling poured into a thin dark chocolate shell.
Smells like root beer and licorice root. It tastes exactly like root beer. It's more like a root beer caramel but the spices and flavors are more pronounced than the buttery notes like the other truffles and caramels. It's a good match and a good blend. If you are not into root beer you won't like this. But if you remember that taste its a great little truffle and leaves a lingering licorice taste with the dark chocolate.
Hazelnut - Award-winning Ennis hazelnuts are meticulously roasted with fleur de sel salt and blended into a flawless textured filling.
Really good. Gianduja is a fantastic flavor. Blended chocolate and hazelnuts. Good balance of salt and little crunchy pieces. This is simple, classic tasting, and very good.
PB Crunch - An over the top peanut treat created with homemade peanut brittle ground into fresh peanut butter and enclosed in milk chocolate.
You had me at peanut brittle. Not as crispy as I was expecting but the taste is everything. Good sweet candy taste of the brittle almost like pb and honey, roasted peanut butter and good salt balance. I am a big fan of peanut butter and this was a good little truffle. I just wish it was slightly more crunchy for more of that brittle texture.
Peanut butter and Strawberry Jam - A little milk chocolate with fresh ground peanut butter is layered with strawberry jam for an instant summer flash regardless of the time of year.
Peanut butter and strawberry jame is how I eat my sandwiches at home. I am a lover of this combo. And it tastes like pb & sj. I wish it had a slight bit more of the strawberry because the peanut butter is a big flavor. But that's a small observation. It's a nice truffle worthy of childhood memories or your favorite lunchtime sammie.
Todd gets points for being a good husband and bringing his wife fun holiday truffles. He gets negative points for failing to get a Chili truffle in the box and a Cranberry-Sage truffle to try.
Overall these are good truffles. I wish some of the flavors were bigger or more pronounced. The coffee truffles were lack luster on the coffee flavors. As were some of the more creative spicier truffles like the Sage Honey and Grapefruit Rosemary. Some of these were very original in flavors. I loved the idea of cookie dough and sweet potato casserole. I would love to try the cranberry-sage next time too. Some of them were a miss for me. I am not a big fan of white chocolate. It muddled some of the flavors in my opinion.
I'd say the Passion Fruit caramel was a big win for me. The Hazelnut, Vanilla Rum, Mulled wine, and the Lemon were the best in this box. The peanut butter truffles were great too.