Sweet Hollywood, a candy store in Los Angeles, has designed a chocolate candy bar in honor of the fabulous RuPaul. A portion of the proceeds of this bar go to the Jeff Griffith Youth Center for homeless LGBTQ youth. A fantastic cause that helps offer support, feed, shower, and helps employ LGBTQ youth in need of help.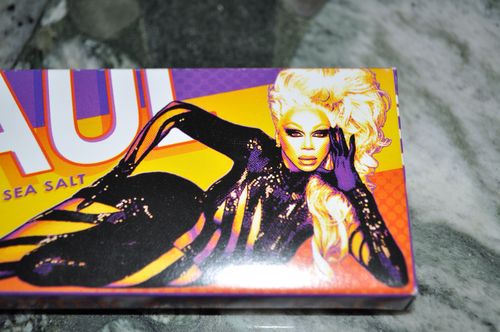 Now, I am glad to help pitch in for these kinds of causes, but I am not going to lie, I bought this bar for the packaging. I don't even care what it's made of. I started seeing this pop up on twitter and bought it immediately. I love RuPaul and everything he represents. He is an icon. But admit it, look at how fierce this package is. I love Drag Culture and I couldn't be more thrilled to have my hobby life intersect with the fabulous life.
So, what does it taste like?
It's a peanut butter bar in milk chocolate and has sea salt. It has a very soft milk chocolate shell and a gooey peanut butter filling.
I can't seem to find the full list of ingredients for this bar, but the bar was made in The Chocolate Lab for Sweet Hollywood. They do a series of customizable bars, as well as an LA series of neighborhood bars dedicated to the iconic neighborhoods of of Los Angeles. I have a few of those that will be coming up for review too. But I don't know how natural the bar is or all th ingredients in it. This bar has been labeled fair trade, and is with 33% cacao content for the milk chocolate.
On the surface, it's a light mahogany color, it's outer milk chocolate shell is so soft there are cracks on the surface and some noticeable air bubbles. And at least we know it's a handmade product because the finger prints on the surface are not mine!
It's aroma is a rich milky butter smell of milk chocolate, and deep roasted peanuts. Great aroma. It just smells like candy, smells like Halloween.
It's very sweet and although the aroma suggests it might have a full roasted peanut butter flavor, it's not very nutty. The saltiness is only there for a second and then the milk chocolate sweetness over takes it. It's very sweet. There is salt in this bar but some bites are more sweeter and some are more salty than others. It's still pretty good though. The peanut butter is a blend and not a full peanut butter center. It's more of a gooey peanut flavored paste. But the best part is the milky characteristics of typical milk chocolate (the lingering milk after taste) don't weigh heavy on the mouth which makes it more enjoyable than most. It tastes like peanut butter bon bon's in a bar form.
All in all it's not bad but it's not high quality either. But that's not really the point. A novelty candy shop making novelty chocolate bars is fun and it serves a purpose of charity. I would eat this again and again. I would buy more to support, but I wouldn't compare it to anything artisan.