Easily the best beer dinner I have ever hosted. Easily.

For those who are regular followers of this chocolate blog and may not realize, my day job is working for my husband Todd, who is the co-founder with his brother Jason, of BeerAdvocate.com. I manage and organize all the beer festivals we host in around Boston, and I set up tastings and dinners around the city as well.

The American Craft Beer festival was just last weekend. The week leading up to the festival was Boston Beer Week. Our official event was hosted on the Wednesday before the festival at Green Street in Cambridge with our good friend Dylan Black, the owner of Green Street.

We called it the American Craft Beer (Fest) Dinner not only because it was the official event for the American Craft Beer Festival, but because we included all aspects of American craft featuring beer, cheese, chocolate and cooking. All of which are in the same boat in this journey of making quality foods and drinks using the best ingredients all by fine American producers.

With chocolate being a passion of mine, and beer being the main event for the week we decided to host a beer and chocolate dinner including American craft cheese from New England. Emily Shartin, the chocolate buyer of Formaggio Kitchen, worked closely with me to help make this dinner come together. She helped bring in Jasper Hill Farm, one of my favorite cheese makers in the US and helped us secure our orders for the chocolate. She also regularly brings me chocolate to sample and try of some of her favorites and has been a hero to this blog.

We invited my good personal friend and founder of Sixpoint Craft Ales, Shane Welch to come be apart of the dinner. Sixpoint being from Brooklyn and working closely with artisan chocolate makers Rick and Michael Mast of the Mast Brothers Chocolate from Brooklyn, naturally we invited them to be paired together for the dinner.

I also invited a new friend to the Boston area, Alan McClure of Patric Chocolate in Columbia, Mo. to come and be apart of the dinner. He stayed for the whole weekend to check out the beer festival. Hopefully more beers on the market will be made with his products. Pairing beers for his chocolate was the tricky part. With the Mast and Sixpoint, they already have a good working relationship, Alan sells cocoa to Jolly Pumpkin Artisan Ales, but since Jolly Pumpkin hasn't been available to attend one of our beer festivals for a while, and Patric makes some very serious, and amazing chocolate, I had to find a brewery worthy of the match.

And then it came to me, Cambridge Brewing Co. Local and long time friends Will Meyers and Megan Parisi, both Head Brewer and brewer for CBC. I couldn't have been more right to have chosen them for this dinner and you will see why as I get into this dinner.

This dinner despite all the planning, discussions, and tastings with brewers, really belongs to head chef Greg Reeves. I worked with Greg once before to host the Ithaca Beer Dinner, Green Street's first beer dinner as well as hosting various tastings with Greg for special beer releases paired with Green Street's infamous tacos. Simply put Greg is masterful. If there is a beer he hasn't tried, he just needs a few key descriptors of the beer to knock it out of the park. Most chefs worth their salt can do this, but after having worked with a lot of amazing chefs, I don't think anyone is better at it than Greg Reeves. I do have to honorably mention Steve Brand from Upstairs on The Square who is also very masterful at beer pairings and truly loves beer.

I should preface that this had a very strange sounding menu. Things that sounded odd, and seemed strange ended up being some of the best pairings I have ever had.

I also have to preface that my old, outdated camera that has done me well for so long doesn't like beer apparently. It loves food and gets wonderful shots of food, but never seems to do me any justice on beer pictures. So please don't mind my shoddy photography on the beer.

Welcoming: The Audacity of Hops from Cambridge Brewing Co. A Belgian IPA. From Will's notes, Audacity of Hops (Belgian Double I.P.A., 8.8%): grass/fruit/floral nose, hints of phenol/sulphur yeast Belgian notes, funky. Quick pale malt notes and floral hop finish, medium hop bitterness.

We then opened with some of Green Street's famous tacos. We wanted to get the expected out of the way early. Molé is to be expected with chocolate pairings. Savory and classic. So we introduced a chicken molé taco and the Mast Brothers placed some cocoa nibs on each table which we loaded up inside the taco as well. It wasn't a deep brown mole taco, more of an essence to the taco. This ended up being the perfect match to the Audacity of Hops. It was a little spicy, and the hop flavors from the Belgian IPA interacted nicely. The chicken and the sweet malts enhanced one and other.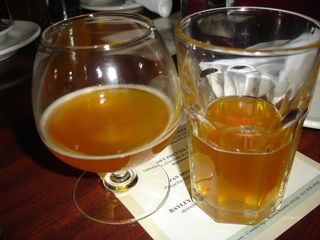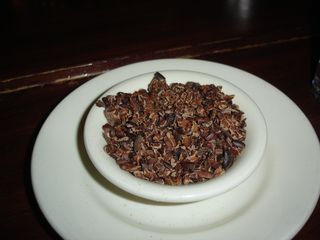 [The Audacity of Hops on the right in first pic.]



First Course: Cured & cooked hams with mint, basil, melon, cocoa nibs, and a chocolate aioli. Patric Chocolate Madagascar cocoa nibs, and Patric Chocolate 70% Madagascar Bar with nibs.

Beer: CBC's Spring Training IPA, (Will's Notes) American IPA, 6.3%: fruity/floral/grassy nose, low bitterness, clean malt palate.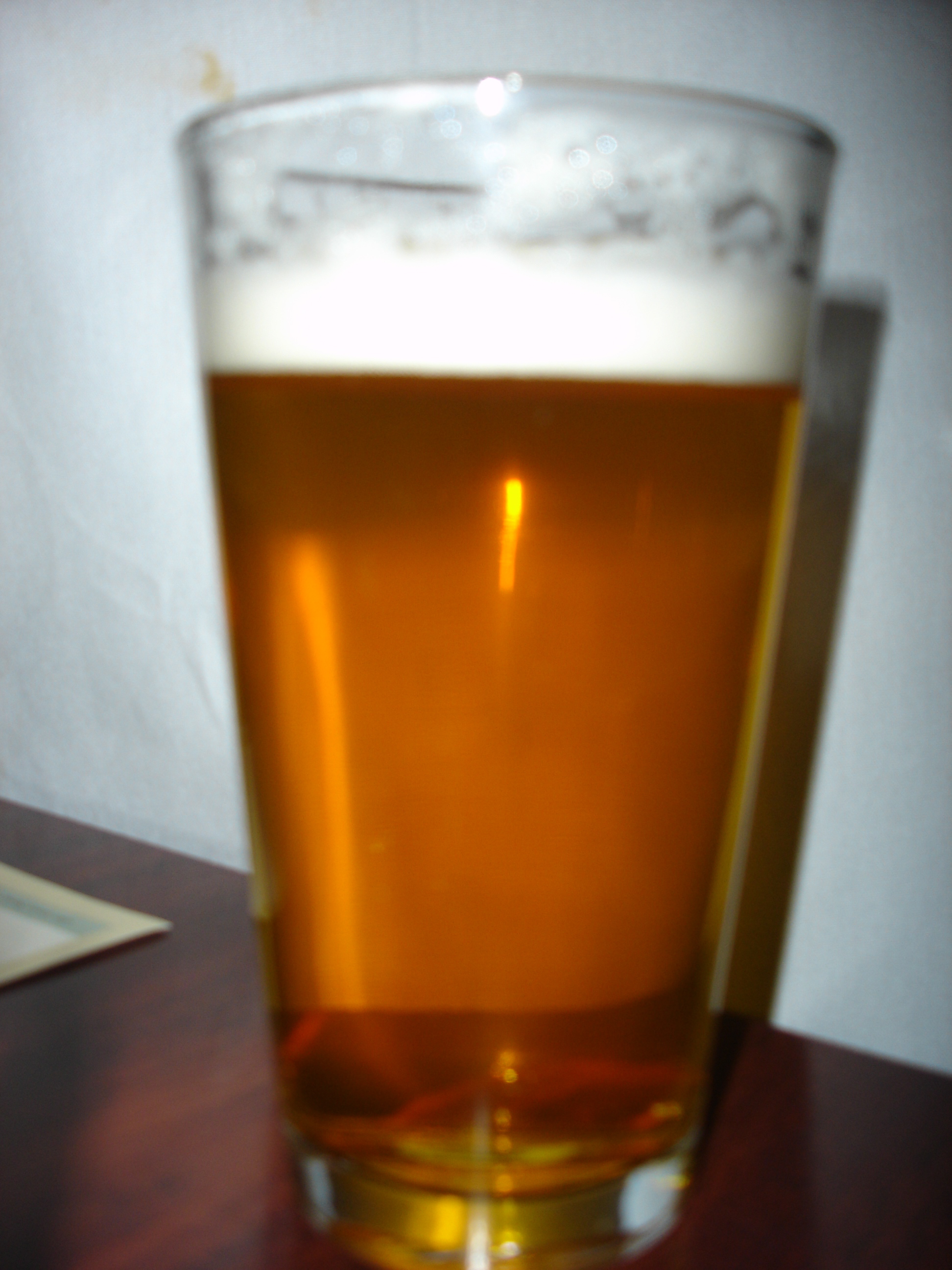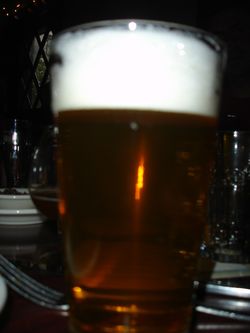 [My bad pictures of the beer.]


This pairing came together on one request, that we definitely use Patric's Madagascar cocoa nibs. It was the first thing I sat down with Will Meyers and Megan Parisi to taste. Interestingly enough it worked out really well with the Spring Training IPA. Normally I wouldn't have gone this route haven't had little or no success with pairing chocolate and IPA's together. But with these nibs from Madagascar and the hallmark flavor profiles being woody, cedar wood, cherries, and a tart base, it ended up being a natural fit for the grassy and fresh IPA which isn't hop heavy.

Chocolate aioli? What? When Greg mentioned he wanted to make this, I think all of us at the planning meeting were a little curious. It sounded weird, and being paired with melons and ham it really didn't sounds like it would work. I have learned to trust Greg, and I went with it. Mainly because I was curious as to how we would pull this off. It more than worked.






The Sambirano Delta River Valley at the top Northwest of this map. Just barely inside the parallel of 20N and 20S. This is where Patric sources his Madagascar beans. Read my original reviews for the 70% with nibs to get a full understanding of this chocolate.






70% with Nibs review.



The flavors were all in perfect balance. The light floral, grassy IPA being balanced with the salty hams and sweet melons. The basil added the right herbal pop to the dish. The chocolate aioli made with the melted down 70% Madagascar bar with nibs was salty, buttery, rich with roasted cocoa, and savory adding more of a balance in bringing out the ham's flavors and more of a sweetness to the IPA. This course was fresh, light, and extremely flavorful. A great way to get started.



Second Course: Warm handmade pretzels sandwiches with melted Cabot clothbound cheddar (aged at Jasper Hill Farm cellars) with Mast Brothers Patanemo Grand Cru bar 75% (Ocumare de la Costa, Venezuela) melted for dipping.

Beer: Sixpoint's Righteous Ale, 7.2% Rye Ale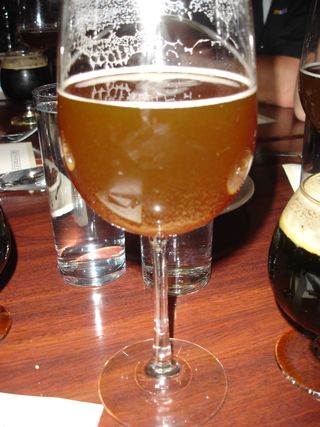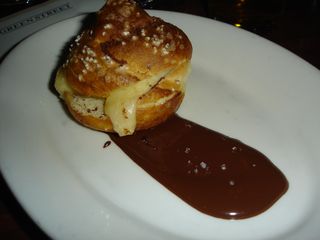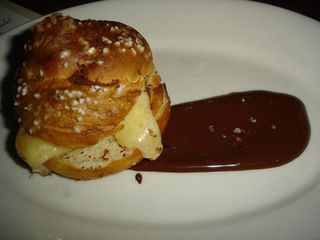 Handmade pretzels with kosher salt, and salty cheddar cheese balanced by sweet malty rye beer, and an amazing new grand cru chocolate from the Mast Brothers. This is the one course I couldn't stop dipping my finger in the chocolate until it was all gone.


A new bar for the Mast Bros. from the Ocumare de la Costa region of Venezuela. This is going back to their roots a bit. Originally the base for their bars was made with Venezuelan beans. Not the same region, but still Venezuelan. They have switched to Madagascar, but I didn't think was entirely the right move. While their Madagascar bars taste good, it tastes a bit unbalanced to me. I found their Venezuelan bars more more balanced and refined.






Ocumare de la Costa is in the northern coastal region in the Aragua State of Venezuela.

Via: The Nibble




•Criollo & Trinitario
•Darker, robust
•Cashews,

peanuts


•Spice, pepper


Ocumare 67. Originally from the Ocumare de la Costa valley, a Criollo and Trinitario hybridized blend. Interesting flavors of cashews, peanuts, spice, pepper, and sometimes dairy. The tone is a little darker than Ocumare 61 and it does not possess 61's sharpness. It is more robust than 61 in overall character, with a heavier body.



The salty pretzel and salty cheddar were nearly too dominating, until you dipped it into the chocolate and took a sip of the rye beer. Then it was magic. Originally I thought the chocolate would be melted into the pretzel together with the sandwich, but the chocolate was so rich, it was better to have dipped each bit in the chocolate.

The chocolate was rich, fruity, and bold. Awesome roasted cocoa flavors which helped soften the cheese and pretzel. I wasn't able to fully get the range of this chocolate with everything going on for this pairing, but the rye was a spot on match for the chocolate. The rye actually stood out on the beer and the sweet malts softened the bitter edges of the chocolate allowing more robust fruity notes to come out and helped tame the salt and bitterness of the cheddar.

Once again something no one quite expected and wasn't sure how would be based on the way it sounded. Salty, big, robust cheddar on a pretzel with melted chocolate. And of all things paired with a rye beer. This dinner just kept getting better and better.


Third Course: Pan Roasted Duck breast, Patric Chocolates Rio Caribe (Venezuelan) 70% Chocolate Rissotto, Cherries, chocolate gastrique.

Beer: CBC's The Colonel. Will's notes: Tart barrel aged Porter with Brettanomyces, 6.5%. Complex fruity nose, tart bright acidity, a little funk/barnyard. palate hits tart and fruity first, then roast characters come out with mellow American oak - hints of vanilla and char - in the finish.




This is the chocolate I reviewed like a beer geek might review a lambic or a guezue. Very funky, deep, rich chocolate from the North Eastern coastal region of Venezuela. I ended my review of this chocolate with "I am not even sure if I really like this chocolate, I think I just like how raw and aggressive it is. This is not a beginners chocolate."





Rio Caribe 70% review.


Of course both Greg Reeves and Will Meyers loved it as it isn't even remotely close to what you might expect chocolate to taste like. The funkier and more different it is, the bigger the challenge and the more fun it is to pair is how they both looked at it.

The duck breast was cooked perfectly. Soft and game-y and a little steel-y tasting which I happened to love. The cherries and cherry gastrique added the right pop of sweetness to the dish and interacted extremely well with the beer. The sour Brett notes of the beer along with it's roasted porter notes worked so well with the chocolate risotto.

The chocolate risotto was expected to be slightly bitter due to the chocolate, but ended up being amazing. There was no bitterness, only rich, savory, roasted chocolate notes. Lovely chicken stock added a glossy shine to the perfectly cooked rice, and a hint of a spicy character to the risotto.

The beer was something I was slightly concerned about as I am not personally a big fan of Brettanomyces beers. But this was fantastic. The tartness, was not overbearing and the oak flavors added a lovely richness to the steel-y game taste of the duck breast. Naturally the cherries and the the roasted porter notes were a hit. It was extremely drinkable and delicious.

I have never had anything as odd as this before, yet so right.


Fourth Course: Bayley Hazen blue cheese on toasted brioche with a Mast Brothers Madagascar 72% chocolate-strawberry confiture with Mast Brothers Nibs.

Beer: Sixpoint's Old Krusher, 9.8% Barleywine made with farmed Amish Maple Syrup.





A huge way to end the already super-flavorful night. Sixpoint's new barleywine made with Amish maple syrup and Bayley Hazen blue cheese was a big hit.

This blue cheese is a personal favorite of mine with big Earthy notes, salty, bold, and big steel notes from the blue veins. This can be considered a more rustic blue cheese, but don't let anyone fool you and say it's mild. I usually pair this cheese with Double IPA's for the same reasons behind pairing it with an American-style barleywine. Lot's of hops with alpha acids to cut through the cheese, and sweet malts to help mingle with the steel-y blue veins. It's a no-brainer, natural, and amazing pairing.

The strawberries added the right balance of tart to the course with the sweet brioche that had the consistency of an English muffin and it helped round everything out. I didn't notice much of the cocoa except for a few hints with the nibs. I think the cheese was frankly too big to notice the subtitles of the chocolate, but it still managed to work incredibly well with the beer.

Sadly, I didn't get a picture of the beer and I didn't do the right thing by taking a sip of the beer first to try and get an understanding of it before the pairing. I do know I liked it a lot with this course and am anxiously looking forward to finding more of it.

We finished our night with more beer from CBC and samples of Mast Brothers bars and Patric Chocolate bars. I was able to taste that Patanemo Grand Cru from the Mast Brothers in bar form. All I can say is that I can't wait to review it.

It only took 3 cocktails after the dinner to tone down the effects of the chocolate. I heard from several people that it took a long time to finally unwind and sleep after that dinner.

I had a wonderful time meeting the Rick and Michael Mast of Mast Brothers Chocolate and Alan McClure of Patric Chocolate. It was a very big deal to me that they would travel all that way to come to my beer dinner. And of course it was great to hang out with Will and Megan both of whom I have known for years and absolutely love. And I can't forget my close friend Shane Welch, whom helped me convince those hipsters at Mast that coming up for one of my events would be more than worth it. Dylan Black of Green Street really did a great job of hosting this event and making it all possible for us.

A big thank you to Valerie Conyngham of Vianne Chocolat for coming to attend the dinner and David Goldstein of Boston Chocolate Tours for attending as well. Also on hand were the chocolate makers of Taza Chocolate.
I am sure a lot of this dinner sounds interesting, bizarre, weird, strange, amazing, fantastic. It was all of the above. If you missed it, I can't say I feel sorry for you unless you live out of town. It was truly an amazing dinner and Greg Reeves is amazing. Everyone had a lot of fun and left very happy and full.
Look for more events of this nature from me through BeerAdvocate as I launch a new series of beer dinners called "Things We Love." I have no doubt chocolate will come up again.