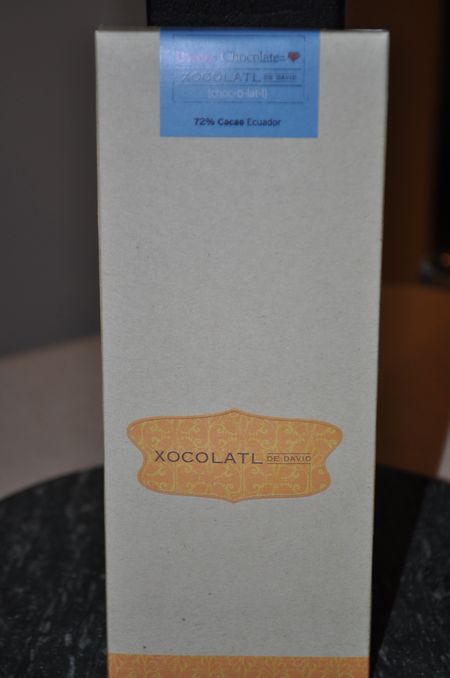 **Archived Notes
The bacon revolution continues. I for one, am not standing in the way. Where once I foolishly thought the bacon craze in general was going overboard, I never turned my back on the bacon and chocolate craze. Bacon and dark Ecuador cacao with a caramel center. Can't go wrong with that.
Similar to the Raleigh Bars, this is a similar theme from Xocolatl de David whom often works with bacon in his confections. Bacon and caramel in a slender bar/tablet form. Only without the nougat like the Raleigh bars.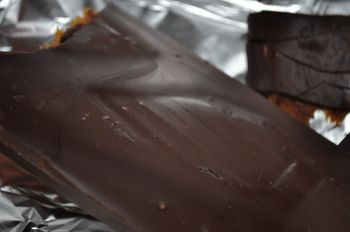 Bacon & Caramel Bar
Type: Filled candy bar, 72% dark chocolate.
Bean Varietal: Nacional
Ingredients: 72% cacao (cocoa mass, sugar, cocoa butter, vanilla), sugar, cream, bacon, invert sugar, fleur de sel.
Sample Size: 2.2oz or 62g
Right away you can notice from the pictures it's sloppy appearance. A side effect from the salt and the caramel bulging the chocolate. I had a hard time capturing the bulging, but you can sort of make it out in the last picture above. It leaves for a hot mess in the appearance. Ashy, white, streaking, and the shine has gone off the bar.
All that aside, it smells fantastic. Like salt cure, smoky bacon, and sweet buttery caramel with earthy, fruity dark chocolate. Wonderful aroma. If they could make reed diffusers in this scent, it would be a best seller.
Sweet, and tangy bitter on the taste from the rich bitter dark chocolate, then buttery caramel with salty cripsy bacon. While the taste is full on with the bacon, I do wish it had bigger bacon pieces in it. It's the plight of my blog to demand chocolate makers to stop being skimpy with the bacon. It's bacon, you can never have TOO much in one bar. But more than that, it has the taste, but if needs the meaty back bone to make you feel like you just chewed on a fatty piece of bacon covered in chocolate and caramel. Because as rich and delectable as this is, large greasy, fatty bacon pieces would set this bar apart from any other bacon bar on the market.
I love the Ecuador chocolate they use on their products. It's rich, fruity, and bitter, and with the caramel and smoky bacon, it brings out a nutty richness to the chocolate with slight brewed coffee notes. Nice combination of flavors. It's very bitter too and that helps round out the sugars and sweetness on the bar.
A real decadent and fantastic bar. The salt makes it that much more addicting too. I am giving this bar a higher score based solely on how it tastes. It's very balanced. Savory, salty, buttery, sweet, rich, and deeply chocolaty and bitter. It's appearance is a side effect from the gooey caramel. It's really bad on this particular bar. But knowing exactly what this bar is and how it tastes shouldn't detract from making this a regular treat or gift for a true bacon lover. It's that good.