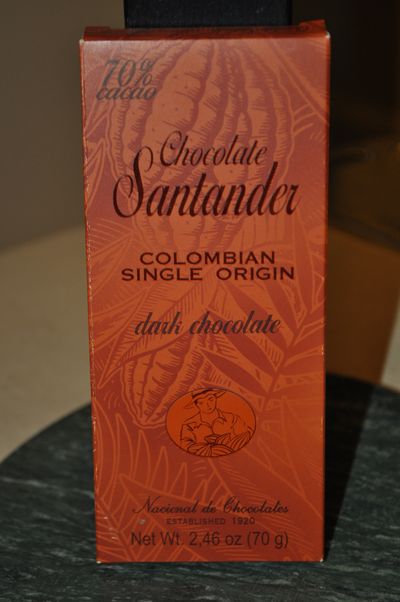 Type: Bittersweet, 70%
Bean Varietal: Trinitario, Criollo blend
Ingredients: Cocoa mass, sugar, cocoa powder, cocoa butter, soy lecithin, natural vanilla.
Sample Size: 2.46oz or 70g
Appearance: Large square monogrammed tablet, deep dark brown color, muted, slightly ashy, a few minor and superficial surface marks.
Score: 89
Snap: Firm, crisp snap, nice audible snap sound, clean break lines.
Score: 93
Aroma: Opens up with soft almonds and wood, the same coffee notes as the 65%, then opens up to big peanuts again, sweet honey. All the same characteristics on the aroma of the 65% but softer and more muted. I don't detect the same floweriness or the spicy qualities I detected on the 65%. I tend to find stronger cocoa percentages can be softer on the aroma.
Score: 91
Taste: Peanuts and peanut butter, coffee, sweet sugars up front, then a little astringent when it opens up. Not much else is going on.
Score: 92
Texture: A little hard, mildly chalky, medium melt time.
Score: 91
See the review for the Dark Chocolate 65% here.
The aroma had all the same characteristics of of the 65% only muted a bit. But the flavor was a bust. It tasted good, but due to the dominating peanuts and peanut butter tastes, coupled with coffee, it drowned out every other subtlety that might have been present. While I liked the taste, it felt more like I was eating a peanut butter cup in dark chocolate than it felt like eating a nice single origin chocolate. While the 65% had too much sugar, this has too much peanut flavor.
I asked before in the other review of Santander, how much is natural and how much is infused from other flavors around their factory with coffee/chocolate products around? The coffee was much more pronounced in the 65% while this one is all peanuts.
I apologize if this review seems lacking, it just ended up being a lot of the same from the 65%. Just softer and more nutty. I didn't want to make this a verbatim review of the other one. But I put the link for the other review because it does contain more details and will explain a lot of what I meant with this review.
Final Score: 91.2