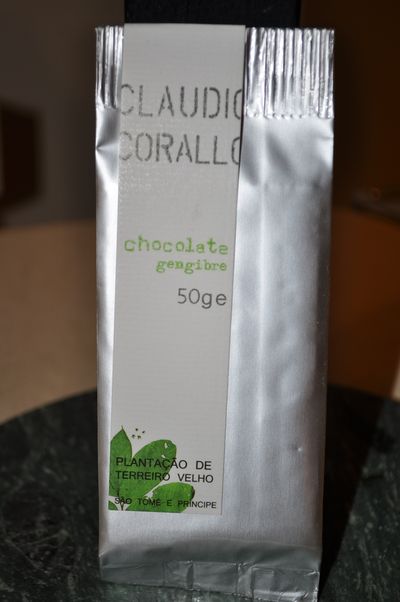 Type: Flavored, Bittersweet, 75%
Bean Varitetal: Trinitario, Hybrid
Ingredients: Cocoa, sugar, crystallized ginger, cocoa butter.
Sample Size: 50g or 1.76oz
Appearance: Two non-monogrammed tablets of chocolate, mildly ashy, couple of surface cracks, bumpy surface from the crystallized ginger, a few white rings around the ginger that wasn't completely submerged in chocolate.
Score: 90
Snap: Fairly decent and firm snap this time around. Light but crisp snapping sound. Asymmetrical but clean break lines.
Score: 92
Aroma: Dominating ginger right out of the gate. But more like a fresh pickled ginger and wasabi. Tar and roasted notes from the cacao, ginger and chocolate give way to some lemony characters, a few blueberry notes.
Score: 94
Taste: Sweet up front, light, clean ginger taste in the beginning, sugary crystallized ginger, slight hints of soap, a weird mix of the cocoa and ginger in the center but the sugary and spicy ginger takes over and completely tones down the big, rustic, and bitter cocoa.
Score: 92
Texture: A little hard at first, then opens up to a little bit of a gritty texture on just the chocolate, medium melt time, and soft chewy crystallized ginger.
Score: 89
This is one of those moments where I must be as objective as I can because I am not a fan of ginger. This chocolate surprised me over all though.
Finally, I got some tablets that came intact. I always get broken tablets from Corallo. These were intact albeit a little ashy and white sugar rings from the crystallized ginger. But still you get a look at their more rustic tablets and more of a feel for the plainness of it all and the raw chocolate tablets. And the snap was nice and firm this time. Usually there is very little snap to speak of. These tablets tend to be fairly soft. This had a nice little snap for being thin tablets.
It smelled like fresh pickled ginger and wasabi and roasted char aromas from the cocoa. It opens up with a sweet taste, and a clean ginger taste, a bit tangy and lemony from the roasted characters of this rich chocolate and the crystallized ginger. I think the ginger dominates the flavor of this bar. The chocolate barely has time to shine. There is a moment when it's boldness comes through. But there is a slight weird interaction in the middle with the ginger and the char characters. Then it had a bit of a soapy taste. This is why I usually don't like ginger. The clean flavors up front were very nice and giving way to that lemony taste with the cocoa, but then it turns into soap and flavors that my palate flat out rejects. But this soapy flavor doesn't last long which is why this chocolate surprised me and ended up being a lot better than I expected. I think the sugars had a lot to do with keeping those off flavors at bay. And that crystallized ginger is very sweet.
I do feel like the ginger was a bit overwhelming over all. But this isn't a bad thing. This is perfect for those who adore all things ginger. However, I wish the chocolate interacted more and gave off more flavors. The sugars only gave way to the chocolates contrasting flavors like tar, and bitter roasted notes. There wasn't a good enough balance in my personal opinion. But like I said, as someone who isn't a lover of ginger, this was actually pretty nice over all.
The texture was a bit of a mixed bag for me. It was loaded with the soft and chewy crystallized ginger bits, but the actual texture of the chocolate was hard, fairly dry, and a bit gritty. If only the chocolates texture was smoother and softer and just just a bit more of an impact on the flavor, this would have had an exceptional score.
Final Score: 91.4