This is a post about giving credit to companies with great customer service. I have been writing about chocolate as much as I can from the start of the new year. It was a project I meant to start last year, but with the new year came a fresh slate to start this new hobby, passion, project.

Since that time, I have had mostly amazing chocolate. The reviews are heavily on the good side. Technical marks can make or break certain chocolates. It's more than just tasting.

A few times though, there have been some bumps in the road. Banged up truffles from transport, build-your-own chocolate mishaps, off tasting chocolate, and damaged bars or the appearance of bloom.

When this happens, it's not the easiest thing in the world to write harshly about the product. For others with shitty lives or just drama filled people who seek to write with pleasure while they destroy a product or a business, they might find that kind of thing easy. Not for me. I have no problems in tearing apart drug addicted celebrities and plastic surgery nightmares all in the name of vanity. But it's not so easy to be so crassly judgmental about someones actual hard work and livelihood.

I am not saying I write with bias. I am pretty fair from top to bottom about the chocolates I review. But it's not always easy to write negatively about certain products that might hurt or detract for the overall presentation, product, or business itself.

This post is about giving credit to those who take their work very serious and are interested in positive customer satisfaction. Even for tiny, amateur blogs such as 20°N & 20°S.








First we have Amano Chocolates. I first wrote about their chocolate with their Madagascar 70% bar which was given to me in trade by the chocolate buyer Emily Shartin, at Formaggio Kitchen.

Upon seeing this review, the PR team behind Amano asked if they could send me more bars of chocolate from their newer collections. Who am I to say no? So they kindly sent me 3 more bars to try. As well as another product they sell because they actually read the small blurb I have written for my bio. I am a BeerAdvocate and my husband owns BeerAdvocate. So they sent Sahale BBQ flavored Almonds.

Well, I reviewed two chocolate bars and my husband stole the almonds. Technically the almonds were meant for him and not me. But I didn't tell him that. He always get's beer sent to the house for review and never shares. And he stole them anyway not knowing anything about them.







I sent the PR team back the new reviews and they asked me about the almonds. I was forced to admit that I never got to try them. Now from here it sounds like I am a huge moocher. But I swear up and down my intentions are pure and I am not seeking out any favors. They sent me more almonds and this time they sent two other products as well. The Soledad Almond mix and a Cashew mix.

Then I had a kind of an odd experience with the last bar. The limited-edition Montanya bar. It had some banged up edges on it and it had the appearance of sugar bloom. The bar was absolutely amazing. But sadly it couldn't get higher marks because of the appearance.

Once again the PR team contacted me immediately to apologize about the condition of the bar and asked if they would be send more chocolate directly from the Amano chocolate factory in Utah.

This kind of made me paranoid. It's not my intention to get free things. I told them they can do it if they felt it was necessary but it's not my intentions. Apparently Art Pollard himself, saw the reviews and wanted to make sure the issues were corrected. Well thank god for egos and passions. Amano chocolate is amazing and if more bars do end up on my door step, I will be so happy. Still have to be fair, but grateful for a chance to even taste these fine chocolates.

It means a great deal to me that they care so much about my little blog of reviews. They care about quality and making an impression. Well, they certainly have made an impression with me.

Thank you to Adrienne DeAngelo and Anja Hakoshima who have both been so kind and generous from Fortune Public Relations.







Alan McClure from Patric Chocolates deserves credit for being very hands on about reviews and customer service. He makes himself personally available to answer any questions posed. He then took personal responsibility for some truffles I ordered made by Elbow and Kakao using his cocoa. There was a slight matted and sunken in appearance on the Elbow truffles, but they were quite possibly some of the best truffles I have ever tasted. We're not sure what caused this exact effect but possibly it happened during shipping.

He too asked if he should send more. I said no this time because I was still working on the order I had in front of me and I loved eating them. in this case, a simple issue over appearance isn't a big deal especially when they tasted amazing.
He also sent me his entire profile to be reviewed. I fell in love with the Madagascar 70% with cocoa nibs. He also sent a package of cocoa nibs which I made into cocoa nib cookies following his recipe.



William Curley contacted me via Facebook to express his concerns with one of the bars I tasted from his shop. Something was off about this one particular bar, the House Dark 65. I had a few friends taste this bar and they agreed something was kind of off about it.

It was a strange introduction to a famed chocolatier of London. But thankfully I had two other products of his on hand. The Sea Salt Caramel bar which was TO DIE FOR! And a dark chocolate bar with chili pepper spice. From those two, I was able to understand the hype and the accolades.



Then there is Chocri. The customize and build-your-own chocolate bars company. You can even name your own creations. With dozens and dozens of toppings, you can literally create thousands of combinations. Not to mention they accept donations to help fight the child labor issue in the Ivory Coast with cocoa harvesting.

Carmen Magar from Chocri, is the hero of this little story. One of my bars that I ordered was specially requested to be made with dark chocolate and it came in white chocolate.

I am not a fan of white chocolate at all except in the right circumstances. White chocolate and macadamia nuts always works. For my "Health Bar" it was terrible.

Carmen read my review and and immediately sent a replacement bar with dark chocolate this time and one of their popular creations called The "Cinnamon Girl" bar. Again this wasn't what I had planned on. I like this company, the people behind it, their ethics involved, and the concept. But this kind of easy customer service and care and concern from the people behind the scenes makes a big difference.


We created this bar for the Cinnamon Girl (Cinnamon Spice & Everything Nice blog), who started our blog relay race (female bloggers vs. male bloggers) for us! A thoughtful concoction of all those flavors that Cinnamon Girl used in recipes on her wonderful blog, congregating around... what else... cinnamon!

Made with: Milk chocolate, apple bits, cinnamon, rice crispies, and Bourbon vanilla.

My bar originally requested was called the "Health Bar".

Made with: Dark chocolate, Blueberries, Cranberries, Organic Flax Seeds, Goji Berries and mymuesli - Organic Muesli.

Click the "I Ordered" link above to see some of the other cool creations I made. Trust me it's worth it if you want to see how some of the creations and various toppings came out.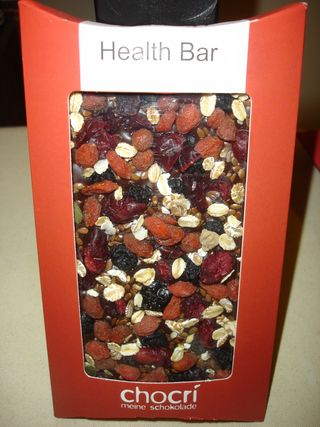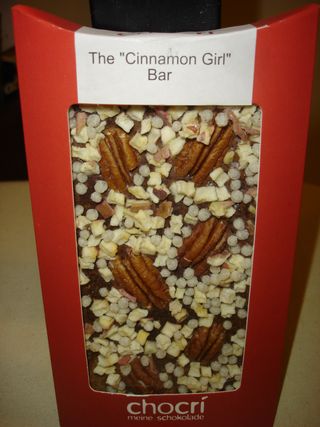 And last but not least Modern Dwellers. A small tiff arose over the state of some truffles sent to me from Alaska. A small disagreement ensued over what was the proper way to have handled the shipping, but I am happy to say it ended with good vibes, beer and chocolate discussions, and new truffles. Lindsay Clark takes some serious pride in what is being offered in Alaska. And rightly so.


Beat Up Truffles

Making Up With Modern Dwellers


From this mess (after I straightened them out a bit):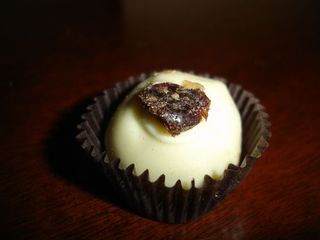 After the first batch you could clearly see why I was disappointed. But then when they sent fresh truffles, I could clearly see and taste why they were upset about my review. But now I get it and now I understand. Now they are allies in this chocolate world.



Again the point of this was not to highlight mistakes, but to highlight good customer service and how little it takes to correct a situation. These people care about their products, care about their craft, and care about even the smallest person's voice out there talking about their products.