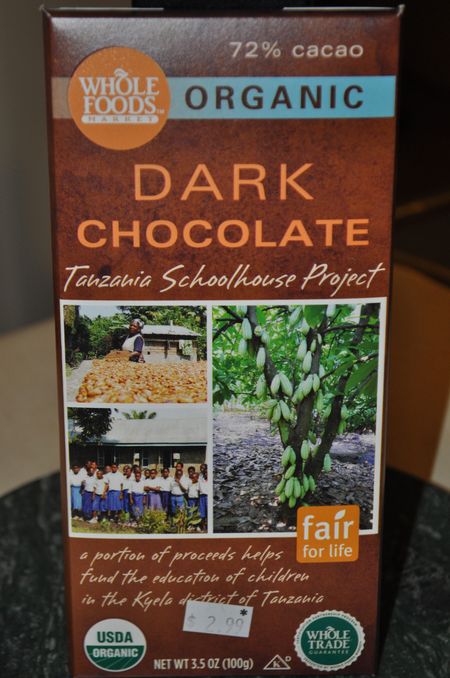 Organic and fair trade single origin beans from Tanzania made into chocolate bars from Whole Foods and processed in Belgium, to benefit the Tanzania Schoolhouse Project. A portion of the proceeds benefit the education of children in the Kyela District of Tanzania.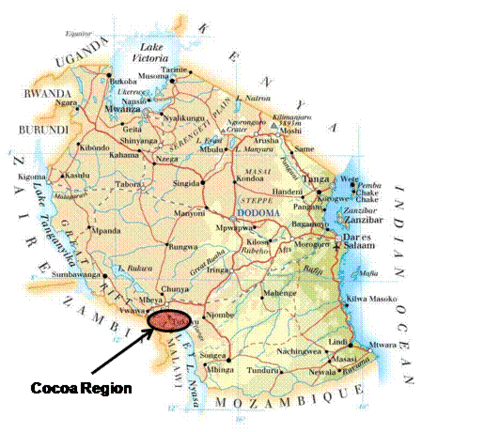 [Image via Hai Tanzania]
Tanzania Schoolhouse Project 72%
Type: Bittersweet, 72%
Bean Varietal: Probably Forastero
Ingredients: Chocolate liquor, cane sugar, cocoa butter. All organic.
Sample Size: 3.5 oz
Appearance: Smooth, non-monogrammed molding, but signature molded tablet, medium brown color, near blemish free bar on the surface, some very mild streaking on the back of the bar with some small air bubbles.
Score: 94
Snap: Firm snap with a lightly crisp snapping sound, clean break lines.
Score: 91
Aroma: Big bold aroma of roasted peanuts, big fruit and berries and ink.
Score: 92
Taste: Flowery and inky up front, deeply bitter, roasted cacao, toast, earthy, subdued fruits, roasted and nutty, slightly smoky lingering tastes on the finish.
Score: 93
Texture: Smooth, medium-slow melt time, Not silky smooth or chalky, but some where in between on it's texture.
Score: 91
Very nice bar. Great appearance. Virtually blemish free and that's awesome for a bar picked up at a grocery store. Nice molding good thickness on the bar, and even though it has overly large tablets, it's not too thick to bite into which has been an issue on other bars with large, fat tabs.
The aroma was nice and full. Big fruits and roasted peanuts. Some people like really deeply complicated aromas. I find it awesome when I can find layer upon layer in an aroma, but there is something to be said about a simple straight forward aroma too. Nothing too complicated. It is what it is.
The flavors are fairly straight forward as well. I don't want to say it's simple, but there wasn't a whole lot of nuance on this bar. Deeply bitter with lots of lingering bitterness. But sweet and floral up front and again big roasted cacao flavors and nuts. Some biscuit and toast flavors a little earthy and fruity.
This is really great eating chocolate. No thinking, no need to get too complicated about it. Store this in your desk at work for chocolate intermezzos, break this open and devour it quickly, melt it down for hot chocolate, chop it up and bake with it. I don't want to sound flippant about it, but it's very good chocolate for only $2.99. You can buy a ton of it to use for whatever and you are doing some good with it by buying it for it's charity purposes.
Final Score: 92.2