Looking at my inventory of chocolate to be reviewed, I asked that if anyone had anything to bring me by way of chocolate that it not be be bars, but rather truffles or other chocolates to be eaten right away. I have a library of over 50 bars. All in due time for those reviews. For now it's nice to break up the reviews with fun things.
Angelo Scarnera brought me a nice little collection from London again. If you will remember, he is the person responsible for the British Chocolate Invasion. This time he came through with specific requests. One of those requests were more Milk Chocolate Bars with Welsh Sea Salt from Rococo. With it were two truffle bites.
Rococo has become a favorite of mine. That milk seas salt bar is ridiculously good. It snapped me out of this constant string of dark chocolate reviews and reminded me how good milk chocolate can be.
These truffle were lovely and rich raspberry truffle. Really clean finish. It opens up bright, bold and full of tangy raspberry. Follows through with some coffee notes of the rich chocolate but finishes clean. I am not sure of the cocoa percentage but it is a Valrhona single origin chocolate. I would be impressed with myself if I could identify the region, but the raspberry is the dominating factor. Tasty little treats.
Ahh Liddabits. Fun makers from Brooklyn, Ny. After having previously tried their pate de fruits and chocolate bar "The Snacker," which is sort of their version of a Snickers, I was given a bar of "Chocolate Doom." These are adult candy bars. Handmade, super rich, and super good.
"Chocolate Doom" is a chocolate sable cookie, milk chocolate ganache, white chocolate ganache, and dipped in chocolate. The cookie is a lot saltier than anticipated but is actually a nice break up to what would be an overly sweet candy bar. It ends up tasting like an Oreo cookie candy bar. Very rich. I could have done without the white chocolate, but that's just me being overly picky about white chocolate. The white chocolate gives off a weird artificial flavor. Again, this is just me being weird about white chocolate. I have never really liked white chocolate all that much except in obligatory things like white chocolate chunk macadamia nut cookies.
I liked this bar quite a bit. But I didn't think it was as good as "The Snacker." The peanuts in "The Snacker" end up being a more natural salty break up to the sweet handmade nougat in the bar. Still, anything called "Chocolate Doom" is worth having a go at.
Another William Curley truffle collection courtesy of Angelo. Can't ever be without a William Curley product within my reach. I've previously reviewed this truffle collection. I had a great time going through these truffles. They were very sophisticated. I had reviewed most of these but there were a few new ones in the box I hadn't tried before. The hand rolled collection.
The House Dark, Cassis and Hibiscus, House Milk, Framboise, Rothschild Champagne, and Yamazaki Malt Whiskey.
"Our fresh chocolates are made without additives or preservatives and have a shelf life of 14 days."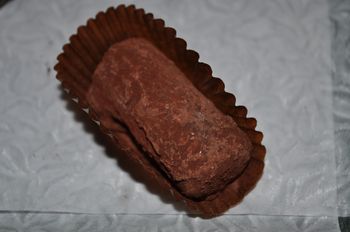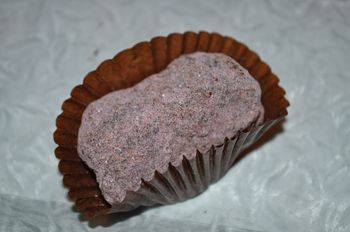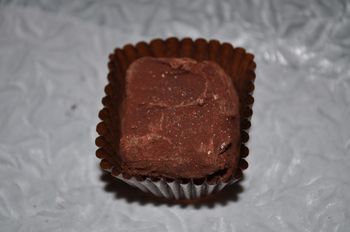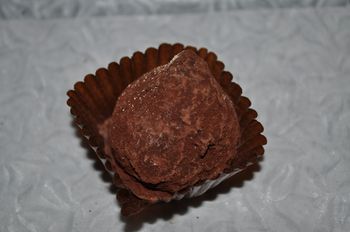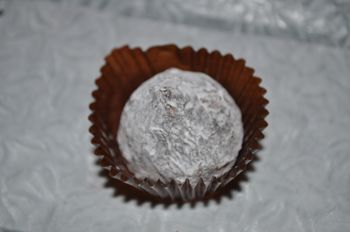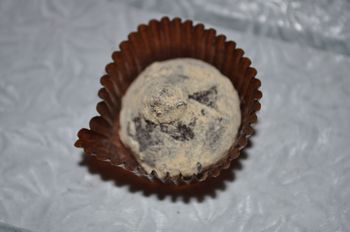 House Dark: Fairly intense truffle. Handrolled chocolate shell, with a deeply rich, creamy, and bittersweet ganache filling. Dusted in unsweetened cocoa powder.
"William Curley's Classic Truffles are made with a blend of Amedei's 9 and Toscano 70%. It has a fresh soft intense ganache, with a light coating of chocolate and cocoa. The House Dark has won Gold for Best Dark Truffle in 2006, 2007 and 2008."
Cassis and Hibiscus: Very tangy! The coating has a tangy cassis powder with a bump of rich and also tangy ganche right in the center, and finishes with a delicate hibiscus flowery finish. This isn't my favorite truffle, but I thought it was pretty cool. Certainly wakes your palate up.

I don't have the ingredient list for this one but I am pretty sure Amedei Toscano is one of the chocolates used.

House Milk: Much softer center and delicate flavors but still a fairly rich chocolate shell and unsweetened cocoa powder coating the truffle. This is still a very rich truffle it just has a creamier and milkier ganache filling. I liked this one much better than the house dark.
"The House Milk Truffle is another classic, rich and creamy made with a 32% Toscano chocolate. Enrobed in dark couverture and cocoa, this compliments the sweeter ganache creating a perfect balance. The House Milk has won Silver for Best Milk Truffle in 2007 and 2008."
Framboise: Tastes similar to the house dark with a delicate raspberry ganache filling. Mostly you find super tangy and overly flavored raspberry flavors. This is a lot softer and allows for more chocolate interaction.
"Fresh raspberry puree has been blended with Toscano 63% complimenting the acidity of the raspberry, coated with dark chocolate and cocoa. The Framboise has won Gold in 2008."
Rothschild Champagne: Very sweet with powdered sugar coating, and lightly flavored with champagne. You can taste classic champagne flavors but it's so subtle the sugars and chocolate over take it quickly. Still very nice though because of how sweet it is.
"Our Champagne truffles are made with Champagne Moutard which only uses the pinot noir grapes. It is an elegant and subtle light ganache dusted with icing sugar."
Yamazaki Malt Whiskey: Single malt whiskey from Japan. Very subtle. I am not sure what this whiskey is supposed to taste like though it's website mentions honey flavors. It doesn't taste like scotch or American whiskeys. I also don't know exactly what it's coated in but it's a clean tasting powder but a bit chalky.
It's interesting and soft. But perhaps if I knew the flavors better, I would understand what I was tasting. I could taste the Amedei flavors coming through but the the whiskey was so subtle I wish it were more bold.
Then Emily Shartin of Formaggio Kitchen, came through with some little noshes. She also brought the Liddabits candy bar. She likes the local Brooklyn food scene as much as do. She brought me a chocolate cluster, a small turtle, and two little truffles. I am not sure of the sources of these bits, but I will be sure to add an update to this post when I find out. Again, keeping with my theme of no more bars for the time being but bringing me small things I can eat and enjoy without deeper reviews.
Buttery pecan turtles with candied pecans. Soft chewy caramel with a slight bit of chocolate. This thing is all butter and it's all good. I am usually not a fan of turtles, but these are fantastic. I would love to cut these up in large chunks for the ultimate butter pecan ice cream.
The Cluster is chocolate covered nuts and corn flakes!! Simple yet so delicious. I should have saved it for breakfast. Pretty salty and barely sweet at all. This is something for someone who professes they don't have a sweet tooth. I think Jacques Torres had some of these clusters in his DUMBO store.
The polka dotted truffle turns out not to be a truffle at all but a chocolate shell filled with the softest, gooiest caramel. Nice little surprise. I almost ended up wearing it. But managed to recover it. The chocolate added some nice rich coffee notes. Sweet, sticky, and delicious. Nice little treat.
The dark purple lustered truffle was super rich and made with something from South America, possibly a Rio Caribe or something equally bold and deeply complex. Something coastal of Venezuela. At first I thought it was Madagascar cocoa with the strong wood characters, but it has to be something else based on the big tar, berries, and pen ink characters. I will be curious to see if I was in the right direction when Emily tells me what it is. Sweet caramel center but more of a creamed truffle texture instead of the runny and gooey caramel. The Center isn't the main attraction of this little nosh. It's the strength of the chocolate flavors carrying through to be the last thing you focus on as it lingers on the palate.
Update: Emily has advised me that these treats came from Elaine Hsieh in Somerville, Ma. Now I know where to buy in bulk, the Pecan Clusters. (Fresh pecans roasted in maple syrup and a touch of sea salt surrounded with soft Knob Creek Bourbon caramel and topped with E. Guittard's 65% dark chocolate and a sprinkle of fleur de sel. Each box is 6.5 oz and contains approximately 12 pieces.) I want to large chop them and toss them into an ultra exquisite batch of butter pecan ice cream. It would be dope yo!
She also made those incredible Rochers. (A "haystack" of crunchy caramelized flakes, roasted and candied almonds, covered in dark and milk chocolate. Each box is 6 oz and contains approximately 8 pieces.)
The polka dotted caramel was a Bourbon Caramel. I feel way off the mark with that because I didn't notice the bourbon in it at all. It just means they are getting another day in court. (Bourbon Caramel - Bourbon Caramel - Buttery soft caramel with a touch of Knob Creek bourbon.)
Hot chocolate spoons seems to be all the rage in the UK. Large chocolate squares on stir spoons from Melt, and now these chocolate cups with spoons for easy stirring into a hot mug of steamed milk. Angelo, knowing that I wanted more drinking chocolate this time around, spotted this little gem at L'Artisan du Chocolat.
It's called First Crush. Dark chocolate with salted caramel spoon.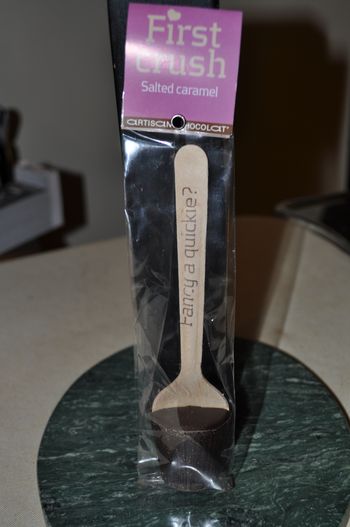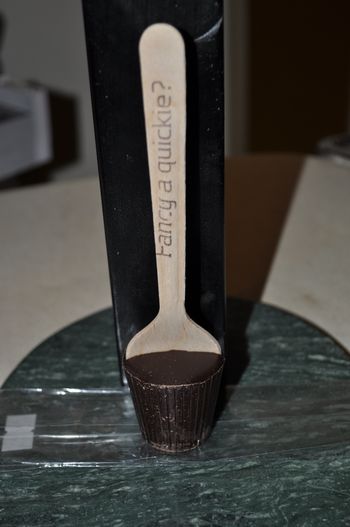 I scaled a cup of vanilla almond milk for this cup. Scalded vanilla almond milk smells like toasted marshmallows when coming off the stove. Stirring in the chocolate cup, it took a while to melt it all down but it made a nice rich brew. I licked the spoon at the end like advised on the package. It was really good rich dark chocolate and sugary just like the UK likes it.
I didn't get much of a salt caramel taste until the finish of one sip. The almond milk made it taste like I had stirred a peanut butter cup into hot milk. Very tasty. Super rich brew too.The almond milk is sweet already and flavored with vanilla so it added more sweetness to the drink as did the dark chocolate.
After not have a good introduction with L'Artisan du Chocolat's Jamaican bar, I was very impressed with this cup of hot chocolate. Nice and rich and sugary. I am kicking myself however, I should have had this in the morning and not after 5pm. I am going to be jacked for the rest of the night.
One thing I didn't like was the wooden spoon. I had to be very careful licking the rest of the chocolate off. I have a serious aversion to wooden spoons. It's cringe worthy and gag inducing for me like nails on a chalk board. Teeth scraping wooden spoons is a horrible thing and makes my teeth ache just thinking of it. I am not the only one with a reaction like this. My husband has it too. We both cannot deal with doctors office tongue depressors, flat wooden sticks for Italian icees, or Popsicle sticks. I freely admit that this is not their fault but my own weirdo aversions.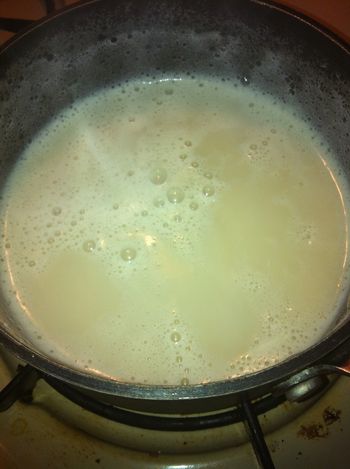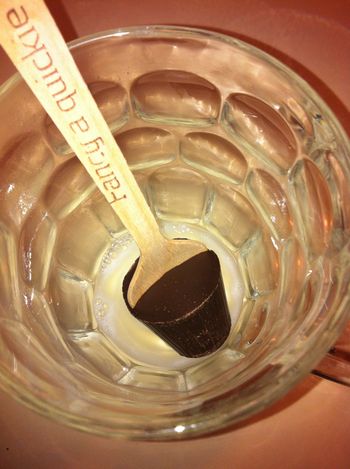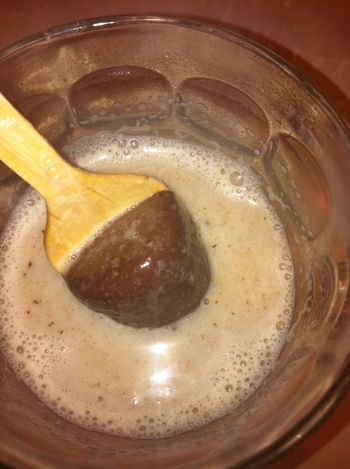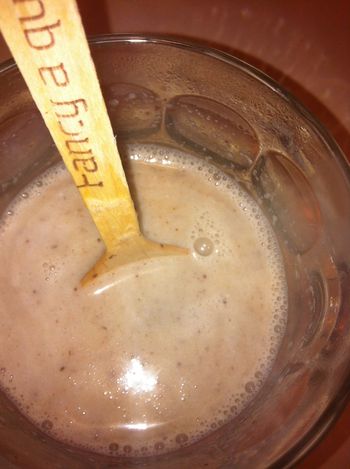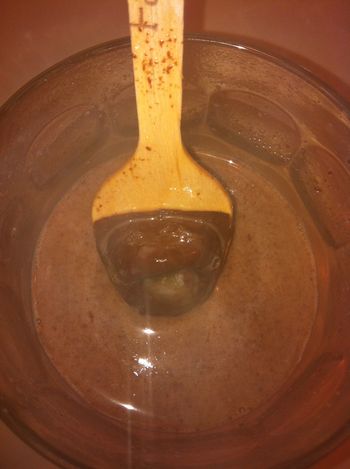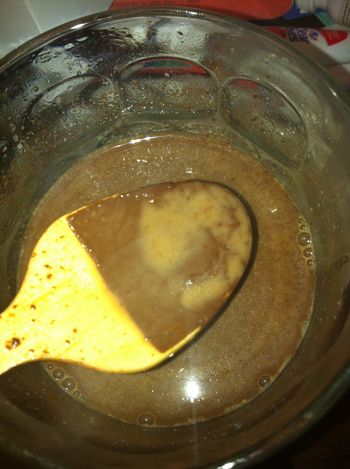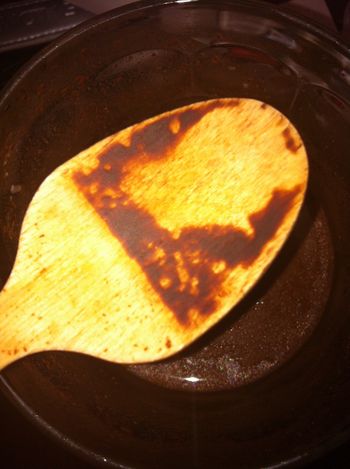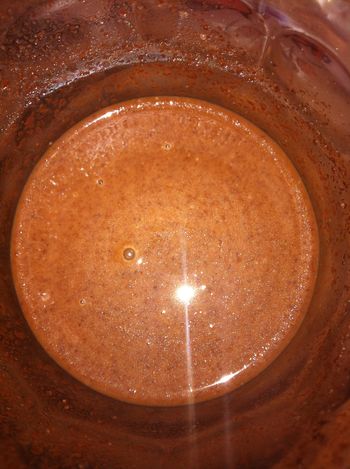 Just look at that thing. You can tell that sucker is rich and I am in for a long night of being awake. I didn't taste all of this in one day either. Okay, two days is still pretty gluttoness. But these are items with a very short shelf life. I HAD to do it, right?