Demaquette Fine Chocolates

Another highly anticipated chocolate to taste from The British Chocolate Invasion. Demarquette in London. This bar is part of Demarquette's Pure Range Collection. A collection of single origin beans from around the world crafted into fine chocolate bars.


We have searched for the most interesting pure cocoas to satisfy any chocoholic's palate. You are invited to discover our creations made with award-winning cocoas from around the world. In this collection you will taste the strength of raw flavours found in cocoa and how they vary according to plantation, estate or geographical region. The only collection of its kind in the UK! Each cocoa has been carefully selected by British Chocolatier Marc Demarquette for its quality, finesse and unique aroma. The full 'Pure Range' collection of 16 exquisite and pure cocoas, which also includes the rare 'wild' Bolivian Cocoa, first introduced to the UK market by Demarquette in 2008, represents a truly sumptuous long-haul journey of highest quality cocoas - an unprecedented 'Taste the World Through Chocolate' experience!
This Bar: Araguani (72%) Bar


Demarquette has a nice website loaded with good information about their background and history on Marc Demarquette himself.


Marc-H. Demarquette was born in 1972 to a French father and Chinese mother in London, where he was raised before spending his educational years in Bath.
Following his undergraduate and post graduate studies at the universities of Brighton and Westminster, he started out his career as a Management Consultant at one of the leading consultancy firms in London working on high-profile projects within international blue-chip organisations.
A serious accident then made him re-think his priorities and he decided to leave the consultancy world in order to pursue a lifelong passion he had - Chocolate!
Marc was introduced to good quality fine chocolate from a very early age when his French grandmother would treat him to the finest chocolates made by Gaston LeNotre when she visited him in London. He was fascinated by the great varieties in tastes and textures and admired the creativity of M. Lenotre whom he would later meet personally during his training as a Chocolatier.
His quest started with in-depth training at the prestigious Maison Lenôtre in Paris, where he was taught by world Masters and acquired the fine art of making artisan chocolates. He further fine-tuned his expert skills by learning with a number of Master Chocolatiers in France.
From the outset, his vision was to create exquisite hand-made chocolates, which are inspired by his cultural background, and the inspiration he seeks from the surrounding community.
His culture and experiences have inspired him to make the finest quality chocolates containing a wealth of superior ingredients sourced to the highest standards to ensure only the best is used, that on tasting will transport you back to magical experiences you have had and exotic places you have dreamed about.
These exquisite flavours will trigger your aspirations and have you marvelling at the combinations we use to tantalise your taste buds.
As well as freshly hand-making his fine chocolates for sale at the Demarquette boutique on Fulham Road in Chelsea, Marc was commissioned by Fortnum & Mason within just one year, to be the only permanently named and featured chocolatier within the store. He has created the 'Fortnum & Mason Bespoke Selection' of chocolates using a variety of the famous store's exclusive ingredients with exciting new flavours regularly being created and introduced.
"My chocolates are derived from pure passion. Passion for the traditional artisan craft and passion for the perfection of my finished product.
This I bring to you with an explosion of contemporary flavours that will stimulate your imagination and make you want to experience the full collection of artisan delights.
I command only the highest quality raw ingredients and select the finest cocoa butter to create a smooth chocolate that you can enjoy anytime.
A taste sensation."
Demarquette also offers a good amount of details in chocolate making from it's history, bean-to-bar making, and tasting guide.

Guide to Chocolate


I unfortunately, do not have a lot of information about this bar. I don't have Demarquette listed as a bean to bar producer, and it isn't listed who he sources his cocoa from. All I can say is that the bar is from Venezuela as mentioned on the package. Valrhona makes a bar under the name Araguani 72%. It could be courverture chocolate or beans from them, but nothing indicates that it is Valrhona. If it is by any chance Valrhona, they list their bean varietal as a hybrid blend of Criollo and Trinitario.

The ingredients are not listed for this bar of chocolate, but they do say this about the ingredients they typically use:


Our passion is chocolate! And we are particularly selective when it comes to choosing the best quality, ethically grown and harvested, traceable varieties. We are very strict in our selection of growers and producers, who must adhere to only the highest standards in social responsibility.
Our cocoa butter is a traceable blend from Ecuador, the Philippines and the Dominican Republic and the sugar we use for our Caramel Chocolates is British Beet sugar.
We are passionate about taking fine chocolate in its purest form and hand-blending it with just a few simple yet powerfully flavoured fresh ingredients which further enhance the chocolate and create its own unique character. We use only the freshest ingredients sourced from local suppliers, where possible, in our chocolates and prepare them to strict specifications in our London Chocolaterie.
As with our chocolate, we carefully select our ingredients from traceable and ethical sources. The provenance of our fresh cream is paramount and we personally know the farmers whose dairy herds graze in Cornwall and Hampshire. Homegrown fruit and berries are picked from Marc's family orchard in the French Alps.
We do not add additional sugar to our chocolates but when necessary sweeten with our own aromatic blend of traceable honey - a natural inverted sugar - harvested from the sweet nectar of wild meadow flowers.
And above all we do not add palm oil, substitutes or any other synthetic or artificial flavourings to our chocolates.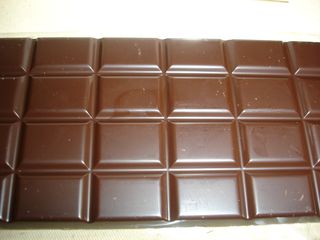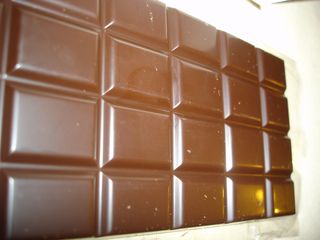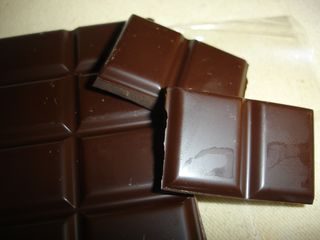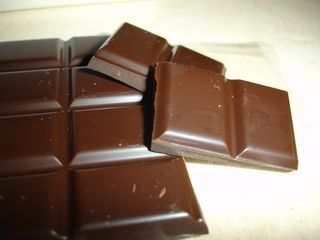 Araguani 72%


Type: Bittersweet, 72%

Bean Varietal: Unknown, but could be a hybrid of Criollo and Trinitario.

Ingredients: Not listed.

Sample Size: 75g or 2.6oz



Appearance: Smooth, shiny surface, deep rich brown. A few nicks here and there and a little bit of matting from the plastic wrapper, but otherwise very smooth.

Score: 94

Snap: A light snap with a slight underlying deep thud. Clean break lines.

Score: 92

Aroma: Rich cocoa, tobacco, nutty, smokey, a little spicy, soft floral notes, and raisins.

Score: 95

Taste: Deep rich cocoa, a bit of a bright green character, hints of cinnamon, big woody characters, berries, raisins, a slight hint of leather. Soft taste despite rich flavors. No sharp acidic notes, or astringency.

Score: 96

Texture: Smooth, medium soft, medium melt time.

Score: 94

The taste is what I am coming to understand as a very classic taste for South American cocoa beans especially of berries and deep rich cocoa. It's very classic tasting and rich. Simple and straight forward.

This is very different from a lot of British chocolate I have tasted so far. It's not as sweet. The British really like their chocolate a lot sweeter. It is a lot softer in the body. It's rich and full flavored, but very soft at the same time. I really like big bold bittersweet chocolate that isn't acidic or astringent.

Very good chocolate!

Final Score: 94.2