Montezuma's organic dark chocolate with beans sourced from Papua New Guinea. Organic chocolate makers from the UK with a bittersweet single origin bar, part of their "Exciting Bars" collection.

Via their website:


A wild and raw country with an immense landscape that produces cocoa the like of which you will love or hate with some degree of passion. This cocoa comes from smallholder plantations in the Island Regions where the husbandry is uninhibitedly rural without a hint of intensive farming. Combined with uniquely rich and fertile soil the farmers proudly produce cocoa without comparison.

Made from only Trinitario beans, this chocolate has a distinctive smoky tobacco flavour that needs to be savoured and enjoyed in a darkened and private room so nobody can disturb the experience!
Additional Information


Traces of Nuts
Genetically Modified Free
Additive and coloring Free
Soya Free
British Made
Preservative Free
Gluten Free
Vegan Friendly
Vegetarian Friendly
May contain slight traces of milk.

Again, they have the most certifiable details about what is and isn't in this chocolate. I love how that last stamp comes after the Vegan friendly stamp.
As mentioned in the review for the Venezuelan Milk, they have a tremendous commitment to fair trade and natural ingredients in their products. They give great details about their company and their ethics which I fully support.

What's mostly missing from their website though, are more details on the regions they source their beans from. Papua New Guinea is a strange but interesting place where new species of animals, bugs and reptiles are still being discovered. Describing the landscape of where this cocoa comes from would be amazing. Lot's of chocolate makers have a Papua New Guinea bar of some sort in their collection but not too many talk about the region itself.




Yes, in the second image, the dark smudge on the chocolate is indeed from my nose. I couldn't stop smelling the aroma on this bar and was fascinated with a few distinctive aromas. I got carried away.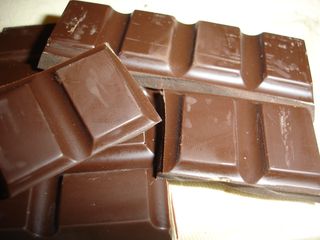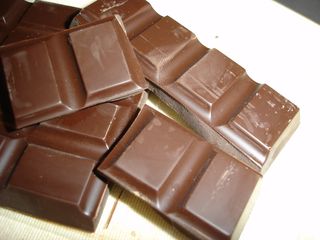 Papua New Guinea Dark

Type: Bittersweet, 64%

Bean Varietal: Trinitario

Ingredients: Cocoa solids (64%), sugar (34%), Vanilla (<1%).

Sample Size: 100g or 3.5oz



Appearance: Smooth, deep brown chocolate color with simple non-monogrammed molding, a few plastic marks on the top surface. And no I am not taking points off for my nose mark.

Score: 92

Snap: Light snap for a thick layer of chocolate. Firm and crisp sounding.

Score: 93

Aroma: Deep, rich smokiness, fire roasted red chilies almost distinctively South American despite the cocoa beans being from Papua New Guinea, pen ink, deep dark berries, roasted cocoa, very slight hints of flowers, and a barely noticeable hint of cinnamon.

Score: 95

Taste: Sweet, deep, rich cocoa flavors, spicy with big chili flavors, woody, inky, a little banana-y, berries, more roasted chilies from retro-olfaction. Big bold flavors, complex, and rich.

Score: 93

Texture: Overall smooth texture but with a a few slight hints of graininess, creamy, medium melt time.

Score: 94

Big bold chocolate with rich smoky flavors, fire roasted chilies on the aroma and lingering finish on the palate. Big berry flavors, wood, and flowery berries. Their website describes smoky tobacco, I didn't pick up tobacco as much as I picked up distinctive roasted chilies.

There is a lot going on with this chocolate. It's very complex and flavorful, but most curious of all is the chilies. It's all over the aroma as smoky chilies mixed with bold berry aromas.

There weren't a whole lot of subtitles with the flavor of the chocolate. It's all pretty straight forward, but there are a few small hints of flowers and cinnamon on the aroma to keep it interesting.

Delicious chocolate, fun to sit back and think about the complex chilies and smokey aroma.


Final Score: 93.4