[Forgive my shoddy photography. The shiny, waxy packaging made it hard to snap a pic with out a gleam so I tried angles. I am not a professional photographer and you can clearly see that.]

A while ago when I first had the idea of reviewing chocolate, I reviewed a chocolate bar from Askinosie. I had this put on my other blog Pork Chops & Chicken. I also write about beer and food. When I realized what I was doing after these first reviews, I decided the chocolate reviews would need a focus and home all on their own. That's when I created 20°N & 20°S.

I had met Shawn Askinosie before, two or three years ago at the Great American Beer Festival in Denver. Someone finally had the brilliant idea to invite a chocolate maker to a beer fest. I have been teaching people for years how to pair beer and chocolate at a place called Formaggio Kitchen. I have even hosted beer dinners featuring chocolate in every course. Shawn also happens to be a BeerAdvocate! That's my husbands website and whom I manage and organize beer festivals for in my real life.

Based on my review of their Soconusco 75%, Shawn sent me more chocolate to review. One of them was a single origin from the Philippines.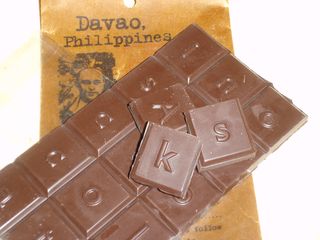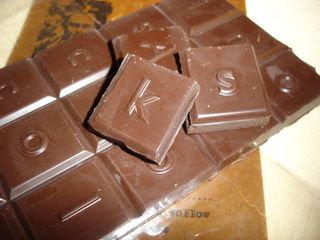 Askinosie Davao, Philippines 77%

Askinosie is located in Springfield, MO. USA

Bean Varietal: Trinitario
Type: Bittersweet 77%

Choc-o-lot #: 011909
Sample size: 85g or 3oz.

Ingredients: Cocoa beans, organic cane juice, cocoa butter.

From their website: 77% includes 1% cocoa butter (that we make with the same beans) 23% organic sugar.

Davao is in the southern most region of the Philippines.


From their website:
The first cacao brought to Asia in 1600 was grown in the Philippines and we are the first chocolate maker to export Filipino cocoa beans in nearly twenty-five years. The beans used to make this tantalizing bar are very exclusive, making the Davao, Philippines chocolate bar uniquely exotic. There has never before been a single origin bar from the Philippines.
Appearance: Deep brown color. Slightly muted and not as shiny as expected. Classic Askinosie molding.
Score: 92
Snap: Excellent snap sound. Clean break.
Score: 97
Aroma: Green was the first thing that came to mind. Super green and fresh scent. Pineapples, green mangoes, roasted cocoa beans, *fresh laundry smell.

Score: 99

Taste: Acidic, bitter, bitterness gives way to slight tropical fruit character, citrus, then a clean almost purfume-y laundry taste. Like the way fabric softener might taste like based on the way it smells, not unpleasant, but curious tasting. A tiny bit of rose petals, wood, and mango mixture. Retro-olfaction has leather, and more flowers from the perfume taste. The after taste ends with a little bit of tar and smoke.

Score: 85

Texture: Smooth, and creamy once it begins to melt down a bit. Slow melt time.
Score: 93

Freshest smelling chocolate I have ever smelled. I am disappointed in it's high acidic content. Jabs you in the neck. I wanted to give this a higher score than what it got, but I am bit unforgiving when it comes to too much acid content. It's a shame really because the flavor does open up brilliantly with that perfume, flowers, wood, and tropical fruit characters.
This is a thinking chocolate. It is very peculiar, but still very solid.

*There was a bit of that same laundry freshness on the nose but I couldn't quite identify it until I tasted it.

Final Score: 93.2