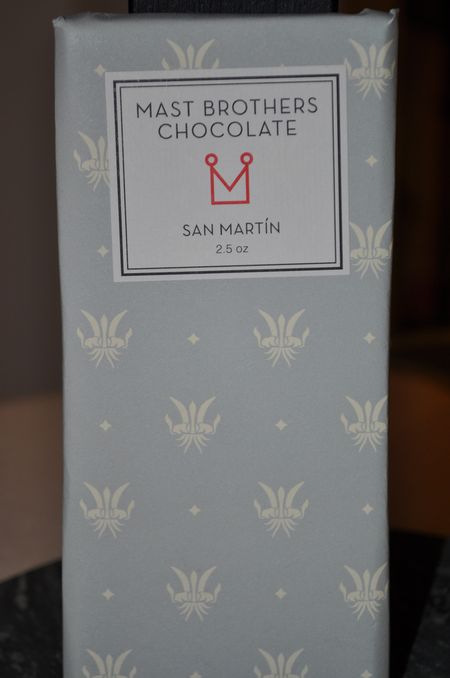 Peruvian beans from the San Martín region, this is the Mast Brothers go at Peruvian beans. One of the more trendier regions to explore and experiment with as of late with all the bean-to-bar producers.
From the rugged rainforests of northern Peru, this cacao epitomizes, elegance. Floral notes are followed by rich plum, orange peel and mint.
This is a very simple and straight forward map of the San Martín region of Peru.
I am pulling for some redemption with Mast Brothers after the Crown Maple Disaster. I am positive that was a one off, that something was off about that one particular bar or batch. The Mast Brothers quality is pretty damn great. I felt awful about having to write that because I have met them, I like them very much and I like every thing they are doing in Williamsburg. But in interest of fairness, I will always maintain my true feelings and convey my real opinions when it comes to reviews. Sadly I was very put off by the last bar I tried from them. Knock on wood that that will be a first and last time.
San Martín 75%
Type: Bittersweet, 75%
Bean Varietal: Unknown, possibly a new hybrid.
Ingredients: Cacao and cane sugar.
Sample Size: 2.5oz
Batch #: 12031211
Appearance: Nice paler color of brown, medium brown color, simple non-monogrammed molding, shiny top surface, drier bottom surface with some streaking, and a few nicks and particles on the surface.
Score: 91
Snap: Slightly weak snap, almost what you would expect on a milk chocolate bar. Crumbly break lines, small snap sound.
Score: 83
Aroma: Very delicate and soft aroma. Soft wood, almost like opening a new notebook of white paper, soft floral notes, mildly astringent, soft pen ink, and aged wood like an old wooden wine box.
Score: 94
Taste: Fruit forward, plums right up front, deeply bitter, spicy, woody, char and roasted cacao, pen ink, buttered toast, astringent and a little tangy.
Score: 92
Texture: Soft, creamy, medium-fast melt time. Gritty texture though.
Score: 91
Much better showing from The Mast Brothers. I knew they would redeem themselves. I have total faith in them as artisan producers.
This bar was shiny and sleek with some superficial nicks and particles and a little streaking on the backside of the bar. It looked a little dryer on the backside as well. But overall a fairly solid appearance. I love the lighter color. Some reddish tones in it and not a deep dark bar.
The snap was pretty weak. Not bad, but nothing to write home about either. Nothing exceptional. And it's texture was a little bit of a nuisance. It was very soft and creamy and had a nice melt to it, but there was a bit of a grainy texture that kind of ruins the integrity of this soft and pretty chocolate.
The aroma was great. I liked this very much because it was so different. It smelled like a fresh new notebook of white paper. I love that smell. As it breathed a bit it let some stronger deep wood aromas out. It began to smell like and old wooden box. But with some tart notes and some underlying floral tones. Really nice and soft.
It's taste was fruit forward right away. They were not exaggerating with the plums description. That's what you taste right off the bat. Then it opens up and it's balanced really well with the sugars, it's sweet, but not over done, it's a little spicy like maybe some hints of cinnamon, but that doesn't hang on long enough to really matter, it's very bitter, but not very acidic or sharp. There is astringency and a little bit of tang at the end, but it's fairly tame. Some pen ink and big wood flavors, lingering tastes of buttered toast. I thought I might have tasted some jasmine from the deep bitterness. It was hidden in the back. They describe orange peels but that's not what I was picking up.
This is a very nice bar of chocolate. Soft and pretty, some mild texture issues, and a classic flaw of some astringency but none of that takes away or disparages this bar of chocolate from it's true intentions.
Final Score: 90.2