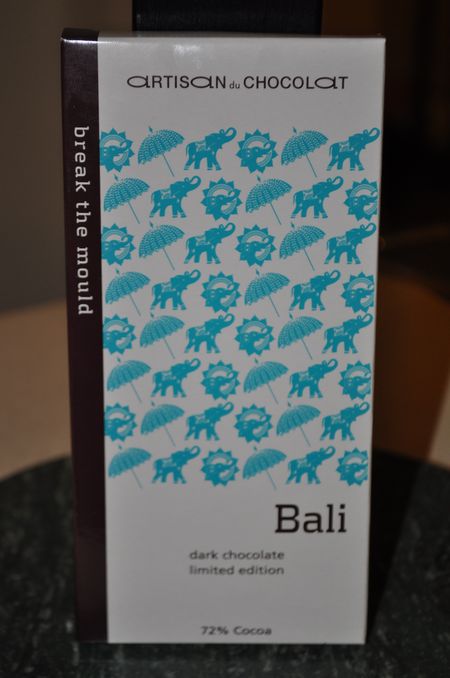 **Archived notes.
I reviewed this bar a while ago. Sometime last year, but I still had the notes and pictures I took so I wanted to make sure this review got posted. It was a pretty interesting bar. A rare and limited edition bar. Strange and crazy banana notes on this bar. It's all about the bananas.
Bali, famed Indonesian island and tourist destination for Australians and many Europeans. Perfect tropical and lush jungle conditions for growing chocolate. Trinitario trees, probably brought over around the 1600's or 1700's when chocolate trees were being sent around the world to Africa and Asia.
In the Balinese jungle, everything around you is alive and bearing fruits from cacao to papaya, coffee, guava, pepper, banana or native snake fruit. With notes of sweet bananas and spices, the chocolate we make from these exotic beans is smooth, gentle, on the palate, low acidity, but is exhibiting in its flavours the lushness of its birthplace.
L'Artisan du Chocolat Bali, 72%
Type: Bittersweet, 72%
Bean Varietal: Trinitario
Ingredients: Cocoa beans, cane sugar, cocoa butter, and soy lecithin.
Sample Size: 45g
Lot #: 00006062
Appearance: Dusty and ashy, *but held up remarkably well. Simple, non-monogrammed molding, sill had some shine and a rather unblemished surface.
Score: 91
Snap: Nice firm snap, a little crumbly with the break lines.
Score: 92
Aroma: Big sweet aroma of ripened bananas, spicy, peppery, smoky, almonds, wood, earthy, inky.
Score: 96
Taste: Sweet, cocoa-y like powdered hot chocolate, mellow and mild, lightly bitter, tiny hints of acidity, fruity, peanuts, lingering banana flavors, and coffee grinds. Way later in the finish were mild hints of cinnamon toast.
Score: 92
Texture: A little waxy and a little hard at first, but does give way to a smooth texture and a medium melt time.
Score: 91
* I didn't take points away from its appearance. This was a bar I held on to for a while. It wasn't expired or past it's best by date, but I did push it with this bar and it held up remarkably well. It's a pretty basic molding and still had some residual shine and a unblemished surface. That's what I scored it on.
Snap quality was pretty great. Nice and firm and pretty audible. Just a little messy with the crumbles from the break lines.
Aroma was huge. What a fantastic and complex aroma this thing had. Sweet, fruity, and spicy and earthy. So much going on with the nose. Incredibly complex and diverse with it's range.
The flavor was fairly muted I thought. It tasted good and the bananas were insane but a lot of the flavors didn't come out until retro-olfaction. It opens up fairly sweet and with rich cocoa flavors but it was very reminiscent of hot chocolate cocoa powder. Not that that's a bad quality, but that's just what it reminded me of right in the beginning. It was pretty tame all over and had some wood flavors, sweet bananas, almonds, bitterness, and mild hints of char. More bananas at the end make their presence known but the lasting flavor on the palate was coffee grinds. It tasted really good, but it just wasn't as explosive as the aroma was. It wasn't as complex as the nose.
The texture was a little hard at first, not bad though, fairly waxy and chewy, but it does open up to a softer smooth texture with a medium melt.
Best and most curious aroma I have smelled in a while. I wish it's flavor was as dynamic, but it was still good to eat.
Final Score: 92.6