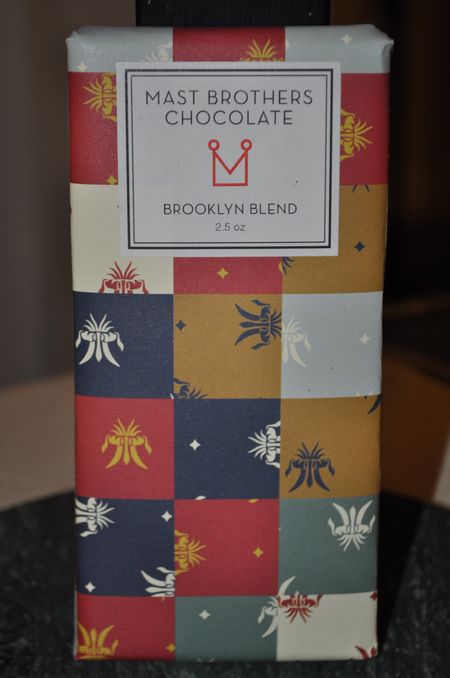 Mast Brothers Brooklyn Blend 73%
Lovely packaging. Meat-packing paper that looks like a southern quilt of patch work of their other wrappers. They really do pick the best papers for their packaging.
No listing on what beans were used for this blend. I should be able to guess by the taste, but I am rather miffed that their minimalist website has zero information about their products. Don't get me wrong, I love the Mast Brothers. I just wish basic information was provided. It's a blended bar so how about telling me which blends instead of this generic description on the back.
We have brought all of our favorite beans from around the world to create our first house blend. A balanced chocolate with hints of red wine, tobacco, and plum.
Are they suggesting they used every bean in rotation for their origin bars, or just their favorites? Maybe I am being too technical here, but it does help knowing some of the origins so you can understand certain flavor profiles and why certain flavors may or may not have worked. And don't tell me it's an industry secret either. That would be lame. Perhaps, the patch work paper is telling me which beans are in it?
Brooklyn Blend, 73%
Type: Blended bittersweet, 73%
Bean Varietal: Unknown, blend
Ingredients: Cacao and cane sugar.
Sample Size: 2.5oz
Appearance: Nice shiny surface, non-monogrammed molding, slightly ashy on the back with some minor particle matter on the back, but very minimal. Great shape.
Score: 93
Snap: Medium snap quality, a slight dull thud sound mixed with a mildly crisp snapping sound, crumbly break lines.
Score: 90
Aroma: Very subtle aroma. A little inky, some mild charred notes, a little tart, and soft smoke.
Score: 87
Taste: Sweet, astringent, tangy, slightly sour, fruity, cherries, citrus, wood, ink, tar, earthy, buttery biscuit finish.
Score: 92
Texture: Gritty, medium melt-time, drying and cloying on the palate.
Score: 83
Much better appearance and flavor than the previous reviewed Moho River. Shiny surface, and no streaking on the backside. Just a tiny bit of particles.
The aroma and texture were the weakest things about this bar. It's really so subtle and soft. Not a lot of dynamic there on the aroma. The texture was overly drying, cloying, and gritty. It started off smooth due to the molding and I hoped it stayed that way, but it really opened up gritty. Not a fan of stone grinding. I should say stone grinding that doesn't finish the job. I have had bars from Mast that are texturally fantastic. But sometimes you get a miss. This is a miss.
The flavor is strong. Big and fruity. There is definitely Madagascar in this bar with th bright citrus and acidic notes and cherries in the fruits. There is also some ink and big wood flavors. I think the earthiness is either from the Dominican Republic beans or something coastal in Northern Venezuela. Something that has those funky ink, char, and tar flavors. Those flavors are present too. But the fruits win on this bar. And the lingering buttery biscuit notes. It's just unbalanced with the acidity and astringency.
The flavors listed on the bar were once again not what I tasted. I didn't get plums, or tobacco. Red wine maybe with it's fruitness, drying texture, and acidity. But that wasn't really it. No influencing either with just reading and suggesting the words. That can happen which is another reason why I don't like flavors listed on bars.
I have had this bar fresh from the source and sat at the Radegast German Beer Hall next door and enjoyed it with some Munich Dunkels with it. I have done the same with their Occumare too. It's a wonderful experience. But better to eat it right there on the spot. When the chocolate is a mere hours old, not old enough have fully breathed yet, and the beers are cold, malty, and biscuit-y to help tone down that astringency.
I am beginning to worry about the Mast Brothers and their consistency issues. There seems to be a hallmark with acidity and astringent bars. It's not a good hallmark to have. I fear they are creating way too many new products, new bars from new origins without addressing these technical marks. You can get far on the fact that most people don't understand where it's a technical flaw or a desired effect like the smoke in the Papua New Guinea. But it's not going to last for long with other bean-to-bar producers who are effectively producing flawless chocolate. I praise and commend the Mast Brothers. I admire them greatly and was one of their original fans and enamored with their products. But as my palate has grown and expanded, so have my eyes or my palate rather, been opened to the undeniable flaws all over their products. I need them to slow down and tweak, tweak, tweak their recipes and start refining their ways. They could be the American masters if they focused a little bit more on their classics, even this house blend. Less grittiness, less acidity, less astringency. More rich flavors, more true flavors of the cacao that's not being trounced by the aforementioned issues.
Final Score: 89