When I was visiting Anchorage, Alaska last month, my new close buddies Ken and Shauna Pajak of Cafe Amsterdam sent me a box of truffles from Modern Dwellers. They arrived just as Ken arrived to hang out and visit Boston for the BeerAdvocate Extreme Beer Festival.

I wasn't able to check out their shop while visiting Anchorage, because they were closed on the one day I had for some free time in Alaska. Shauna being the amazing person that she is, shipped off some truffles to me to make sure I got a chance to try them.

I have to admit though, I am kind of disappointed. These truffles got beat the hell up in transition. I am frustrated at Modern Dwellers for this. Even if you are taking them down the street, or shipping them across the continental US, they should have been packed up better. They were tossed on a large box, and rattled around. Ones that were coated in nuts, completely lost the coating. Others were covered in soot from the other truffles.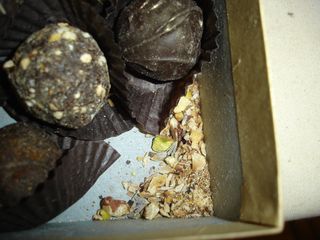 This is what they looked like after I tried to put them back together again. Not very appetizing. But believe me when I say the box was in total shambles when I opened it. See their website with a list of truffles and what they would have looked like.
The other issue with the way they were packed is freshness. Sitting in a cardboard box for days on end without any kind of insulation, leaves them vulnerable to getting stale and absorbing the box flavors. Not to mention absorbing all the other spices from the heavier spiced truffles in the box. All in all they are bit stale and are in no way representative of what is shown on their website.

The reason this is so aggravating is because it destroys a nice gift that my new good friends were trying to get to me. Also Modern Dwellers had some completely unique flavors. How can I give them a fair shot when they don't care enough to package their products properly?
It should be said that I am not normally this picky when someone gives me a gift. I am not ungrateful to my friend Shauna for giving me the chance to get to taste these truffles. I am just miffed that they didn't do too well in transition.

I will get over how they look because some of them still tasted good based on how they were flavored despite being beat up. But this is something Modern Dwellers should look into and take care of. Package your product better!


This is what came in my box.

Pumpkin Spice: Pumpkin pie spiced dark chocolate ganache dipped in white chocolate.

Very good! And I will be damned when I ate the truffle before I thought of taking pictures of the individual ones. But you can figure at least for this one since it was dipped in white chocolate and was the only white chocolate in the box, which one it was from the picture above.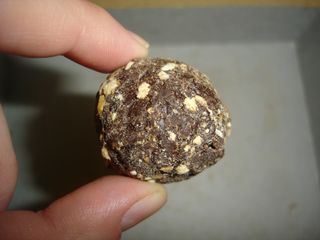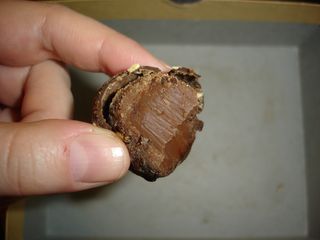 Dazed By Hazel: Rich milk chocolate and hazelnut ganache rolled in dark chocolate and chunks of hazelnut.

Uhhhh you mean the nuts that ended up at the bottom of the box? Fail! This one tasted okay. It was soft but I had a hard time telling which one this actually was. It didn't taste too hazelnut-y.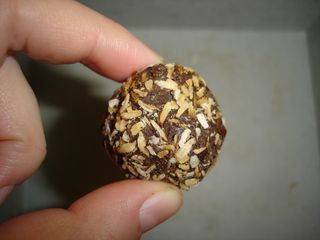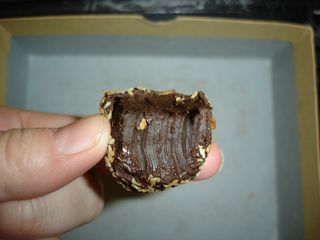 Indian Bop: Bittersweet East Indian curry ganache hand rolled in coconut flakes and dark chocolate.

This was excellent. But I wish half of the coconut hadn't worn off. Nice curry flavor without being too over bearing. Lingers a bit, but is in no way offensive. Some people really love curry. I can tolerate it in small bits. I really liked this one a lot.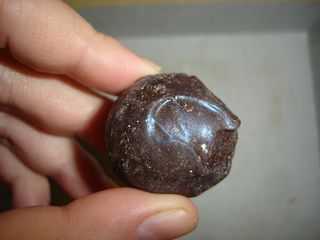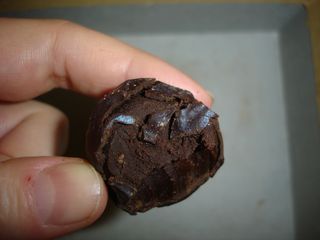 Raspberry Grove: Bittersweet raspberry and maple ganache enrobed in dark chocolate. Finished with a lavish luster.

This could have been pretty if you could still see the sparkly sheen and not the dusty coating from the other truffle coatings. This tasted interesting. The raspberry is not as dominating as I would have thought. The maple comes through quite a bit.

Purple Infusion: Smooth fragrant lavender ganache encased in layers of delightful dark chocolate. Garnished with petals of lavender.
Mine looked like it was topped with grass. It barely tasted like lavender. The chocolate was too strong for it. Maybe it was different when it was more fresh. I can only assume that's the one I was looking at because no other truffle listed is described as this.
The Berbere: Bittersweet ganache spiced with Ethiopian Berbere. Dipped in dark chocolate and garnished with a pinch of berbere.
Woo a little too spicy for me. I am wuss about spicy food and I make no bones about it. This is spicy and laden with a bit of heat. It was a little salty at first to contrast the sweet chocolate, but then the heat got the better of me. I think most people will like this one, but again it was too much for my oversensitive palate. My wuss mouth.
Mint Breezy: Fresh taste of mint infused in a bittersweet ganache. Hand rolled dark chocolate shell and lustered.
Soft, subtle mint. Tasted like spearmint. I liked this truffle. The sheen was pretty despite the condition of these truffles. The mint was soft and worked well with the dark chocolate.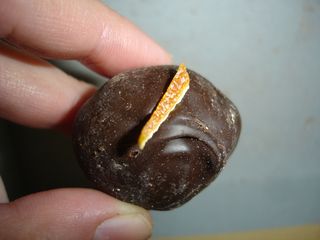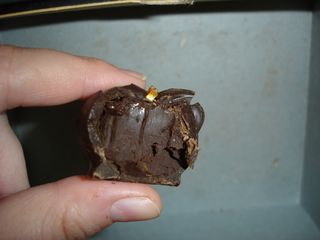 Orange Drop: A delightful ganache of orange zest and Grand Marnier enrobed in dark chocolate and accented with fresh candied orange.
This will sound silly but it tastes exactly like the chocolate covered donuts from Entemann's. I loved those when I was a kid. The orange is apparent and soft, but the Grand Marnier is dull and not potent at all. This was a good truffle, but might have been better with a bit of an alcohol kick.
Cacao Wow: Dark 72% chocolate ganache encased in dark chocolate and sprinkled wit organic cocoa nibs.

This is simple and straight forward, a rich dark chocolate truffle. Tasty and strong dark chocolate. Hardly any nib left on the top.
Blueberry Patch: Bittersweet blueberry puree ganache swimming in layers of hand rolled dark chocolate.
Not too fruity. I was hoping for big blueberry taste on this one. The dark chocolate overwhelmed. Might have been different fresh.
Margarita Zing: Bittersweet ganache of fresh lime zest and tequila cloaked in dark chocolate and topped with Hawaiian pink sea salt.
No sea salt left on this truffle, but it tastes salty on the coating. Light lime and tequila taste, but worked surprisingly well with the dark chocolate. Would have been fantastic fresh.
Pistachio Passion: Lemon zest white ganache enrobed in dark chocolate shell topped with salted pistachios.

No pistachios left on top of this truffle, but very tasty center. The lemon zest is delicious and holds up well against the dark chocolate. The salted pistachios are deeply missed for this truffle.
I cannot express enough my disappointment with how shoddy Modern Dwellers packed their lovely truffles. These would have been fantastic if they were fresh. These are creative and wonder flavors for truffles, but since they were stale from lack of proper packaging, they failed miserably in their representation of what is deemed an awesome chocolate shop in Anchorage, Alaska.
To my friend Shauna Pajak,

I thank you for making sure these were sent to me. You went out of your way to make sure I got them, and I am personally grateful to you for that. I just hope my brutal honestly in writing about these doesn't upset you personally. They should have packaged these up better. But your kindness in thinking of me is more important than the outcome of these truffles.