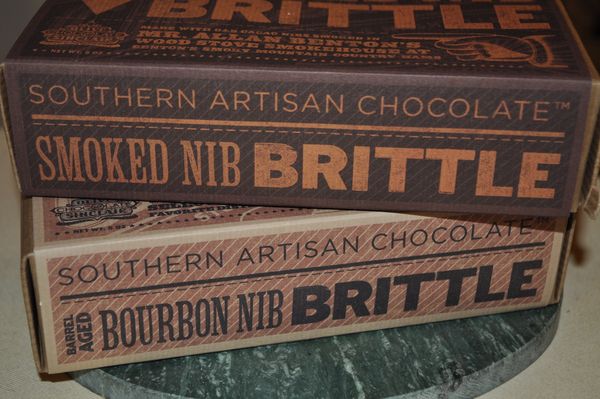 Sometimes you are drawn to a product from a company and end up being sucked into their whole profile. That's what happened here. This is how I ended up with these brittles.
Olive & Sinclair are a bean-to-bar chocolate maker from Nashville, Tennessee. I had been meaning to get their products up for review for some time and then came the email about their Buttermilk White Chocolate bar. I am all about buttermilk right now (biscuits, fried chicken, and Buttermilk ice creams) and I am also a southerner. It's right up my alley. While browsing their site I found these brittles. In to the cart they went and several bar in their profile. Bastards! I came for one bar and ended up with two kinds of brittle and five bars.
Olive & Sinclair are a small craft chocolate producer with slow roasting and stone grinding techniques in small batches. These brittles are an excellent novelty product for their collection. Adding world sourced beans, small batch techniques into pure southern sweet-tooth classics such as brittle.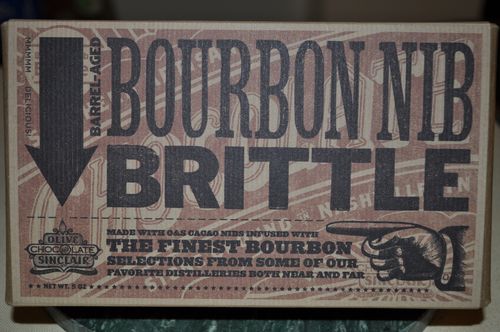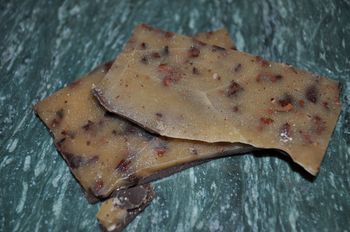 Ingredients: Sugar, O&S 67% Ghana chocolate (cacao beans, brown sugar), butter, Bourbon Cacao nibs, kosher salt, black pepper.
Ghana cocoa nibs aged on barrel-aged in bourbon barrels. Smells like rich chocolate, those classic brownie notes of Ghana cacao. Boozy right out of the package but cocoa-y once it's sat out for a bit. Smells like boozy oak and fruit. Lovely smell.
Tastes like bourbon and butter right off the bar, sweet buttery, and bourbon, then finishes with deep rich brownie flavored chocolate and salt. Lingering bourbon flavors on the finish. Very tasty!
The texture is nice and crispy and crunchy with the nibs, nice chocolate melting on your tongue while crunching away at the sugars. My only gripe is that it needs a tad bit more salt. I know these are southerners who like every thing sweet, but a pinch more salt would cut that and make this even more addicting. I also can't tell which bourbon they used. The nibs do have great lingering bourbon flavors.
Barrel-aging is up my alley too as beer is my day job and barrel-aging beer is not uncommon. I like that they did this to the nibs. It imparted great flavors. You open with bourbon and close with it on the palate.
I want to give this a B for it's almost overly sugary sweetness, but the lingering brownie-like nibs and subtly and awesomeness of the bourbon make this worthy of an A- grade. And yes I do realize it's brittle and supposed to be sugary sweet. I just feel like it could use a touch more salt to achieve balanced greatness. The richness of these ghana nibs really shine on this product and they are so much better with bourbon barrel-aging.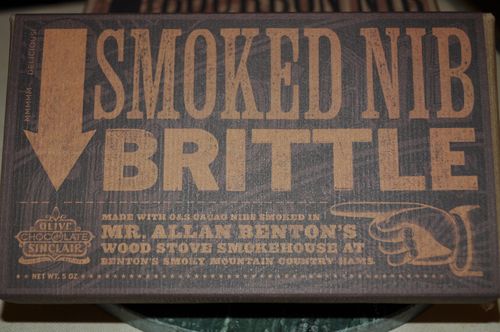 Ingredients: Sugar, O&S Ghana chocolate (cacao beans, brown sugar), butter, smoked cacao nibs, kosher salt, and pepper.
Smoked Ghana cacao nibs in "Mr. Allan Benton's wood stove smokehouse at Benton's Smoky Mountain Country Hams." If you are not familiar with Benton's hams or bacon, slap yourself in the face hard, and then go find some immediately.
The aroma is all smoke. Ham-y, bacon-y smoke. Fat smoke. Breaking into smaller pieces releases that actual pork aroma from the smoked nibs.
Peppery brittle like peppered bacon coated in sugar. The second bite was more of the butter, sugars, and chocolate. They all tend to take a back seat to the smoky nibs on the first taste but then become more noticeable. A little bitterness on this brittle too. In total it's spicy black pepper, smoky, bitter, pork flavors, buttery, sugary.
This is very different brittle from the Bourbon Brittle. This is savory and smoky. The black pepper dominates and is a little spicy. The bitterness of the cacao nibs come through more as well. It's more salty and savory, the butter is more noticeable but not until the second bite. It's all smoke and black pepper at first and then every thing else comes through. It's almost like peppered bacon bits instead of the actual nibs.
While the Bourbon Brittle was more rounded with subtle flavors, this one is more in your face. Both are so very southern and so rooted in all things Tennesee. I find the pepper to be a little too dominating on the Smoked Nib. It's still very good. It's a better balance of the salt with the sugars in the brittle, but the smoke and pepper are palate killing and dominating. The chocolate only has a moment to shine, and the richness of the nibs are overshadowed.
Having said all that, I think it's pretty damn awesome. It's for bacon lovers and people who like bold smoky flavors and big pepper tastes. This would be perfect for pairing with strong robust stouts. The bitter on the beer will let those sugars and bacon fat tastes come out more and the chocolate would mostly like be more apparent.