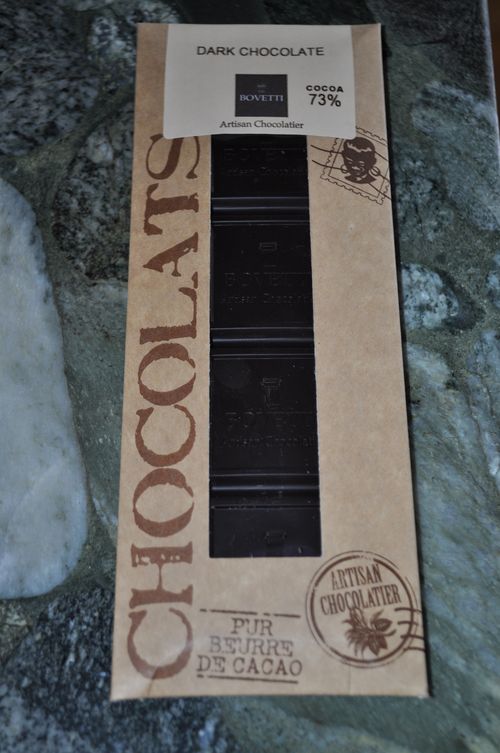 Bovetti 73%
A new to me chocolate bar picked up here in my new home of Denver, Colorado at a small fine foods store called Marczyk's.
Bovetti history and timeline via their website:
Native of Piedmont (Italy), Valter Bovetti created the chocolate factory in 1994 and offers to chocolate lovers a wide and creative range of exceptionnal chocolates.

Presented in fashionable and original packagings which never fail to charm customers, our chocolates are handmade with our special 'know-how' and expertise combining both modern and traditional methods.
Settled in a new production unit since 2002 at Terrasson, in the Dordogne, Walter Bovetti has invested in a very modern and productive production tool which combines both traditional handmade work with industrial rigour as the company complies with HACCP standards of sanitary safety controls and food traceability. Thus, in the chocolate factory, these modern manufacturing lines for chocolate bars, molds and spreads are just near to copper turbines, known as one of the oldest techniques in coating candy.

Wishing to offer only the best, Walter BOVETTI uses only top-grade raw materials and perpetuates the tradition of the chocolate as made in olden days.

Bovetti chocolates are made with pure cocoa butter, without any vegetable fat added.


In 2008, a new standing will be reached in the search for supreme quality as the chocolates are made without any soy lecithin now, eliminating all risks of allergy and GMOs.

Innovation is also a permanent aim which has been rewarded many times at. Awards were won recently at international fairs for cocoa pastas and the very new concept of "apéritif" chocolates. 

Bovetti chocolates are now exported and known in more than 35 countries in the world (21 European countries, United States and Canada, Russia, China, Japan, Dubaï …)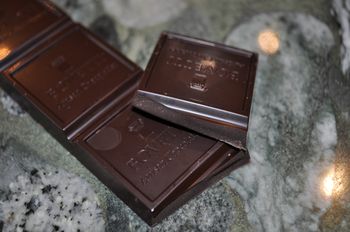 Type: bitter sweet, dark chocolate
Bean Varietal: Forastero
Ingredients: Cocoa solids, sugar, cocoa butter, natural flavor: vanilla.

Sample Size: 1.75oz or 50g
Appearance: Long,  four tab bar, thick tabs, monogrammed, shiny surface, one minor, very superficial surface blemish or spot, deep, dark brown color, minor fill lines on the back surface.
Score: 93
Snap: Good hearty snap from thickness of the tabs, clean break lines and audible crisp snapping sound.
Score: 93
Aroma: Very faint, soft, smoky, light traces of wood and almonds, slightly floral.
Score: 74

Taste: Deeply bitter, almonds, cocoa powder flavors, muted tamed flavors, no astringency or tartness.
Score: 80
Texture: Dry, hard, a little chalky, medium-slow melt time.
Score: 82

The surface of the bar held up extremely well considering it was a bar of chocolate dropped in a cardboard package with no cellophane to protect it. It maintained a nice shiny surface almost completely unblemished. You can't see from the top picture, but it looked like it just came off the production line and I find that impressive considering my next critique of this bar.
The lack of cellophane wrapping however, cost this bar it's vital aroma and probably lost a lot of it's original flavors on the taste as well. The aroma was all but gone from this bar and I was surprised that it wasn't further protected inside it's packaging. I am not sure how much more full this bar would have been on the nose. This is a disappointing show from Sao Tome cacao where this company pride's itself from growing cacao and working with the area on preserving plantations.

Texturally it's hard, very thick, and a little bit chalky rather than smooth and creamy. Probably meant for warmer climates. But the chalkiness is not desirable.
The flavor of this bar was very subdued as well. It's deeply bitter and dark but there is no real range of flavor for this chocolate. I think it aired out too much and took the flavors with it. You are left with soft wood and almond flavors like it's aroma, a little smoky and just the bitter cocoa powder flavors. I want to know what this bar tastes like fresher and better protected.
The silver lining is that the craftsmanship of an Italian chocolate maker is there. The non-existence of acidity and tangy astringency erased from this bar. This is the kind of chocolate for those who want to experience balanced deep dark chocolate. It's a common theme I can count on from Italian chocolate makers. Even though they are in France, this chocolate is Italian by it's rounded out sharp edges.
These bars would make for good baking chocolate. That is until a fresh sample is provided so better flavors can be experienced. It's rare when the surface and snap out rank the flavor and aroma.
Final Score: 84.4