This is the first time I have used an image other than my own to headline a chocolate review. My little camera had a hard time getting the right angles without a glare. Shiny packages, what can I say?
Here are a few shots I tried taking. Clearly I need some photography lessons.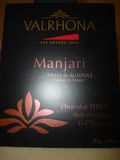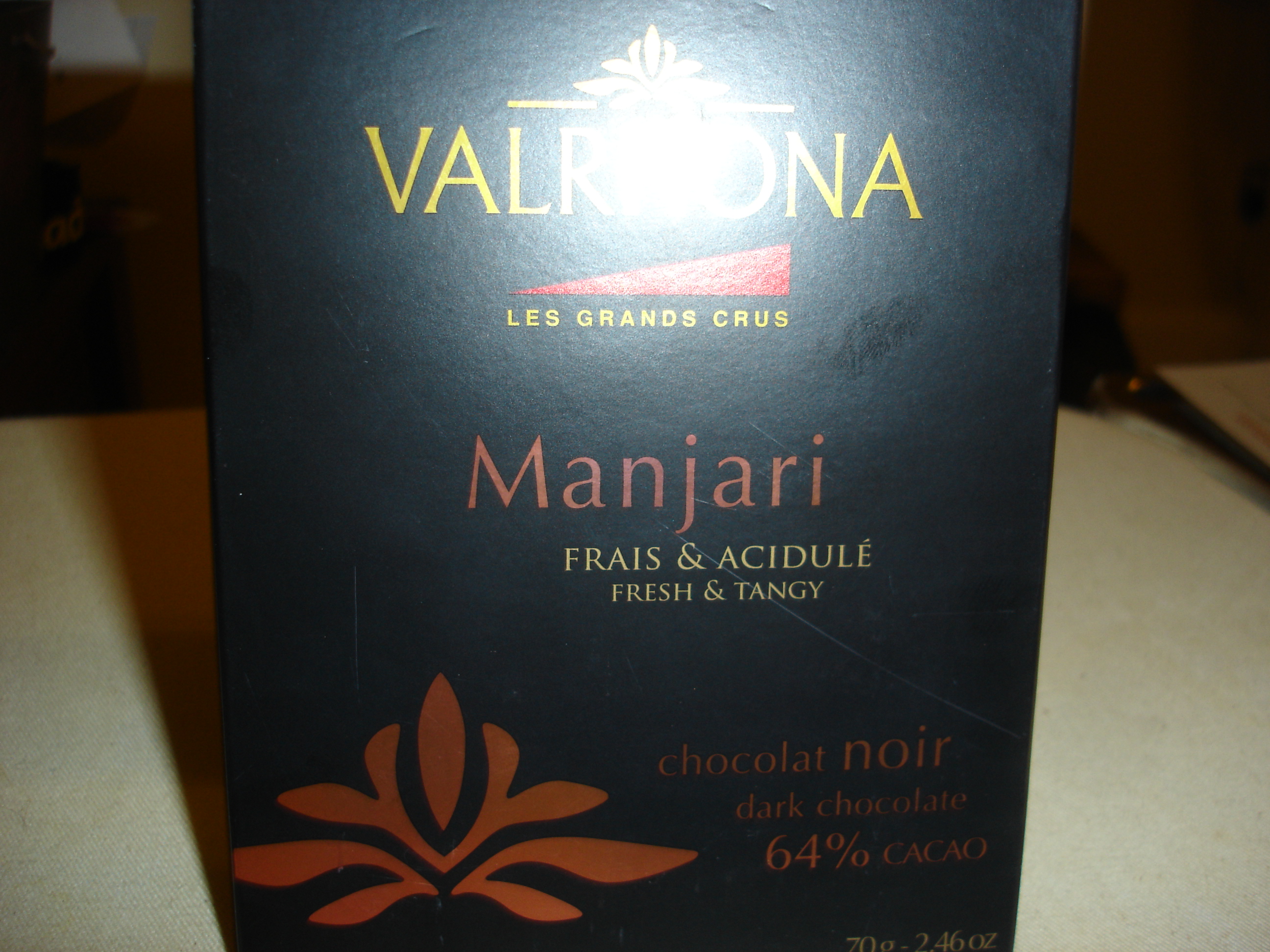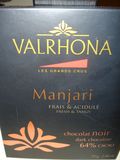 Valrhona has a very long and extensive history in the chocolate world. Recognized through out the world as one of the greatest bean-to bar producers of chocolate.

Via the website:


Valrhona Today
Founded in 1922 by a pâtissier from the Rhone Valley - a registered trademark since 1947 - has become a world leader in Le Grand Chocolat. Understanding Valrhona's success story means identifying its vocation to provide support for and assist renowned confectioners and pâtissiers, its ambition to innovate with great restaurant chefs and its passionate quest for excellence. An undeniable inspiration in the world of gastronomy, Valrhona is present in 60 countries and serves around 20,000 clients.


As a chocolate manufacturer, Valrhona offers these internationally recognized professionals a range of couvertures and service products. For chocolate lovers, Valrhona's branded products come in a range of bars, gift boxes and ballotins, available from gourmet food stores, airport boutiques and major department store concessions.

From culinary destinations like Los Angeles to Tokyo and from Madrid to Singapore,

Valrhona products are used by the world's

great pastry chefs and served in the most

prestigious restaurants and hotels

.
Through its wonderful creations, exacting standards and depth knowledge, Valrhona has carved out a long history of taste that totally justifies this recognition from professionals and gourmets alike: the history of Exceptional Taste. And as part of our continuing quest for excellence, professionals from all around the world attend Valrhona's exclusive Ecole du Grand Chocolat. This center for learning and sharing has been welcoming students in Tain l'Hermitage since 1988 and in Tokyo since 2007.
Valrhona pursues its passion and expertise for fine and rare cocoas around the world by:
Developing cultivation methods through long term partnerships with planters that are based on mutual trust and respect

Selecting the very best plantations and varietals to create the finest profiles in taste, color, aroma and feel.

Combining fine cocoas of different varietals and sources to create powerfully aromatic blends.


By applying their perfect sensorial analysis knowledge, Valrhona's experts blend the finest, rarest cocoas from different varieties and different origins, creating chocolates of the most authentic compositions, unveiling elaborate and unique flavours.
This perfect expertise of taste is perpetuated throughout the manufacturing process, where each step has been researched to develop the supreme aromatic qualities of each chocolate:
Roasting, adapted to the size and the origin of the cocoa beans,

Grinding, offering small-sized particles, providing incomparably fine texture,

Long conching developing intense aromas.
Cultivating taste is one of Valrhona's fundamental values and the company's sensorial analysis laboratory is a trendsetter in the industry.
Over 160 people make up a series of focused tasting panels that meet daily at Valrhona's headquarters to rigorously sample raw materials, products in development and finished chocolates. As a result, the taste of Valrhona chocolate is recognized by professionals and gourmets alike as full-bodied and complex - in a word, exceptional.
This original, unrivalled approach ensures that Valrhona preserves its distinctiveness and perpetuates its taste of uniqueness.
At least 3 of the chocolates I have reviewed so far, one of them to be posted after this review, use Valrhona cocoa as their choice for couverture chocolate. Paul A. Young, Demarquette, and Rococo Chocolates. Many more fine chocolatiers and fine chefs all work with Valrhona chocolate. Their reputation is impeccable.

One of my new favorite restaurants here in Cambridge called Craigie On Main, uses Valrhona for a lovely hot chocolate soup at the end of their meals. It's hot, spicy, and super rich. It's the exact right thing to end every meal with.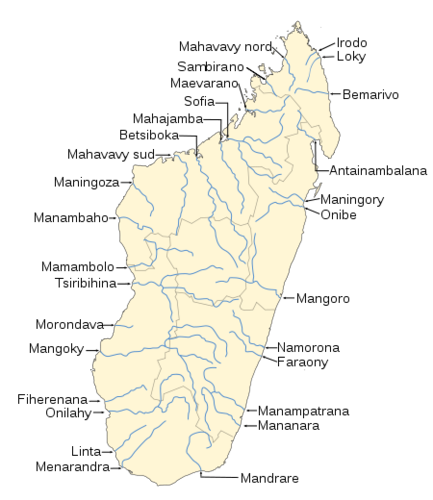 The cocoa used for this bar comes from the Sambirano Valley in Madagascar. Their packaging notes this:


The rich soils of the Sambirano River valley encourage the release of acidic notes of red berries and dried fruit. These aromas are unique to the Trinitario, a tree not commonly found on the northern side of Madagascar.

Grand Cru Manjari 64%


Type: Bittersweet, 64%

Bean Varietal: Trinitario

Ingredients: Cocoa beans, sugar, cocoa butter, soya lecithin, natural vanilla extract.

Sample Size: 70g. 2.46oz


Appearance: Square bar with asymmetrical molding lines. Smooth, shiny, but had some chocolate bits and chocolate dust at the end of the bar slightly diminishing the appearance of the bar.

Score: 92

Snap: Good, crisp snap sound, clean but asymmetrical break lines as intended by the molding.

Score: 94

Aroma: Robust roasted cocoa and big wood and peanut aromas upon first opening, bright red berries, acidic as indicated on the package, very fragrant and robust.

*Still very aromatic an hour and a half after opening.

Score: 96

Taste: Berries right up front, sweet, acidic and tart but not overly acidic with that jab-you-in-the-neck quality, big wood taste, extremely floral and bright with berries.

Score: 97

Texture: Very smooth and soft, with a quick melt time.

Score: 94

This is fantastic chocolate. Extremely good quality Madagascar beans. Huge aroma, and big, bright taste, and a soft, smooth texture. This whole thing was enjoyable from start to finish.

Immediately when I tasted this chocolate, the red berry notes were very apparent and it was sweet. This probably should be a semisweet chocolate based on it's cocoa content, but it's so big and robust like a bittersweet.

Berries, wood, citric acid that wasn't too sharp or astringent, and a lovely floral character towards the finish of the bar. Over all this was incredibly enjoyable.


Final Score: 94.6