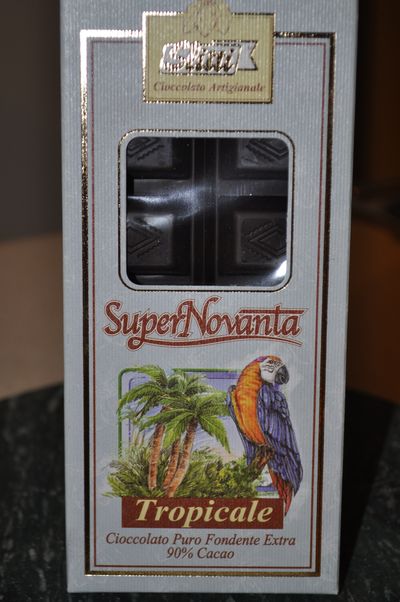 ** Archived notes.
Wrapping up some chocolate notes that I have been sitting on for too long. The burden of a chocolate writer is eating and tasting more chocolate than I can keep up with as far as blogging goes. I know, life is so hard. Luckily I saved all of my notes and took pictures. These notes are from 2011.
All natural chocolate with natural vanilla and no soy lecithin for an emulsifier. Blended cacaos from Ecuador.
Slitti Super Novanta Tropicale 90%
Type: Bittersweet, extra 90%
Varietal: Unknown, but being sourced from Ecuador, these are more than likely Nacional beans with some possible hybrids blended in.
Ingredients: Cocoa mass, sugar, cocoa butter, natural vanilla.
Sample Size: 100g or 3.5oz
Lot #: 1622
Appearance: Deep, dark brown chocolate color, signature molding with large squared tablet, Slight appearance of sugar bloom, mild plastic matted marks on the top of the of molding, but otherwise smooth surface.
Score: 90
Snap: Light crisp snap from thin molding lines, clean break lines.
Score: 90
Aroma: Almonds, roasted cacao, sweet, Almond Joy aroma, slightly acidic, and a little funky with mild notes of feet.
Score: 94
Taste: Bitter, bold roasted cacao, woody, jasmine, black tea flavors, coffee grinds.
Score: 93
Texture: Hard, waxy, slow melt time, very dry and drying to the palate.
Score: 84
The slight appearance of bloom isn't being taken out on in the score. I held on to this bar from fall of 2010 to spring 2011. There was definitely heating and cooling issues on my end. Although it wasn't close it's expiration date, I believe I am at fault for it's beginning bloom. It held up remarkably well from fall, to winter, and spring.
The snap could have been better with a different molding. It leaves for very thin lines and too large of squares on the tablet. With it's insanely hard texture, it made it difficult to bite through the square. And the square was too large to let one just melt away on the palate. It was fairly waxy on the texture and dry. The dry bar coupled with what I think are a hallmark of Nacional beans' drying effect, didn't make for a pleasurable tasting experience.
The flavors however were fantastic. An amazing aroma of pure, sweet almonds and roasted cacao were good and strong. A little funk coming through on the aroma too with some acidic characters and slight funky feet aroma. That may not sound desirable but then again funky beers and funky cheese never sound like anything you would ever want to eat but then it tastes amazing.
Although I feel like this could have benefited from a lower cocoa percentage, more sugars, it definitely surprised me on the flavors of jasmine tea. Deeply bitter though. It takes a while to get through that bitter opening on the palate. But then it becomes beautifully roasted cacao and flowery jasmine with nice woody tastes. Lots of Chinese black tea on the finish from retro-olfaction. And at the very end of the taste are some coffee grind flavors. Very complex and bold. I am not one to usually praise Nacional beans, but this was fantastic on the flavors. I am still not in love with the drying effect from Nacional beans. As mentioned above, the texture and the natural drying effects left little to be desired there.
Final Score: 90.2