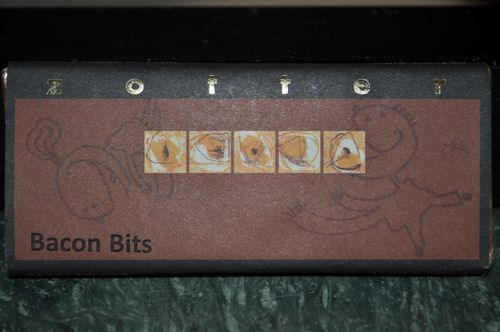 Zotter "Hand-Scooped" Bacon Bits bar. Artwork by Andreas H. Gratze.
Noble bitter couverture 70%
Contest of nutty flavours. Cracklings roasted in a crispy fashion and then caramelised develop nutty flavours. Hazelnut nougat competes for this nutty taste. Refined with cinnamon and coated in noble bitter chocolate.
Type: Filled candy bar, nougat, Noble bitter couverture, 70%
Ingredients: Raw cane sugar, cocoa mass, cocoa butter, hazelnuts (16%), bacon crackling (7%), full cream milk powder, skimmed milk powder, butter, whole cane sugar, salt, cinnamon, vanilla.
*Fair trade and certified organic ingredients.
Sample Size: 2.47oz or 70g
Ashy and bloom-y chocolate coating. Rippled wavy surface pattern from the chocolate being blown and cooled.
Smells like cinnamon and walnuts even though it's ingredients contain hazelnuts. No smokey or bacon aroma. Cinnamon dominates everything even the chocolate.
Hazelnut and cinnamon taste, very sweet, slightly salty with small bits of crispy bacon crackles, soft chocolate coating, soft nougat-like center, and crunchy, sweet, caramelized bacon.
The namesake simply doesn't hold up. It's called Bacon Bits, and while it does have it in there, it's very disappointing with the amount. I expected it to be more loaded with bacon. It's basically just a cinnamon-y gianduja bar with scant amounts of bacon crunchies in it. This cinnamon and hazelnut also dominate the flavor of the chocolate.
I think this bar tastes very good. It's actually really good and it's texture is very nice and creamy with the crunchy caramalized bacon for added texture contrast. But I wanted more bacon. The bacon is also candy-like. Barely any smokey flavor to it at all. But there is a little bit of a salt kick which helps balance out the sweet bar, but not enough though.
I don't know exactly how to grade this bar. For taste it would get a strong B+ or even an A-. But technically since it's called Bacon Bits it should be more bacon-y and that's what you should be left with when eating this bar. But you don't get left with bacon. And while it tastes great, it should be called something like "Cinnamon Gianduja," to more accurately name this bar.