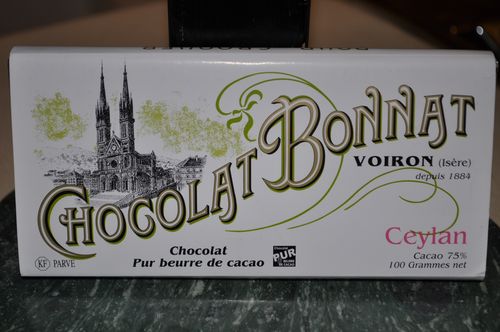 Single origin Sri Lankan cacao made by French Chocolatier, Bonnat. Sri Lanka is just barely apart of that optimal range for cacao growing. But the conditions were right and here we are with the finished product.
I don't know really anything about Sri Lankan Cacao, but I found a good source for some quick information from The Spice Council. Word is that the whole island is a fragrant beast (The Perfume Isle) with the spices and terroir impacting some of the aromas and flavors.
Ceylan 75%
Type: Bittersweet, 75%
Bean Varietal: Unknown
Ingredients: Cocoa, cocoa butter, and sugar.
Sample size: 100g
Lot #: A
Appearance: Signature Bonnat molding, large tablet with small tablets easy for breaking and tasting, soft brown color, shiny surface with a few matting marks on the surface.
Score: 91
Snap: Excellent snap. Nice and audible, clean break lines, very firm snap.
Score: 93
Aroma: Soft berries, a little tart, light roasted cacao, mildly smoky, slight aromas of tobacco and wood.
Score: 89
Taste: Deeply bitter, a little acidic, but not astringent, very mellow flavors, oak wood, char, rubber, roasted cacao, very subdued berries and toasted biscuit flavors, and soft hints of floral vanilla. Some lingering fruits left on the palate, like a soft nectarine and strawberry flavor mixed with cream. Like a lassi maybe. Can't put my finger exactly on it.
Score: 90
Texture: A little hard in the beginning, but then opens up to an insanely silky smooth texture with a medium fast melt-time.
Score: 96
Bonnat just slays me with their texture. I don't know they manage it, but it's my favorite. It's like pure silk and creaminess. This bar was a little hard at first but then the true texture revealed itself. It's one of the reasons Bonnat was on my Top Ten last year and probably will be on there again this year too for the texture.
I expected more from the flavors and aroma. It was very soft on those areas. If Sri Lanaka is a big flavorful spice island, then how come this are didn't really reflect that? I can't speak for where cacao is grown, but certain Asian bars are known to have picked up very distinctive banana flavors and other flavors that terroir. I expected more flavors like that the present themselves. Cool mango/strawberry lassi flavors on the finish but very soft. It's a nice way to leave the bar instead of the more dominant char and rubber flavors in the beginning.
The flavors and aromas were just average, but again the texture of this bar is the major defining factor. I wish I could see the techniques they use to make their bars.
Final Score: 91.8