As part of the British Chocolate Invasion, I received a delicate, long bar from Cocomaya in London. I called the store to find out which exact bar it was. I just had their bar but no listing on the bar as to which type. They were very friendly when I called to gather a bit of information.






Without having visited to shop myself, I can only give a little bit of a description of the place from I have found online. They are fairly new on the block having started in 2008. They have already moved and expanded to open a bakery as well.

They won a Silver medal from the Academy Of Chocolate in 2009 for Best Ganache filled chocolate – flavoured or plain for their Pomegranate.

You will have to forgive the images of this bar. It arrived to me shiny and beautiful, but my finger prints on the bar make for a not-so-great appearance. It was snapped in 3 places as well from transport from London to Boston. Not to be blamed on my friend who brought it. It is a rather long and delicate bar of chocolate.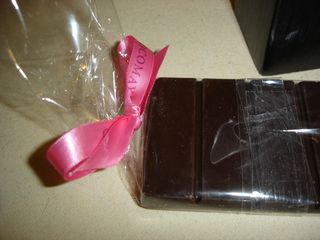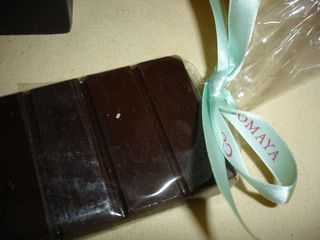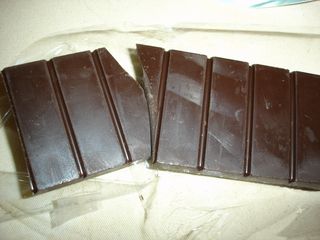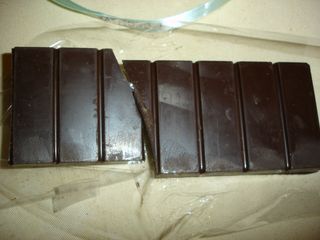 South American cocoa beans, Guanaja is a small island off the coast of Honduras.


Cocomaya 70% Guanaja Bar
Type: Bittersweet 70%
Bean Varietal: Unknown

Ingredients: Unknown. I emailed them for information. I will update this post if they decide to get back to me.

Sample size: 12in. bar
Appearance: Shiny, smooth, simple molding. Tiny flecks of sparkles on the underside of the chocolate. Deep, rich, dark brown color.

Score: 93
Snap: Good, clean snap. Clean break lines.

Score: 94

Aroma: Big nutty aroma of almonds, roasted cocoa, cinnamon, mild tobacco notes.
Score: 96
Taste: Nutty almond taste, very sweet for such a high cocoa percentage, vanilla, no acidity, a little green tasting like fresh tobacco, roasted cocoa notes. Not much else is coming through.

Score: 85

Texture: Soft and smooth, fast melt time.

Score: 94
Excellent smelling chocolate, but overall it was very sweet. Too sweet for such a high cocoa percentage. Left a cloying aftertaste from the high sugar content.

I liked the packaging as it was simple. The molding was simple and pretty with the sparkles on the underside of the bar. Very pretty over all, but too sweet to eat the entire bar.

Final Score: 92.4