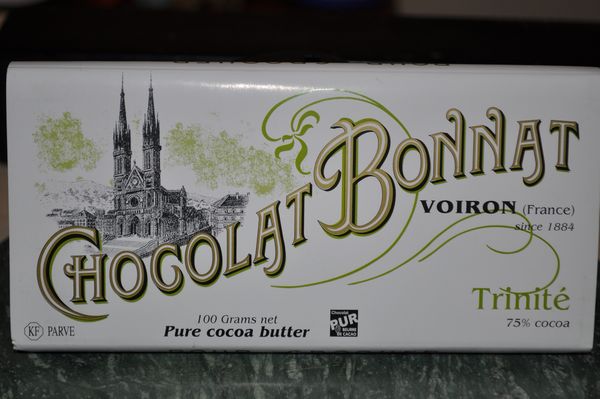 Long standing traditional French chocolatier continuing today with single-origin bars. Beans hand selected and sourced from plantations around the world by Stéphan Bonnat. They are selected and then shipped to Voiron where they are roasted and made into chocolate bars.
Via their website:
Bonnat is story of a family's long love affair with chocolate. It is a story which began back in 1884 when Félix Bonnat established his premises at number 8, cours Sénozan in Voiron (Isère region).

All Bonnat's customers in France and those making their way home for Christmas by boat from the French colonies looked forward to tasting the Voiron "Pavés" (Praline Chunks) and other Bonnat specialities.

As time went by Félix Bonnat's two sons, Armand and Gaston, began to help him more and more with the production and running of the family business.

And in 1956 Raymond Bonnat finally took over the firm. After studying business, he toured France, studied at the School of Chocolatiers in Basel, completed the COBA School and finally did a tour of Switzerland. He got married in 1959 and his wife Nicole, the daughter of well-known hoteliers in the region, helped him to run the business. Two of their four children, Cécile and Stéphane from the fourth generation, perpetuate the high quality tradition which has always formed the basis of the family business.

Our shop in Voiron is a place of pilgrimage for unconditional Bonnat lovers where they are greeted by Nicole Bonnat and her daughter Cécile.

Given that many tourists pass through Voiron on their way to the mountains, many of our foreign customers often stop off en route to see us. Our products are sold in Paris and in sixty other departments of France thanks to our network of sales representatives. Bonnat was dispatching its products out to the French colonies as early as 1919 – Africa, Indo-china, Asia. Because our business has always taken us to far away countries, having an affinity with and understanding the diverse mentalities of different continents is something which comes naturally. And of course our travels have also given us a real taste for the high seas.

In France, as abroad, our priority is to preserve the chocolate- making traditions which have made the Bonnat name so famous. We believe that, :
"What is good to the taste
is great for the soul"
This bar is part of the Grand Cru single-origin collection from Bonnat. Trinité also known as Trinity or Trinidad in the Caribbean. This is the origin in which these cacao beans come from for this bar.
Trinté 75%
Type: Bittersweet, 75%
Bean Varietal: Trinitario.
Ingredients: Cocoa, cocoa butter, sugar.
Sample Size: 100g or 3.5g
Lot: A
Appearance: Smooth, simple molding with smaller squares, monogrammed, and ashy in patches all over the bar.
Score: 83
Snap: Great firm snap, nice crack when it snapped and clean break lines.
Score: 94
Aroma: Beautiful rustic aroma. Earthy, musty and dirty, tree bark, a little nutty, deep roasted cocoa, sweet, spicy, and a little hint of cinnamon.
Score: 95
Taste: Deep cocoa, bitter, earthy and musty, opens up with a little bit of sweetness, woody, mild medicinal hints,
Score: 93
Texture: Very smooth and silky, smoothest texture I have tasted in a while, but not overly soft, medium melt time.
Score: 95
This is rustic, earthy, down and dirty chocolate. I loved it. Tasted like tree bark and wood. It smelled nutty and had a musty kind of aroma and taste to it. That may not sound too desirable but believe me this is nice earthy chocolate. It's aroma matched it's taste nearly point for point aside from the small hints of cinnamon I detected on the aroma. It was no where to be found on the taste.
The texture was unbelievable. So silky and smooth. I don't think I have tasted a bar of chocolate with this kind of silky quality to it before. And it wasn't overly soft either. It didn't melt away too fast. You can sit back and enjoy it for a minute.
Nothing but praise for this bar. Just some minor surface issues, but otherwise a very good bar of chocolate. I am actually looking forward to melting this down for hot chocolate as well. Lately I have been into making my own at home with left over sample bits of chocolate and even blending samples together. I can imagine this rustic, woody-tasting chocolate with a kick of cayenne and cinnamon.
Final Score: 92