Le sigh, le sad face, le shit....
My final review with Marou. It feels kind of sad. But I can't complain. This has been a very generous offering of samples sent to me and I have really enjoyed writing about them. Not since Alan McClure have I felt this connected to a chocolate maker and talked to them through each review and learned more as the reviewing went on. And talk about a geography lesson. I knew next to nothing about Vietnam. My least favorite subject involving wars. This was a nice way to set all that stuff aside explore the southern tip of the country by way of cacao.
Our final stop takes us to the Bà Rịa-Vang Tau province just a little bit north-east of Ho Chi Minh City. Beans sourced directly from family farms. You can one of the other surrounding provinces from the other bars.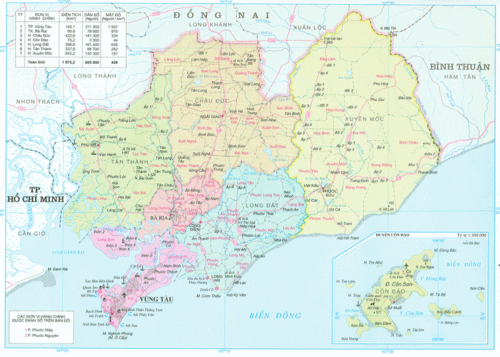 [Image via vietecon.org]
Bà Rịa 76%
Type: Bittersweet, 76%
Bean Varietal: Trinitario
Ingredients: Cacao, cane sugar, and cocoa butter.
Sample Size: 100g
Appearance: Dark brown surface, but an ashy lighter brown interior. More like a subdued mahogany color. Monogrammed molding, a little scuffed and a little bit of particle matter, but over all in great shape. Still fairly shiny and looking good.
Score: 91
Snap: Good firm snap, not too hard this time. Crisp snapping sound. Slightly crumbly break lines, asymmetrical break lines against it's own molding lines.
Score: 92
Aroma: Very inky right up front, roasted cacao, char, subdued earthiness, brewed coffee through retro-olfaction, and a soft, mild sweet aroma on top like honey. Not a direct wild flour smell, but a sticky sweet smell sitting on top.
Score: 93
Taste: Big fruits right up front, tannins, sour and acidic, big wood flavors, char, roasted coffee flavors and bitterness, very faint traces of grapes or jam in the fruit flavor, lemon rind finish. A lot of lingering flavors on the palate. A tad cloying.
Score: 87
Texture: Smoother texture, medium melt-time, creamy center once it begins opening up. Not too hard despite it's thickness.
Score: 92
The final bar and it held up well. Really great shape. Different color from the others. An interesting ashy mahogany color. No significant scuffing or damage from transport.
The snap was so much different than all the others. Same thick molding, but this chocolate was so much different for some reason. It snapped easier, and felt almost airy compared to the other bars. Crumbly and asymmetric break lines, but still so much more pleasant the others. Great crisp sound too.
Very straight forward and big aroma. Just the brewed coffee from retro-olfaction that isn't exactly clear until you breathe back, but it's definitely there. Big fruits, a little sweet, but some tangy acids that get a little aggressive. It's not totally un-welcomed, but definitely toeing that line. I think the sugars and the big fruits help hold it at bay, but it is very aggressive on the flavor and sour, tart notes. It has some deep bitters, and bold wood flavors as well.
Samuel said this one was the fruitiest one of the bunch, but to be honest, the fruits on the Bển Tre 78% were better. They were only competing with bitterness. The fruits compete with too much sour on this bar so it's hard to focus on them. But I will say, just for a second, I got some jamminess (probably not a real word), a split second of the taste of grapes. The wood flavors and char add a nice depth and something great in the bar than just the strong bitterness.
The texture was much nicer than the Bển Tre though. Much smoother. Same melt-time, same creaminess that opens up in the center, but not hard like the others. None of the drying chalkiness observed on the other bar.
This bar hits all the technical marks, but the acidity and sourness is just too much for me personally. It's still good chocolate, but I would say it's the least favorite for me out of the group. The Dồng Nai 72% wa by far the best. Really interesting chocolate, all 4 bars. Each very different than one and other and the regions the beans are coming from are not very far apart from one and other
Marou has proved to be a great new company with a very unique perspective by actually living in the jungles where their beans are sourced from. I hope to see more of their presence in the U.S. But I know a certain Bangkok chef eagerly awaiting his chance to try something sourced pretty much locally from his point of view. I patiently await Bangkok street-food and S.E. Asian chocolate fusion dishes......
Final Score: 91