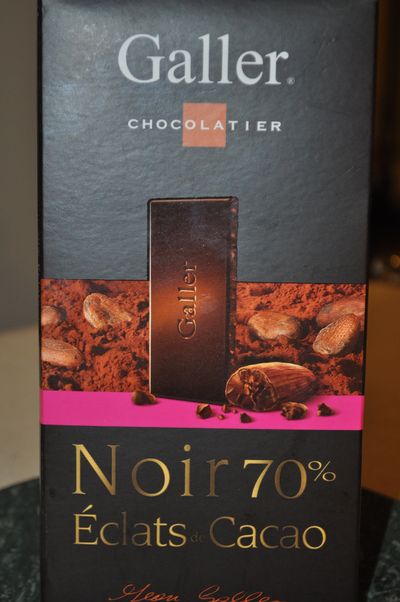 Éclats de Cacao 70% (Cocoa Nibs)
Type: Filled, bittersweet 70%
Bean Varietal: Unknown
Ingredients: Cocoa paste, sugar, cocoa butter, soya lecithin, natural vanilla aroma, and cocoa nibs.
Sample Size: 80g or 2.8oz
Lot# L1531108
Appearance:Smooth textured surface from molding, thin tablet with long tablet squares, monogrammed molding, bubbly texture on the back surface from nibs.
Score: 91
Snap: Nice clean and firm snap, good snap sound, clean break lines.
Score: 92
Aroma: Very light aroma, soft almonds, smoky, oak wood, vanilla, and a little spicy.
Score: 92
Taste: Slightly sharp and acidic at first, cocoa-y, vanilla, sweet, subdued fruits, biscuit flavors, nutty nibs, smoky hints, lingering strawberry hints.
Score: 89
Texture: A little hard and waxy at first but smooth once it opens up, medium melt-time, crispy nibs, but overly milled and too small.
Score: 88
**Archived Notes
This bar was okay. I think the flavors were a little stronger on this bar than the regular 70% due to the nibs, but the aroma was much softer. I liked the cocoa nibs in it, but they shouldn't have been broken down or chopped as much. While they were crispy and good, they were too small for good texture.
Same texture as the regular 70% but with the added bonus of the nibs, but again I wished they were bigger nibs. It was a litle sharp in the flavor at first but then really mellows out. It has a nice cocoa-y flavor up front, some subdued fruits, a little biscuit-y, and some nice nutty flavors with the nibs and a lingering strawberry flavor.
Decent bar of chocolate, but nothing to really write home about.
Final Score: 90.4