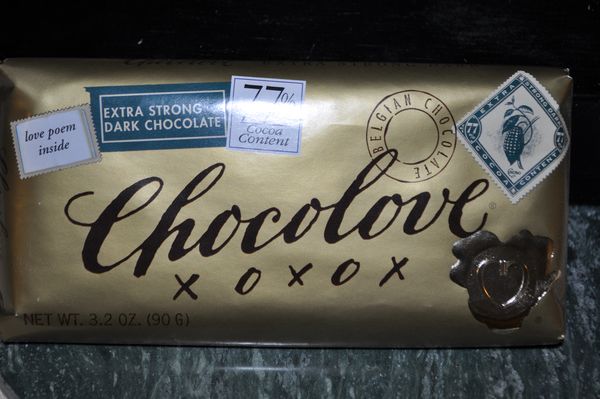 Chocolove from Boulder, Colorado. Ecclectic packaging that looks like a mailed letter with a love letter enclosed inside the wrapper. Inside was a poem from Shakespeare.
from Venus and Adonis
Venus: '[Darling],' she saith, 'since I have hemm'd thee here
Within the circuit of this ivory pale,
I'll be a park, and thou shalt be my deer;
Feed where thou wilt, on mountain or in dale:
Graze on my lips, and if those hills be dry.
Stray lower, where the pleasant fountains lie.
'Within this limit is relief enough,
Sweet bottom-grass and high delightful plain,
Round rising hillocks, brakes obscure and rough,
To shelter thee from tempest and rain:
Then be my deer, since I am such a park;
No dog shall rouse thee, though a thousand bark.'
If only the chocolate were good enough for the cute packaging and romantic poems. Sadly it's not.
Via Chocolove's website, the about page and history of Timothy Moley:
History of Chocolove
Tucked away in Boulder, Colorado sits an unassuming building where a little magic takes place... Every day, decadent chocolate bars are carefully crafted using the timeless combination of chocolate and love.
Chocolove chocolate bars are available in ten distinct flavors that range from a sweet, creamy Milk Chocolate with a 33% cocoa content, up to an Extra Strong Dark with an impressively strong yet smooth 77% cocoa content. Tied to chocolate's natural counterpart, love, each bar resembles a love letter, complete with a romantic poem.
For the past ten years, Chocolove has been quietly developing a loyal consumer following in natural and organic food stores around the country, including Whole Foods and Wild Oats. In 2005, Chocolove began its expansion into gourmet and conventional grocers, such as King Soopers, Gelson's, HEB and Bristol Farms, making this delightful treat more readily available to its ever-growing fan base.
Chocolove started as the classic entrepreneur story – a dream, a garage, extended credit card debt and loans from friends and family. With its visionary chocolatier, and a solid concept, Chocolove became, and continues to be, a pioneer in the chocolate industry.
Timothy Moley is the founder, owner and chocolatier at Chocolove. A tall and slightly eccentric man, he reminds you a little of Willy Wonka. His laid-back attitude, wry grin, and lanky physique would never lead you to believe he is a man who lives and breathes chocolate, and has been consuming two chocolate bars, every day, for the past ten years. Seriously.
It all began in a cocoa field in Indonesia… Timothy was chewing on some cocoa beans doing volunteer work for USAID, a government program that promotes agricultural and technical education in developing countries. He had been living abroad on and off for two years, visiting over 28 countries, developing his palate with spices, teas and wines. And, like most of us, he had always dreamed of being his own boss, dedicated to something he loved. The idea of a career in chocolate inspired him and an idea began to form - to create a premium chocolate bar, paired with the romance of love.
When he returned to the States, he began his chocolate education and quickly discovered a few key facts about the U.S. chocolate market: the average consumer could tell the difference between cheap chocolate and premium chocolate and they preferred premium chocolate; the available premium chocolate bar choices were limited, expensive and intimidating; no U.S. company was indicating the cocoa content on their wrappers; and flavors were boring.
Chocolove was born. The idea was simple - a selection of distinctly flavored chocolate bars made with all-natural ingredients and the classic techniques of Europe's finest chocolatiers. The package design would resemble a love letter sent from a distant land, and inside each wrapper - a classic romantic poem. The cocoa content would be clearly indicated on the front of each wrapper, the tasting notes would be simple and approachable, and the price, affordable.
Initially, bars were manufactured at a U.S. co-packer, but in late 2003, Timothy completed building his custom-designed chocolate factory in Boulder, CO, and by mid-2004, the factory was in full swing, running as smooth as melted cocoa butter. Today, Chocolove bars are made in small batches and shipped around the country, delivering a little bit of "chocolate–love" to discerning chocolate lovers everywhere.
Coverture chocolate bars made with Belgian chocolate, though Belgian source not listed. Cocoa beans from Africa and South America, 77% is the strongest bar in the Chocolove collection. Boasting extra cocoa butter and "Made especially for the dedicated chocolate enthusiast."
Click to enlarge images.
Type: Bittersweet, 77%
Bean Varietal: Blend
Ingredients: Cocoa liquor, sugar, cocoa butter, soy lecithin.
Sample Size: 3.2oz or 90g
Lot #: 030209
Appearance: Ashy! Ashy! Ashy! Looked dried up from sugar bloom. Different molding but still simple with small hearts in the center of each square.
Score: 79
Snap: Good, very firm snap. Clean break lines.
Score: 94
Aroma: Delicate, soft roasted cocoa, wood, and almonds.
Score: 91
Taste: Boring! For such a robust cocoa percentage this has virtually no flavor at all. It took so long for any of it's flavors to present itself. Wax is the first thing noticed. Not just texture but taste. When it finally does open up there are hints of almonds and woody cocoa flavors, fairly sweet for a 77%. There are berries detected but they are so subdued it's almost not worth mentioning.
Score: 73
Texture: Very hard, waxy, extremely long melt time.
Score: 70
Once again I am pushing it with this review. It's Jan. and this bar has a March exp. Still, I am willfully admitting to pushing it with this bar. However, the appearance shouldn't look this ashy and dried up. The review before this bar of the Pralus Ghana 75%, is very similar to this review as far as pushing it with reviews. The Pralus bar held up and didn't appear to be THIS ashy. And the Pralus bar still had flavor to it.This is the difference between a skilled chocolatier and dabbler. Forgive me for being insulting here to Timothy Moley.
Another reviewer of the Pralus bar wrote and complained that there was too much cocoa butter and it diminished the integrity of the chocolate bar. I didn't find that was the case. I found for the Pralus bar, it toned down the boldness but didn't cut any of the flavor out. In this bar, all the flavor is virtually gone. No flavor and nothing but a hard waxy texture. No aroma either. Whatever aroma it had was very slight. However, there were the hallmarks of African beans with the distinctive almond aroma. It should have been much richer though.
It's not horrendous chocolate, but it's not good either. It probably should have a lower grade but it had great snap and the aroma wasn't bad. Those key factors are holding up it's score otherwise this should be graded at a D level. And they claim on their packaging that this is for the "dedicated chocolate enthusiast." I don't think so. Having said all that, I am not completely done with this company nor am I writing them off just yet. I will need to try fresher samples before I can fully make an informed enough decision about Chocolove. Not a good first impression though.
Final Score: 81.4