Saturday night I met with a bunch of BeerAdvocates for a staff meeting at The Publick House in Brookline. These are the fine folks who volunteer for me for the BeerAdvocate beer festivals thrown here in Boston. We have the Extreme Beer Festival happening this weekend and an I needed to go over some information and talk about what was to be expected for the festival.
I happened to bring with me samples of chocolate that have been sitting around and needed to be eaten. Some of it was already reviewed, but some of it was chocolate I couldn't review.

Some of the chocolate I had, was not reviewable, but still edible. Some of it had bloom, and one of them I dropped and broke into a million pieces. The conditions in my apartment haven't been to favorable for storing chocolate. It gets either way too cold or way too hot. Mostly it's too hot. Especially in the winter when the heat is turned on full which I have no control over. Or if the heat doesn't come on and I have left my windows open in the wintertime to combat the heat, the house is frozen. Needless to say this has wreaked havoc on some the chocolate I wanted to review. Luckily, I am getting them replaced to give them all a fair shot.

This is why I didn't review some of these chocolates. It's my fault or rather my apartment's fault that there is an unstable environment for storage. I felt it was unfair to review these chocolates in the state they were in despite still being perfectly fine to eat.

But having bloom on chocolate does not make the chocolate inedible. And chocolate also has a very long shelf life. I brought the chocolate to the meeting and let the staff have at it. I was able to talk to them about bloom and let them experience some real chocolate for a change.

I am currently sitting on 25 bars of chocolate up for review. With new ones that just came in from my husband for Valentine's day, a friend from England who has been on a mission in London rounding up chocolate from all over the city, and my good friend Shane Welch of Sixpoint Craft Ales, bringing me more Mast Brothers to review, you can see why I had to get rid of this chocolate. I already reviewed a lot of it, and I didn't want to see if just go to waste.

What we tasted:

Amano: Madagascar 70% (reviewed)
Amedei 9 (reviewed)
Amedei La Tavolette
Mast Brothers:
Sea Salt + Pepper 75%
Fleur de Sel 75% (reviewed)
Dried cranberries 75%
Sea Salt + Almonds 75%
Cocoa Nibs 75%
Villars L'Ancienne (reviewed)
Villars Noir 72% (reviewed)
Chocolat Olivier Selection 85% (reviewed)
Pralus 100% Criollo
Chocolat Olivier Ghana 70% (reviewed)
Michel Cluizel Mangaro 65% (reviewed)
Michel Cluizel Maralumi 64% (reviewed)
Fine & Raw Mesquite Bar (reviewed)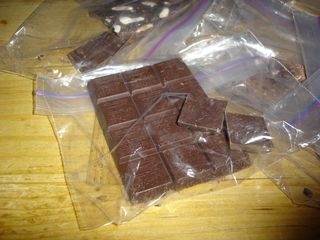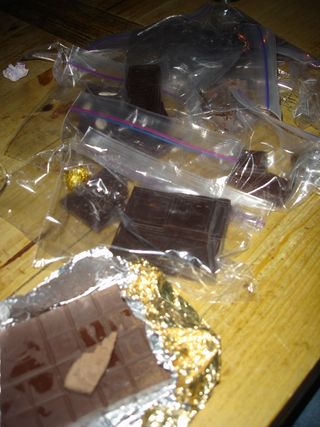 We drank Brooklyn Cookie Jar Porter, Dogfish Head World Wide Stout, and Great Divide's Yeti. The Cookie jar was fairly flat but still tasted excellent, the WWS was too sweet, and but the Yeti was just right for the more bitter chocolates.

It was a Saturday night at the Publick House. A lot of other people who were not part of the BA meeting were standing around curious about what we were doing. It looked like I was teaching a class on crack. Everyone had a major caffeine buzz going on and all of the sample were in plastic baggies.
The Cluizel went over well for texture. The Mast Brothers Salt and Pepper was voted best over all. And the very harsh Pralus was a bigger hit than I expected. Unsweetened 100% bitter chocolate.