Kama Sutra Chocolate and a Tantric Tablet Collection. Yep, you guessed it. An adult, pre-Valentine's day heads-up (no pun intended) post about intimate chocolates.

I also give a quickie (pun intended) list of Valentine's Day beer recommendations for your chocolate.

This post is NSFW. Please enter at your own risk. And for the love of god if you don't have a sense of humor or can't handle my particular brand of vulgarity, then you should forget about this post all together.




I was in the middle of doing some research for a Swiss chocolate company when I accidentally found chocolate tablets called Kama Sutra Chocolate. I know what you thinking. "A likely story. You 'accidentally' found it. Right. Sure pal. Tell me you weren't looking up porn."

I swear this time I was not looking up porn. The only defense I have that would make you believe me, I would have posted this ages ago and not with such a short amount of time before Valentine's Day.

These chocolates crack me up. They make the ultimate statement about Valentine's Day. Give a Kama Sutra tablet to your mate and it says "Hey, let's fuck!" No silly roses, no fancy dinners, and no overrated and probably overpriced exotic truffles. A simple fuck bar in chocolate form, a wink and a smile, and you're golden!

Now, there are some rules about etiquette here. You wouldn't want give this to someone you haven't boned before. It's presumptuous and tacky. Not to mention, if they suck in bed or you never want to see them again, you might have wasted a perfectly good piece of chocolate art on them.
This chocolate does have some awesome molding despite being pornographic. These are much nicer than the chocolate molded dick on a stick. I would like to have these just to showcase.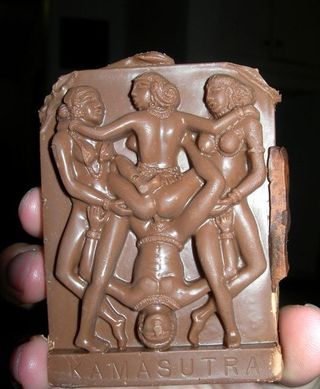 Ingredients: Sugar, Cocoa Butter, Whole Milk Powder, Cocoa Mass, Whey Powder, Soya Lecithin, Vanillin.
*Product contains milk and soya and has been produced in a factory that handles wheat, nuts, peanuts and eggs.

Source: Nerve Scanner

Images Via: Stupidsite

Where to Buy: Love Honey

Upon searching for more information about Kama Sutra Chocolate, I found this little company in Halifax, Canada called Sugah. They make tantric tablets. Though sadly, there are no pictures available. I am quite sure they are more classy than the Kama Sutra Chocolate, but with no imaged to prove it, I could be wrong. I will order them and update this post in the near future.
The Tantric Collection is offered as "seven days of sexual enlightenment", you can order a package of seven individual infused dark chocolate tablets with tantric sex positions.
These include: Oral Cowgirl, dark chocolate infused with cardamom and ginger.

The Swing, dark chocolate infused with matcha green tea.

Bamboo, dark chocolate infused with essence of orange.

The Spot, dark chocolate infused with Nova Scotian sea salt.

The Crow, dark chocolate infused with cayenne.

Tantric Twist, dark chocolate infused with cinnamon, nutmeg, and fenugreek.

Pair Of Thong, dark chocolate crusted with fog burner coffee.
They even offer a creative sexy board game called Batter Up.
For adults only - Sugah's first board game! Batter up takes the game of baseball to new heights with our very own take on running the bases. Designed to be played by couples either at the early stages of getting to first base and beyond, or by couples looking to bring back a little adventure to their bedroom. To help advance the game, we've crafted four of our very own special chocolate tablets:
- Milk chocolate with sea salt for first base
- Dark chocolate with small batch roasted coffee beans for second
- Dark chocolate super-infused with mint oil for third and
- Dark chocolate with cayenne for home plate

Go ahead - Knock one out of the park!

Very cheeky!
Source: Canada.com
Where to buy: The Uncommon Group Canada and U.S. only.
Sexual Chocolate the beer.
And of course the leading picture, Sexual Chocolate from Foothills Brewing Co. in Winston-Salem, North Carolina. A big, bold, chocolate infused Russian imperial stout with a 10% abv.
Beer and chocolate are a wonderful combination for those of you whom are novices to beer. Stout's and chocolate are one of the near perfect and simplest pairings you can do. Imperial stouts tend to have deep dark notes of rich molasses, coffee, chocolate, and roasted malts. Not all stouts will have those exact characteristics, and some might have all the typical flavor profiles in abundance. Chocolate helps tame the bitterness if your stout is bitter, and opens up deep notes the beer may have. And beer in return, can tame the most bitter of chocolates or marry together for a unique taste if eating a flavored chocolate or truffle.
Sexual Chocolate will be released in draft on Friday, Feb. 5, 2010 with live music, and the bottle will be released Saturday, Feb. 6, 2010 at 11am.
Whatever you do make sure you taste the beer first before imbibing on your chocolate. This is an amazing beer and deserves your full repsect. Only then after you have tasted this beer, should you choose to do so, can you indulge on chocolate.
Beer Suggestions:
Sexual chocolate is also not the easiest beer to get your hands on. Personal recommendations for beer and chocolate combos would be Berkshire Brewing Co. Imperial Stout. It is a very balanced Russian Imperial Stout. It's not too bitter or too soft. It is excellent with dark chocolate or bittersweet chocolate bars and truffles.
You can also blend the beer with a 60- 40 ratio using Berkshire Imperial Stout and Berkshire Raspberry Strong Ale. Most brewers hate blending their beers. But since the owner and Brewmaster Chris Lalli, taught me that special blend himself, you won't be insulting anyone if you blend them. Be warned though, the Raspberry Strong Ale is 9% and the Stout is 8.5%. You are not blending down the abv. It's a potent and tasty blend.
Rogue Chocolate Stout
Pretty Things, Babayaga
Three Floyds, Dark Lord
DeuS, Bière de Champagne
Southern Tier Creme Brulee
There are many, many beers to choose from. These are "guarantee beers" if you know what I mean. Especially if you pair them with chocolate.
Lindemans tastes like pure fruit, zero characteristics of beer, yet is in fact a beer. They are fantastic with deep, dark chocolates.
DeuS is a delicate champagne style beer. It has a gorgeous floral nose of lavender and spices and drinks like champagne, and is every bit as special as champagne. It's light and delicate but would go nicely with chocolate dipped strawberries. Make sure you get a good taste of it before you introduce the fruit and chocolate.
Dark Lord is for the beer geeks lucky enough to have a bottle. If your partner is also a beer geek, there is no better time than to crack this special, rare beer and eat chocolate for a night like Valentine's day.
Rogue is a very bitter chocolate stout. But eating a piece of dark chocolate with it tones down that bitterness and makes it a smooth drinking stout.
Babyaga is a very drinkable stout with rich, roasted malts. It's one of my new found favorites for drinkable stouts. By drinkable I mean you can have several glasses of it instead of one glass of a big, filling, cloying stout. This beer will be perfect for single origin bars.
Southern Tier Creme Brulee tastes exactly like creme brulee. It has the burnt sugars and big vanilla bean flavors and aromas. It's a big sweet bomb of a stout. Chocolate covered, rich and buttery English Toffee.
Happy Sexay Times!