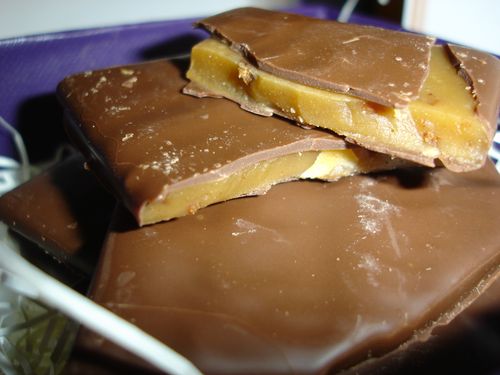 Vosges Bacon and Caramel Toffee

What on earth could exist in a finer combination than chocolate, caramel toffee, and bacon? Nothing! The answer is nothing.

Vosges has a collection of chocolate and bacon goodies. I took the plunge and ordered their Bacon & Eggs, Bacon Caramel Toffee, and a few of the Mo's Bacon Chocolate bars. Oh and lest I forget, their Mo's Bacon Chocolate Chip Pancake Mix.

Word is Bomb!



"I began experimenting with bacon + chocolate at the tender age of 6, while eating chocolate chip pancakes drenched in Aunt Jemima® syrup, as children often do. Beside my chocolate-laden cakes laid three strips of sizzlin' bacon, just barely touching a sweet pool of maple syrup. And then, the magic—just a bite of the bacon was too salty and I yearned for the sweet kiss of chocolate and syrup, so I combined the two. In retrospect, perhaps this was a turning point; for on that plate something magical happened, the beginnings of a combination so ethereal and delicious that it would haunt my thoughts until I found the medium to express it–chocolate.
From there, it was just a matter of time…and what began as a love of salt and sweet quickly unraveled into an obsession. No sooner could I wait to unveil the royal coupling in solid bar form, a deep milk chocolate with bits and pieces of applewood smoked bacon and just a sprinkling of Alder salt. Really, what doesn't taste better with bacon?"
–Katrina



Now I have to admit, I wasn't so easy on the Bacon & Eggs review. I had a taste in mind when I ordered these, and I didn't feel like they hit the mark for me personally. They were kind of small, kind of expensive, and overly sweet. I felt like salt was missing from the equation. It needed to be a salt caramel in the center and larger bacon bits. I also felt like they should have been in milk chocolate, not dark.

But then I tasted these bad boys and all was right with the universe again. This is what it's all about. Sweet and salty caramel toffee covered in chocolate with bits of bacon throughout the square, and yes they are covered in milk chocolate. The exact right balance I was looking for.

There is only one problem with these though. They taste so fucking good (excuse my language), and there isn't nearly enough in the package they come in. This is like drug dealer stuff. "Let's get them hooked on our special crack in the form of Bacon Caramel Toffee, and they will be begging for more! Muhahahahah!"

Damn you Vosges! DAMN YOU!!!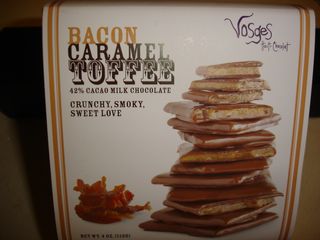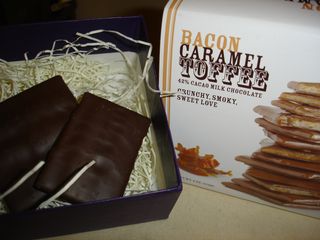 They did come in a silver package and were not just nestled in the box. Once again I do find this product kind of pricey for the amount you get, about $12 for four ounces or five chocolate covered squares. But based on the way these taste, I would say it's totally worth it. Vosges are crack dealers. You need to know what you are getting into with them. You will be hooked.

Ingredients: Toffee (58.6%) (sugar and butter), Milk Chocolate (42%) (sugar, cocoa butter, whole milk powder, cocoa mass, soy lecithin, vanilla), Uncured Bacon (10%) (pork, sea salt, raw sugar, white pepper, dry juniper berries, celery juice, lactic acid-starter culutre) salt, corn syrup, water, flavoring: natural hickory smoke.

The bacon revolution continues.